Is Kickstarter For Schmucks? 5 Things I Learned About Crowdfunding (With 7 Days To Go)
By Seth Kushner 1. Is Kickstarter for Schmucks?
I've been working my ass off to kickstart my semi-autobio graphic novel Schmuck. At the time of this writing, I have raised $9,118 out of $15,000. Since I took Remedial Math several times in high school, I realize my arithmetic is not the strongest, but even a chimp, (or a schmuck like me) knows I'm pretty far from my goal. I need this to work. I'm not independently wealthy, so $15K doesn't come easily any other way. Therefore, I'm treating my Schmuck campaign as my full-time job for this month. Anything less wouldn't give me a snowball's chance in hell of making it happen.
I could've pitched Schmuck to publishers and with the talent I have on the art side (Josh Neufled, Nick Bertozzi, Dean Haspiel, Noah Van Sciver and 19 others) and I might've gotten a book deal. But I didn't want that. Not for this. My Schmuck is personal, because it's MY story. I wanted to keep control, keep rights and keep profits. This was my chance to publish my book, my way, and Kickstarter offered me the opportunity.
Kickstarter in not for schmucks. Kickstarter is for people to work hard to make their dreams come true, and work hard I have and thankfully the press has taken notice. I've worked tirelessly answering their emailed questions, treating each like an essay and now, by week three, I could fill a whole 'nother book with those answers. At the same time, I've been tirelessly sharing all press, art previews and more on social media, making my kickstarter as loud as I can, virtually shouting it from the rooftops, naked, with my schmuck blowing in the breeze. I've been writing emails to my friends asking for support and retweets and continuing to think of clever ways to get the word out like posting Tony Wolf's schmucky Adventure Comics parody, which became a something of a twitter sensation by catching the attention of many a silver age comics fan.
Kickstarter is an all or nothing proposition, so failure is NOT an option.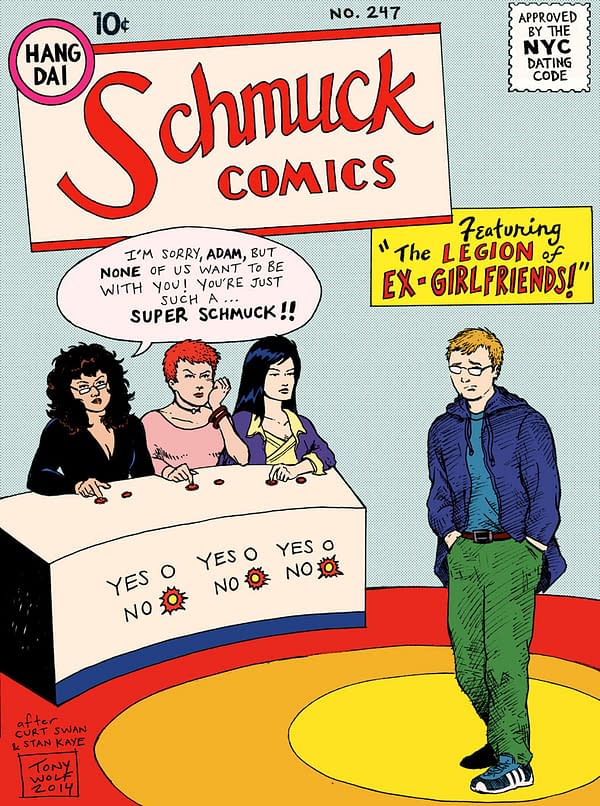 2. Day 1 is akin to Crack
I'd been warned the first day is the best and then it quickly trails off. That's true, but I didn't realize how just crazy day one would be. Immediately after going live, backers began appearing. My email was pinging with alerts constantly throughout the day. It was like a high. People must really like me, I thought! This whole Kickstarter thing was easy and surely I'd be funded in a week, I thought. Then, the next day was slower and the day after that was much slower. Then nervousness and anxiety began to set it. How would I ever get funded? Maybe people didn't like me after all? Day one is not a barometer for how the rest of the campaign will go.
3. Kickstarter is a great promotional tool
My campaign is over in seven days and I'm hopeful I'll be funded, but even if I'm not, all the attention this has put on my work and on me has gotten me many new followers and has strengthened my fan-base for anything I do in the future, and that's a great thing. Kickstarter also allows for direct interaction with this fan-base via the message function. I write a personal message to each and every backer, usually within a couple of days. Many have written me back and have initiated a dialogue. I believe this one-on-one contact is vital in fostering a relationship with those interested in my work.
My posts and tweets have been shared by such comics luminaries as Jimmy Palmiotti, Mark Waid, Phil Jimenez, Joshua Hale Fialkov, Justin Gray, David Gallaher, Steve Ellis, Dan Goldman, Paul Kupperberg, Percy Carey, and others including the novelist Mat Johnson who have given Schmuck their stamp of approval. All that makes me feel like I can finally sit at the adult table.
4. It's never too late to adjust your rewards
I spent weeks on figuring out my rewards and how much to price them. I made a list and studied it like a rabbinical scholar reading the Torah. I didn't launch until I felt confident everything lined up perfectly, or so I thought. Now, three weeks in, I can see which rewards are working and which aren't. I spent this morning adjusting and lowering the prices of some of the ones no one was going for. For example, I think one of the coolest rewards are the comics consultations with Dean Haspiel, Josh Neufeld, Gregory Benton and Nick Bertozzi. I realized they might have been a bit pricey for people, so I just dropped the prices on them. Which is not to say they're not worth it. I'm in business with three of those guys at HANG DAI Editions, and I've shared a studio with, and have collaborated with all of them, so I know they are cartooning and storytelling masters. I have benefited greatly from their knowledge and I am offering others the opportunity I've had, which believe is invaluable. If you want to make comics, sit down for an hour with any of those four guys and you'll leave with a better idea of how to do it. That said, its tough to make a buck these days, so I've dropped the price and I hope it's now more manageable for folks.
Additionally, I added some more original art to the mix including more great pages by Gregory Benton, Kevin Colden and George Jurard. I've also added two cool pages by Skuds McKinley. If you haven't looked at my Kickstarter recently, please have another look because there might be something new and enticing or something you originally couldn't afford, but now discounted. 5. Kickstarter is a journey, not a race
As I've said, I have only seven more days. I'm feeling nervous, but I believe in my vision to publish Schmuck. I've spent several years making it and 23 awesome artists believed enough in me as a writer to share their talents and contribute to my project. Nearly 200 backers, some friends and family, but many strangers, have believed enough in my vision to support my project with their hard-earned money. I believe the rest of the money will come, though I don't know from where. Press has been very supportive, but for some reason some has been effective and others barely gave me any backers at all. Boing Boing gave me a huge bump last week, and I'm very thankful to Cory Doctorow for featuring the project. I guess then lesson is press isn't everything, but do as much as you can because you never know where you might find your audience.
One of the great features on Kickstarter is the 'dashboard.' Looking at that I see most of my backers have come from "Direct Traffic (no server information)," which I think must be referring to my email list, and the second biggest driver of backers has been Facebook, followed by internet searches and then Boing Boing, then Twitter and then everything else.
So, where will the remaining $5,882 come from? Maybe each of the 50 or so "lucky" women I dated during my schmucky years will each kick in $117.64? I'd best not hold my breath for that, but I know this will work for me because I NEED it to work. It HAS to work.
One of the main things this Kickstarter journey has taught me is, to quote a movie: "If you build it, they will come". No matter how SCHMUCK-y the project.