iZombie Season 4, Episode 2 Review: Brains Shaken, Not Stirred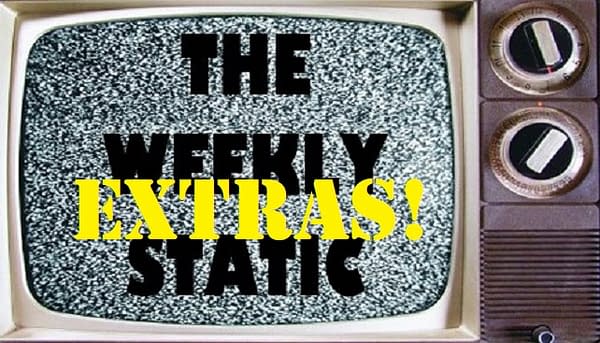 https://youtu.be/P0AdAgHfsxE
iZombie 4×02 'Blue Bloody': The struggle is real! — It's a real-life game of clue for Liv (Rose McIver) after she eats the brains of a despicable dowager and must determine which one of her disgruntled servants killed her. Clive (Malcolm Goodwin) and Bozzio (guest star Jessica Harmon, "The 100") are struggling to maintain a healthy relationship. Meanwhile, circumstances place Major (Robert Buckley) and Liv in opposition to one another.
https://youtu.be/Sb45fvuxrQ8
"Have you ever tried mutual masturbation?" – Ravi to Clive
CW's iZombie really hit some high shocker notes with 'Blue Bloody,' the second episode of the show's fourth season. Oliva "Liv" Moore (Rose Mclver) and Major Lillywhite (Robert Buckly) are back together….what?!?!? To keep ourselves from constantly hitting our heads against the coffee table, as viewers we should come to a group consensus that when Major is back in zombie mode, then they're back in bed – oh wait, sorry. Never mind. They broke up again. See? Now I feel like I'm spreading "fake news." I'm feeling like the two of them could use an intervention about commitment.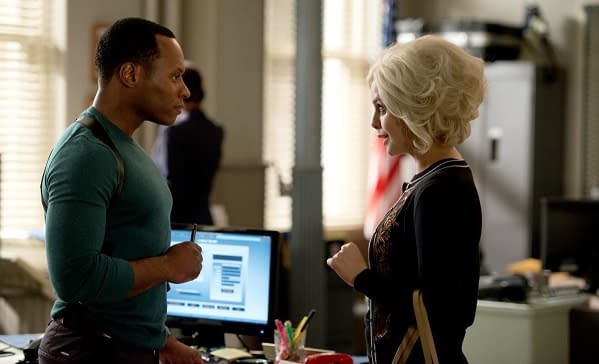 "But you saw all their faces and you are a detective" – Liv to Detective Babineaux
'Blue Bloody' was filled with comedic relief and adorable Liv and Detective Clive Babineaux (Malcolm Goodwin) humor while the two investigated the murder of an older pretentious "rich bitch" who gets killed via golf ball to the eye (and that got many laughs). While on Ms. Briggs brain, Liv demeans Babineaux any and every chance she gets: from getting into the back of his squad car and demanding that he "Drive!" and referring to him as a "dummy;" to emasculating his ego and continually calling his detective abilities into question. It was exiting to see the focus on the central characters and their onscreen chemistry. I so missed Clive's raised eyebrows at Liv's bizarre statements: "Be careful with that piano. You drop it, I'll bury you in it"
The episode did end on a dark note, with Liv and Ravi Chakrabarti (Rahul Kohli) helped smuggle a child with heart failure out of "New Seattle" after his mother killed Ms. Briggs for her will money. I guess brains aren't the only things being smuggled these days…
And where the hell is Blaine DeBeers (David Anders)? I very much missed my "eye candy" in this episode, although we definitely got an earful of his father Angus (Robert Knepper), aka "The Prophet". It appears that Angus McDonough is doing well and has developed a zombie cult following. Never did much care for his cameo character appearances in the previous seasons, but he's kinda growing on me – in a sadistic, crazy, psychopathic sort of way. Angus has begun to "spread the love" – and free brains – to the street zombie population of "New Seattle". He truly believes Seattle belongs to them; and it will be interesting to see how Blaine reacts to his father's newly-found popularity. I'm thinking their reunion will not be filled with warm embraces.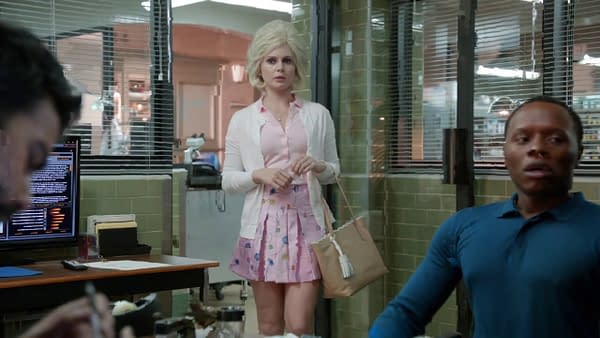 Some additional highlights included a hilarious scene between Clive and Ravi, after Clive awkwardly approached Ravi for advice on how to temper his sex drive. Remember Dale Bozzio (Jessica Harmon), Clive's FBI agent girlfriend who's now a zombie? Well, it appears the zombie-human combo is experiencing some intimacy issues. May I interject for a second? I propose that instead of taking anti-anxiety meds, Clive should just let Bozzio scratch him and get it over with already. Enough with the human thing! All of your friends are zombies anyway, Clive – nobody likes an outcast. ;-)
Major continues to struggle balancing his loyalty to Fillmore-Graves with his conscious: a tug-of-war that comes into question at the end of the episode when him and Liv break up…..again. Brains are being sold on the street for $20 a pop – though their business is put on hold indefinitely after Angus's new posse kills them all.
I'm very much looking forward to the next episode, where we will hopefully be reunited with Blaine and Payton; and get more information on the mysterious Mama Leone (now leading the human trafficking revolution).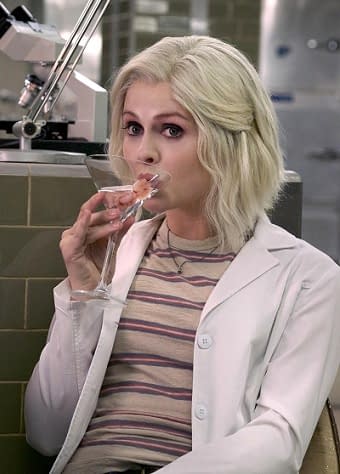 Once again, it's that time when I pay homage to Liv's episodic personality-inducing brain feasts! On this week's menu, it's "happy hour" with a "Rich Bitch" Brain Martini.
https://youtu.be/GxNyHcEWzNI
iZombie 4×03 'Brainless in Seattle (Part 1)': Liv eats the brains of a hopeless romantic, and she can't stop herself from meddling in Clive's relationship; Major and Liv continue trying to work through their differences; Blaine is approached with an interesting offer.

iZombie Season 4, Episode 1 Review: Left Still Feeling Hungry
iZombie Season 4: A Look Back at Season 3 (The Weekly Static: Extras!)
iZombie Season 4: A Look Back at Season 2 (The Weekly Static: Extras!)
iZombie Season 4: A Look Back at Season 1 (The Weekly Static: Extras!)
The Weekly Static: Extras! An iZombie Fan's Season 4 Thoughts
Margo Staten is a Ukrainian born, raised in Brooklyn organically driven, coffee loving, twice divorced mother of one baby Einstein. Has a passion for books, yoga in the park and all things 80's and New Orleans.