We like to keep an eye on Jean-Marc Lofficier's Hexagon Comics USA line, European comics mostly written by Jean-Marc Lofficier, translated into English and distributed solely through his website, Amazon page or at conventions. Selling enough copies to make it more than worthwhile, as well as making certain comics available to a wider English speaking audience. Retailers can purchase them at a 40% discount from distributor Ingram or from the publisher.
And for March, that means two books, The Frontiersman/Codename Glory double feature by Jean-Marc Lofficier, Manuel Martin Peniche and Gabriel Mayorga, and Bob Lance Of The Round Table #1 by Pier Carpi, Luciano Bernasconi under a cover by Roberto Castro.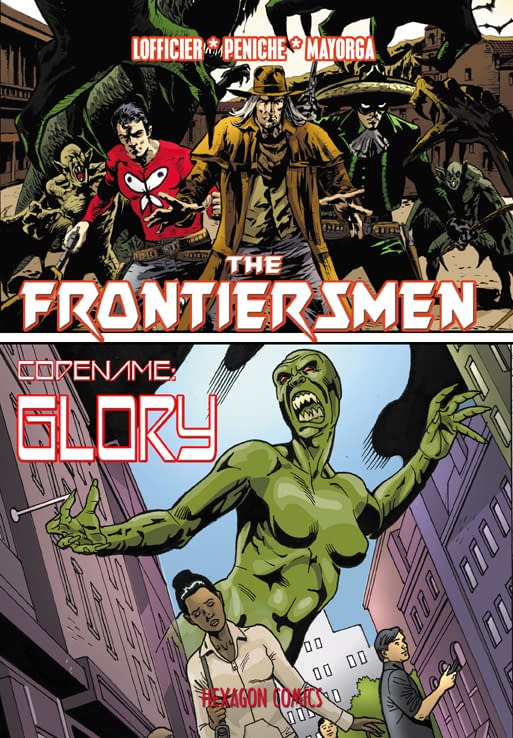 THE FRONTIERSMEN / CODENAME: GLORY
7×10 squarebound trade paperback, 48 pages b&w. ISBN-13: 978-1-61227-950-3. US$9.95.
Stories by Jean-Marc Lofficier; Art by Manuel Martin Peniche, Gabriel Mayorga.
Vampires and Zombies! Dinosaurs and Monsters! A double-threat creature feast in these twin tales of terror from the Hexagon library: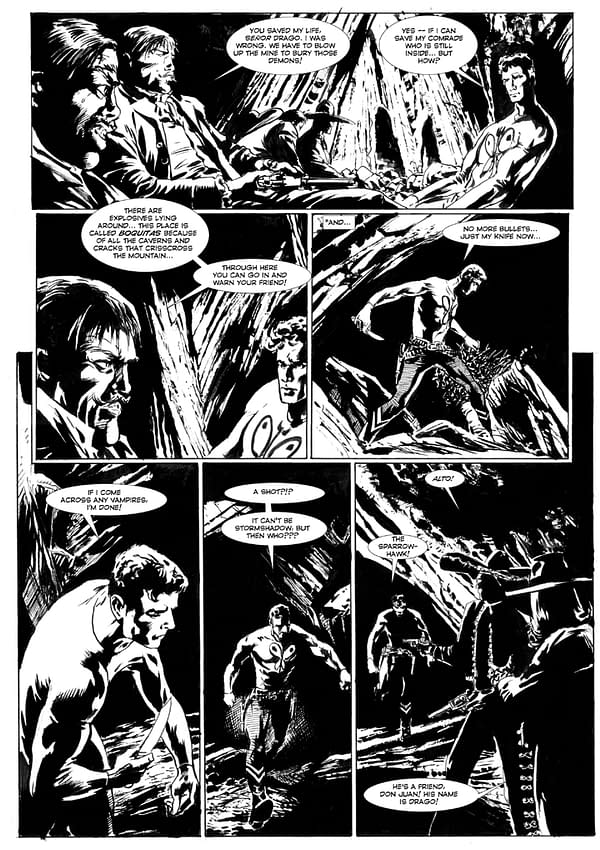 The Frontiersmen: In the 1860s, the U.S./Mexico border is the theater of strange phenomena, the appearances of monstrous creatures and supernatural threats. To fight them, Stormshadow, the powerful shaman of the Twilight People, gathers around him The Sparrowhawk, Don Juan Ortega y Perez, the legendary hero who fights injustice in war-torn Northern Mexico, and the mysterious Drago, a Texan Avenger trained by an Indian Shaman who is descended from a long line of heroes. In this, their first adventure, the newly-assembled "Frontirezos" must defeat the vampiric hordes of Shadrak, or risk the collapse of time itself…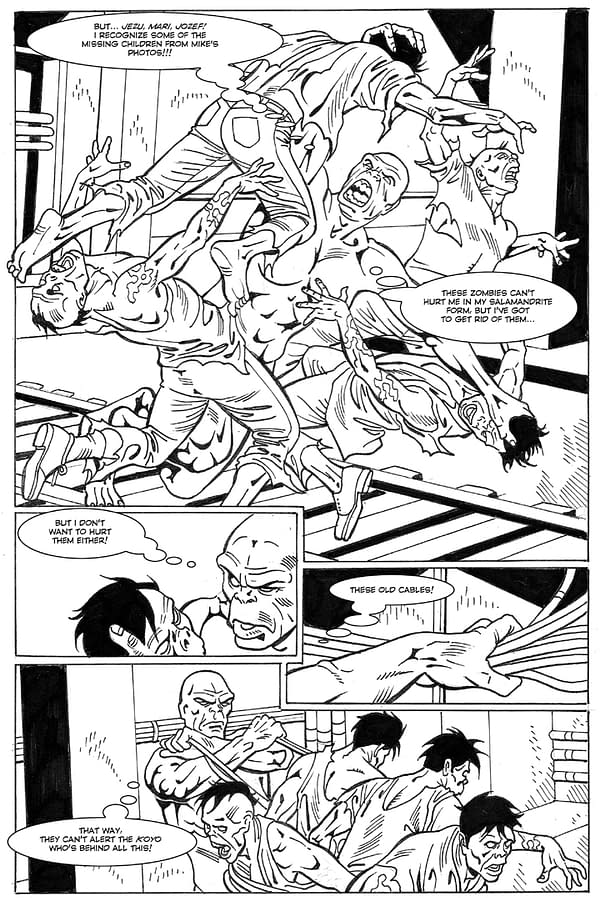 Codename: Glory: Soeurette Lagloire looks like a young and pretty Haitian girl who's come to New York to become a singer, but few know that she is, in reality, Jaydee's sister, Salamandrite No.57, a terrifying living weapon created by the legendary Weapon Makers of Zade from another galaxy. Occasionally assigned perilous mission by her CLASH handler, she must now tackle the fearsome Zombie Master who lurks somewhere in the abandoned tunnels of the New York subway…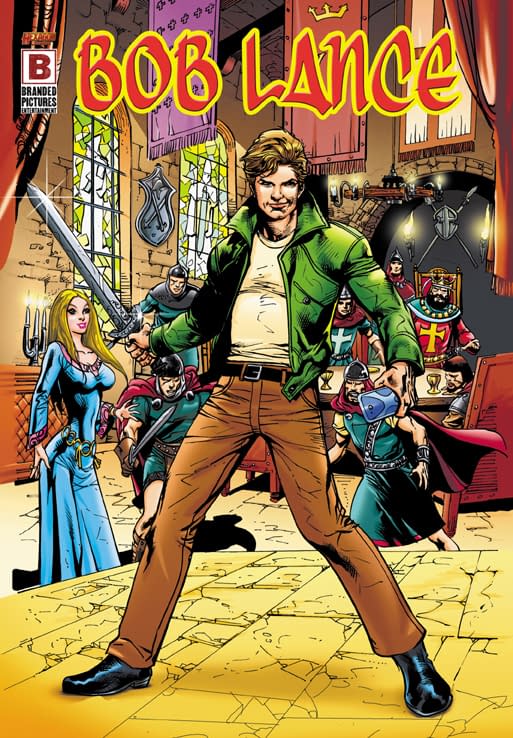 BOB LANCE #1 (OF 3): THE ROUND TABLE
7×10 squarebound trade paperback, 64 pages b&w. ISBN-13: 978-1-61227-393-8. US$12.95.
Story by Pier Carpi; Art by Luciano Bernasconi; cover by Roberto Castro.
When young Robert Lance leaves his posh British university, he has no idea that he is about to step into the mysterious world of the secret order of the Round Table, and that he himself is the descendent of the legendary Lancelot. Thrown into this unfamiliar world of shadows, Bob and his new friend Guinevere must first face the curse of a witch once burned at the stake by superstitious villagers…
This fantasy epic by two great masters of European Comics, Pier Carpi and Luciano Bernasconi (Wampus, Starlock), which rewrites the Arthurian mythos against a modern-day background, was created in 1970 and is a classic of the Hexagon Comics library, translated here for the first time.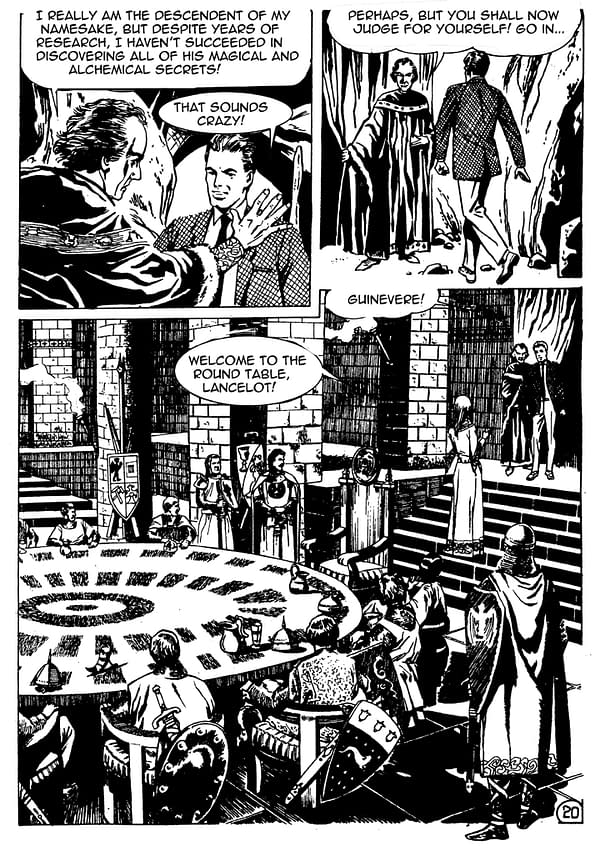 Enjoyed this article? Share it!