Liz Hey interviews Black Hammer writer Jeff Lemire
Between news of his new Valiant book with co-creator Matt Kindt and his exclusive coming to an end at DC, you probably thought you knew everything Jeff Lemire was capable of doing with superheroes. Turns out he's been hiding one more trick up his sleeve and it's going to take a sharp turn from what we've seen recently. Black Hammer, Lemire's new ongoing series for Dark Horse, might appear to be just another story about an offbeat crew of heroes, but it stays close to his creator-owned work to talk about different facets of family and small town life. It might seem like this work is coming as a result of working the super U's, but Lemire admits that the idea first came to him long before DC did. In fact, he states that the concept dates back almost eight years now, longer than any of his other current projects, even sharing its original sketch period with one of his earlier creator owned books, Essex County. And while his later, large continuity work helped influence the subject, his intentions were always to use that just as one detail and to have the story focus on other more general ideas.
"This is very much the closest thing to Essex County I've ever done in a lot of ways. It's small town life, a very quiet character driven story. At the time, I'd never written any superhero comics myself but I loved them, so this was me taking all the stuff I loved—comic book history, superhero stuff—and mashing them into my independent work so it's very easy to see the influence.
It's kind of ironic coming back to it now seven, almost eight, years later that when I started writing this superhero story that I had never written any but now I've done tons of them for DC so it's a totally different perspective that I'm bringing to it that I wouldn't have had originally." Certainly, that's played into the formation of book. While the original sketches and pitch were all done years ago, Lemire says that the script itself is completely new, and that a lot of his original ideas have been changed since he first began the project. It's what's allowed the book to stay relevant and take greater influence from what's going on in the popular current continuities.
"You'll be able to see the influence [or writing for the New 52] for sure. The whole idea of Marvel and DC doing reboots actually becomes part of the story at one point. They're superheroes in the universe but then they get wiped out and when they get back it's vastly different from when they left. It's kind of a comment on that."
Still, that's no reason to call this a superhero title, Lemire explains.
"It really is [closer to more independent work]. The genre element, the superhero stuff, adds flavor to it and is a big part of it but reading the monthly issues it's very character driven, small town life. The superhero stuff is almost treated like flashbacks to fill in the history."
Those flashbacks also help to enhance the overall look of the series as we can see by the few previews that have come out already of artist Dean Ormston's work for the book.
"The art that's been released is of the characters based on 1950s sci-fi comic books so that's how the characters looked in the 50s but when they're on the farm they're going to look modern. Those specific characters were very much Adam Strange, Flash Gordon, kind of inspired. You'll see both and you see the contrast.
I wanted to work with Dean (the artist) for a reason and it's because I love his stuff. I chose an artist to work with whose style I love and I thought would add to it. It's interesting because I did drawings and designs of all these characters seven/eight years ago and I didn't really show them to Dean, I just let him do his own version, which is different from mine so it ends up being kind of cool. We'll probably put them in a trade."
As for the title, consider it another hint towards what those flashbacks mean for the story. While other sources have pointed out that the series' title shares its name with the farm in which it takes place, the writer reveals that it has even more meaning than that.
"It's actually the name of one of the characters. One of the superheroes that came back is Black Hammer and he's sort of like a 70s Blaxploitation Superhero. Something happened to him in the early days which is part of the mystery. They've named the farm after him sort of out of respect.
It's about family, really at its core. It's this oddball group of characters who didn't ask to be together but they are and they have to live together just like any family. They all love each other but at times they just want to kill each other. It's just about family and the weird things people bring into them like baggage but using superheroes as a metaphor. It's a love letter to all the stuff I love."
But this isn't the only reason Lemire's name has been coming up in conversation a few more times than usual. Last week week, Matt Kindt discussed, in his interview with Bleeding Cool, their upcoming collaborative title for Valiant. [The Valiant art by Matt Kindt]
"Matt Kindt is one of my best friends and with my exclusive coming to an end at DC it was a good chance for us to do a project together which we've wanted to do for a while. I really like what Valiant's been doing the last couple years. Plus it's a chance to work with a lot of my closest friends from years ago in a little universe."
And while he's enjoying his time with Valiant and plans on continuing his relationship with them, his loyalty is to good work before all else and sometimes that requires change and movement.
"I was exclusive with DC for almost five years so after being with one company for that long I really wanted to try different things and work with different people and just see what else was out there. It's not so much an anti-DC thing so much as me wanting to change. Creatively, sometimes change can be really good whether it be working with new people or within new universes and really just refresh yourself."
Keeping a balance doesn't just apply to job location though, as he shares. For a good portion of his career now, Lemire has always been a fan of doing both creator owned work and larger continuity pieces simultaneously.
"It keeps it fresh. There'll be like one to two weeks where I'll be really into drawing and doing my stuff that's more indie but like with anything you do for a long time, you get tired. So I put it aside and go write Green Arrow and have fun doing that. It's a good way to keep your batteries fresh."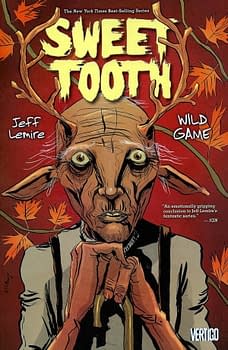 However, for those who have been feeling deprived of the creator's distinct artwork, have patience. It sounds like Black Hammer isn't the only reason the coming year is shaping up to be a promising one for his fans.
"I'm always going to be drawing. I'm doing a graphic novel right now for Simon and Schuster. It's a 250 page book, so while it seems like I'm not drawing anything right now I'm actually drawing more than ever. It's just going to all come out at once a year from now. It's called Rough Neck, and it has a late 2015 release date.
I'll probably do another ongoing book too, like Sweet Tooth which I'll draw myself probably late next year."
Black Hammer is set to debut in March of 2015 from Dark Horse.
Enjoyed this article? Share it!