Saturday Trending Topics: Jim Carrey Kicks Ass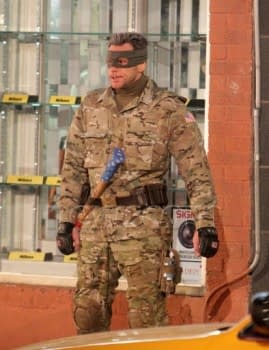 The comic with a long history of comic book movies is at it again: The most anticipated leak from the Kick-Ass 2 set has finally hit the internet. Jim Carrey was on location shooting as Colonel Stars and heads up our first proper paprazzi look at Justice Forever patrolling the streets.
Most-Read Comic Stories Today:
Two Marvel Covers On A Saturday
A couple of new covers for Saturday… a Leinil Yu cover for Indestructible Hulk #2 above… and Wolverine getting up to hellish nonsense by Pascual Ferry below…
Young Avengers, Guardians And X-Force In Marvel NOW's Point One
So we have Kieron Gillen and Jamie McKelvie on Young Avengers, Brian Bendis and Steve McNiven on… well that could be Guardians Of The Galaxy with a new looking Star Lord… and Dennis Hopeless and Gabriel Walta on Cable And X-Force. Looks like Forge has a lot of work to do.
Have You Been Screwed By Josh Hoopes? Get In Touch.
Then it is time to get in touch. Things are happening. Legal people are being consulted in and around Sacremento, California as well as the FBI.
Most-Read TV/Film Stories Today:
Photos And Video Of Jim Carrey As Colonel Stars With Justice Forever On Kick Ass 2 Set – UPDATED
The most anticipated leak from the Kick-Ass 2 set has finally hit the internet.
Ten Thoughts About Doctor Who: The Power Of Three
Okay, so I've watched the new episode of Doctor Who, The Power Of Three. And as ever, here are ten things that popped into my head during it. Yes there are spoilers, hopefully not massive ones, but you'd be better off watching it first. And then watching it again afterwards. Yes, that's best.
The SHIELD Fan Film With A Difference. As In, A Buffy, Walking Dead And Mythbusters Difference.
Adam Levermore would really like a design job on the upcoming Marvel TV show based on the workings of SHIELD.
Most-Discussed In The Forum Today:
Dan Slott Says Retailers Haven't Ordered Enough Amazing Spider-Man #698
Dear Comic Book Retailer, you've never seen me make a post like THIS before. I'm serious. 10/29/12 is the FOC for AMAZING SPIDER-MAN #698. You haven't ordered enough. Trust me.
A Monster Of A Secret Avengers
If this doesn't make you crazy excited for what is coming up in SECRET AVENGERS nothing will
Is Black Zero In Man Of Steel?
Do you see that last little note there? The set's release date matches up very nicely with a little film called Man of Steel. You may have heard of it.