By Olly MacNamee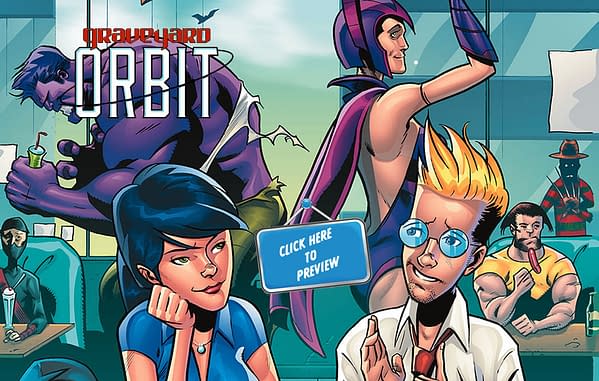 The opening issue of this new series from the mind behind the indie-published anthology, London Horror Comics, regales the tale of a comic loving Walter Mitty type character who's life is not the most enviable, but one all too relatable. Edgar is a young man who still lives at home in order to care for his mother, an otherwise lonely widow but for her son's caring, responsible presence.
Edgar's story is a familiar one, with writer and creator John Paul-Kamath knowingly mixing in equal parts superhero stereotypes (the lost parent, the bespectacled erstwhile hero unlucky in love and life) with the all too real world we currently all find ourselves in; one hit with recession and high unemployment wherein we are often thankful of any job at all regardless of how soul destroying that work may be. I mean, how many people out there really, really love their job?
We witness Edgar as he drifts in and out of reality into a world of superhero pastiches and parodies, which at least add a touch of colour, humour and character into a world that is otherwise full of grey suits and greyer personalities who work in soulless offices. But, as the reality of being responsible for not just himself but his dead old ma begins to bite, Edgar soon realizes that 'People who get on with the business of living,' they are the real heroes. We are real heroes.
Graveyard Orbit, a comic that promises a different tale each issue, is a humorous read with art beautifully presented by Lee Ferguson (G.I Joe: Snake Eyes) who brings a crisp clean line reminiscent of a young Chris Bachalo circa his Shade: The Changing Man days to this tale of one man's daydreaming and the face of grim reality. Whether it is a tale that gets worse, or better is not for me to reveal. But, if you are interested then you can find Kamath's latest comic offering here. And so onto Paul-Kamath's second title int his double-header review, London Horror Comics No. 6, Paul-Kamath's most recent issue of his critically acclaimed horror anthology.
And what a beauty of a comic it is presented as being, with a painted cover richly created, as for previous issues of this title, by good-girl illustrator extraordinaire, Matt Dixon, enveloping the fours stories of suspense to be found within its pages.
As the would-be hero of Graveyard Orbit, Edgar, looks for employment in his own comic in the opening tale of torment, I Saw The Beast, we meet a man, Henry Collins, who has just lost his job after 20 years of service as well as previously having lost his wife to divorce, it would seem. His narration is, at times, poetic and in this story we are offered a more mature, sophisticated voice than that of Edgar, provided by Paul-Kamath who can clearly create any number of characters with their own individual, differing psychologies and inner voices.
Following this story is Strange Fruit, a black humoured tale of vampire neighbours and misunderstandings illustrated, as with the first story, by Lee Ferguson. Another ordinary narrator returns home to assume the worst of her neighbours, only for the worst to be far from the worst it could be.
As for the third story, Ticking Clock, the reader is presented with the strangest of relationships but exploring the most familiar of problems many relationships cross; the question of kids. He doesn't want them, while his unique 'partner' is all too ready for family life. What that family life may look like is revealed and, as would be expected from a black-humoured horror anthology, it ain't ideal.
The gory stylings of Dean Kotz (Night of the Red Panda) on offer here and in the comic's last offering, Ring of Fire, is very appropriate given the subject matter. The splash page alone requires Kotz to render a vile, naked creature half-woman, half animal. I can't see this succubus appearing in any glamour magazines any time soon but in this, it as a startling, shocking start and visually highly effective.
The final tale takes the ages old theme of dealing with the Devil and the inevitable sting in the deal when internet stalker, Steve Winwood (not the one from the Spencer Davis Band and later Traffic), wants to get closer to his neighbor even though he has only ever spied on her from afar. These stories can be difficult to pull off and still serve up a surprise, but surprise me it did.
In both titles from Paul-Kamath, we have a collection of stories that focuses on the loner, the outsider, clearly a common theme but one that does resonate with a modern world of seemingly more and more isolation as we hid ourselves behind screens, closed doors and away from society itself. For some in these pages, a lonely existence in itself is a horror, but often the alternative is more horrific again.
Two titles, while sharing similar character types, offer a variety of fun, gory and superific stories that I found to be most enjoyable. Maybe you will too.
London Horror Comics issues past and present can be found here.
Graveyard Orbit No. 1
Writer/editor: John Paul-Kamath
Art: Lee Ferguson
London Horror Comics No. 6
Writer/editor: John Paul-Kamath
Art: Lee Ferguson and Dean Kotz
Olly MacNamee teaches English and Media, for his sins, in a school somewhere in Birmingham. Some days, even he doesn't know where it is. Follow him on twitter @ollymacnamee or read about his exploits at olly.macnamee@blogspot.co.uk. Or don't.
---
Enjoyed this article? Share it!