Where In The World Are Monsieur Mallah And The Brain? (Spoilers)
Monsieur Mallah is a superintelligent anthropomorphic gorilla supervillain, and loyal servant to the Brain. Created by Arnold Drake and Bruno Premiani, they first appeared in Doom Patrol #86 in 1964, As a scientist, the man who would one day become known as the Brain performed experiments on animals to raise their intelligence. One of these was on a captured gorilla, raising its I.Q. to the genius-level of 178. He named the gorilla Monsieur Mallah and educated him for almost a decade before making him his personal assistant.
The scientist's colleague, Niles Caulder grew jealous of his work and arranged for the scientist to get caught in an explosion, which destroyed the scientist's body. Only the brain survived, and Caulder planned on putting his brain in a robot body.
Mallah rescued the scientist, taking his brain and transferring it to a computer network that kept it functioning. Now known simply as the Brain, the scientist and Mallah gathered together the criminal organization known as the Brotherhood of Evil in hopes of conquering the world and getting revenge on Caulder. Monsieur Mallah usually carries a machine gun.
During Grant Morrison's Doom Patrol run, Mallah had the Brain placed in one of Robotman's bodies. In his new body, the Brain confessed to Mallah he was in love with him. Mallah revealed he felt the same way, and the two kissed. However, Robotman's body had developed sentience and vowed never to be enslaved by a brain again; when Mallah placed his lover in the body, he triggered a self-destruct mechanism, which exploded as they kissed.
The two would later resurface, the Brain back to floating in a jar, without explanation. A confrontation with Gorilla Grodd saw Grodd pick the Brain up and beat Mallah to death, smashing the Brain's protective hull in the process and killing him as well.
In the New 52, Brain and Monsieur Mallah first appear assisting Gorilla Grodd in taking over the remains of Central City at the time when The Black had taken over most of the world.
And today, they are back. Not just once but twice. We see them captured and humiliated by the Joker.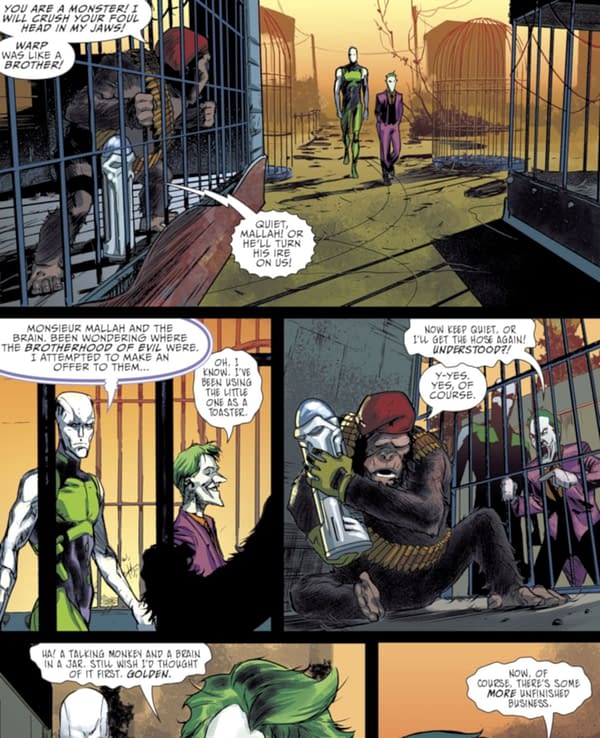 But in today's Red Hood: Outlaw #43, we meet a few old hands, from General Glory, created by Keith Giffen, JM DeMatteis for Justice League America in 1991 as a Captain America parody with exaggerated patriotic values. But now looking a little darker…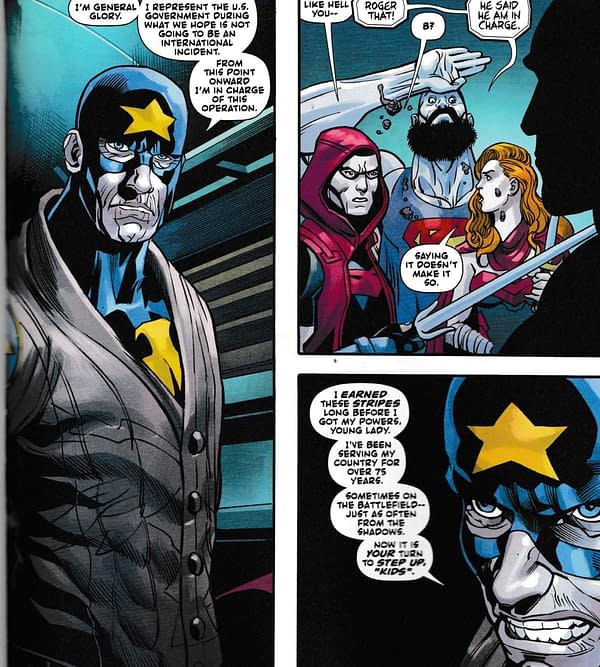 And a return to the Justice League International classic style of superheroic interview vox pops.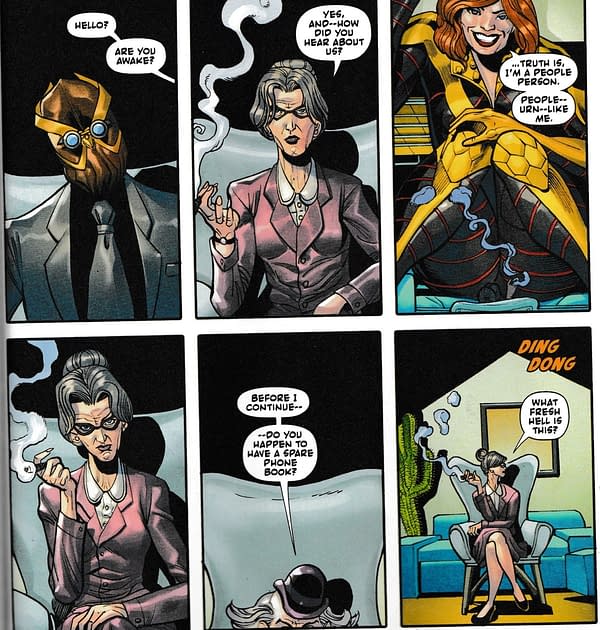 But no, not for Monsieur Mallah and the Brain a mere headshot. Instead…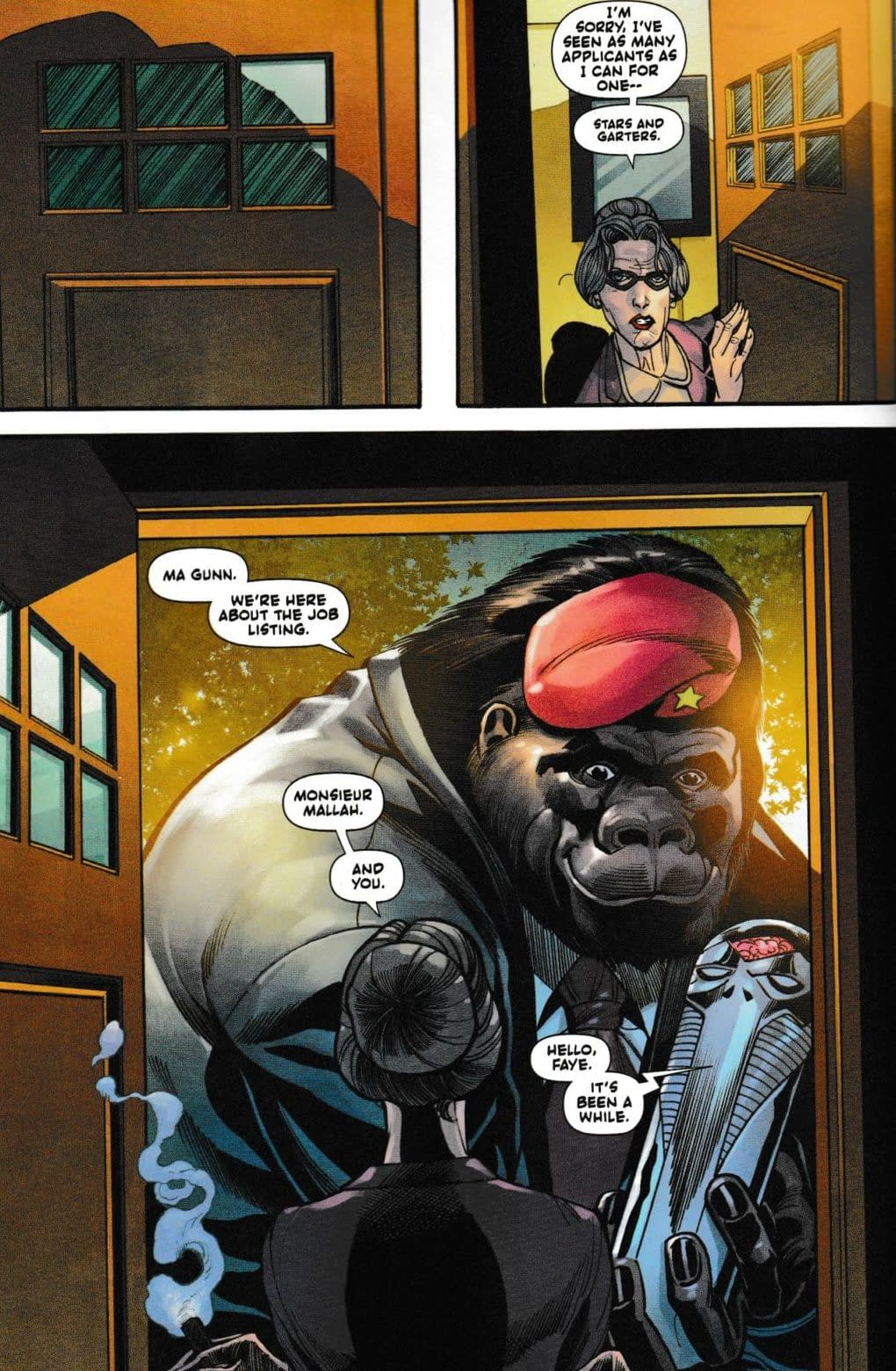 Neat trick when you are still imprisoned by the Joker. Don't worry, don't worry, Generation Zero: Gods Among Us is coming in May to make sense of it all.
RED HOOD OUTLAW #43
(W) Scott Lobdell (A) ChrisCross, Scott Hanna (CA) Dan Mora
We're living in strange times! Magic and metahumans are everywhere, but good and evil are easy to spot-right? The heroes of the world would never let anything happen to it…unless it happened already. Red Hood and the Outlaws are about to discover that the line between moral and immoral is very thin indeed.In Shops: Feb 26, 2020 SRP: $3.99

YEAR OF THE VILLAIN HELL ARISEN #3 (OF 4)
(W) James Tynion IV (A) Javi Fernandez (A/CA) Steve Epting
Apex Lex Luthor's first run-in with the Infected didn't go as planned, and the Batman Who Laughs' influence is continuing to spread. Now Lex must find out who in the world can think like the Batman Who Laughs-and there are only two folks who come to mind. The first is Batman, who probably has his own ideas for Lex; the other is The Joker, who also likely has his own ideas, but who just maybe wants to see this twisted doppelgänger sent back to the Dark Multiverse he came from. It's a gamble Lex has to take, because the Infected are gearing up for round two! In Shops: Feb 26, 2020 SRP: $4.99
Red Hood: Outlaw #43 are Hell Arisen #3 are out today from DC Comics… I bought mine from Piranha Comics in Kingston-Upon-Thames. Piranha Comics is a small south London comic store chain with a small south-east store in Kingston-Upon Thames's market centre, which runs Magic The Gathering nights on Fridays, and a larger south-west store in Bromley, which also runs Magic nights and has an extensive back issue collection and online store. If you are in the neighbourhood, check them out.