By Ed Saul
Rival critics have compared Fabien Vehlmann and Kerascoet's Beautiful Darkness favorably to other works in a "high-concept pitch" format – "it's Tove Jansson meets Joseph Conrad", sort of thing. I read those reviews immediately after my first reading of the book, and I have to say that wasn't my first impression at all.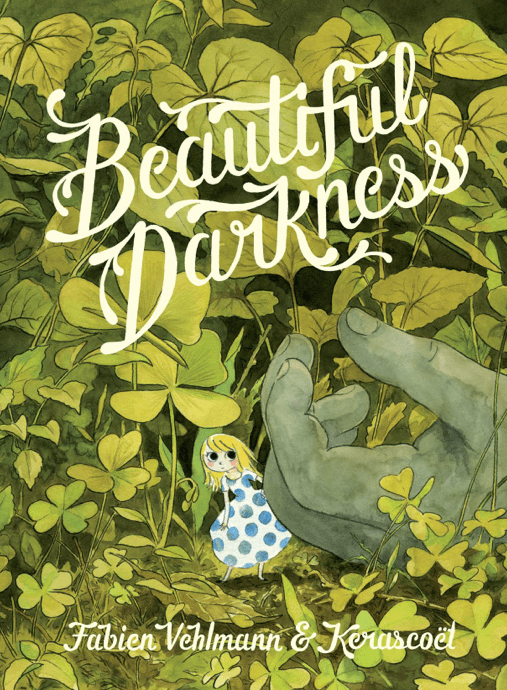 True, there are several incidental shades of other works – The Borrowers most obviously, but also a bit of Studio Ghibli – but what struck me initially was the situation of the story rather than the plot. In that sense Beautiful Darkness has more in common with Kenji Nakazawa's Barefoot Gen or Raymond Briggs' When the Wind Blows than The Moomins. It's a story about a disaster, and what happens to people in its aftermath.
Vehlmann's writing focuses on the beautiful Aurora, a naive innocent living in a cartoonishly twee world; one which comes crashing down on her. She and her kin are driven out of their home, which turns out to be the head of a small child lost in the woods. The child is dead and already decaying, and the tiny fairy-creatures that once lived inside her are homeless. How she died, where she came from or indeed what the fairy-creatures are becomes entirely irrelevant. The most important question is now: how are they going to survive?
Though we start off with Aurora's perspective, the narrative is more communal, choosing to  portray different aspects of trauma, loneliness and friendship through small character-based arcs. The characters are mentally decaying just as their once-host is rotting away nonchalantly in the background; yet they seem unable to fully let her go, remaining in her vicinity (or in one case, going to more extreme lengths). We find people becoming compassionate or selfish to different degrees, all in reaction to the situation in which they find themselves – one which they never fully discuss, perhaps because they have no words for it.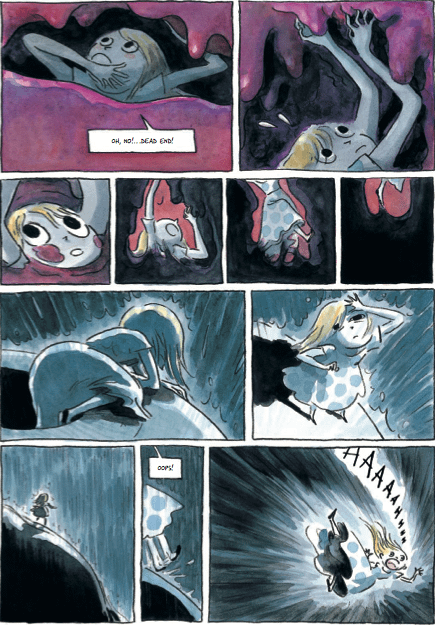 The most shocking thing, though, is how realistic a story this is in spite of the characters. Artistic spouse-team Kerascoet properly flex their muscles in creating a brilliant contrast between the reality of the forest settings and the absurdly adorable characters, cleverly using simplistic, bright tones to contrast against the more complex browns and greens of the wildlife around them. The grim reality of death portrayed through the little girl erases any idea of a moral order – when Aurora is hurt, she finds out the hard way that she must take matters into her own hands if she ever wants to be avenged.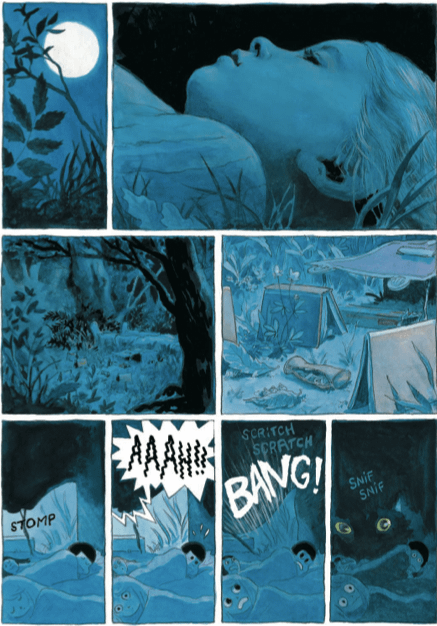 It's a soft-impact story, in any case. Like all disasters, you're never quite prepared for what happens when it strikes, just as the characters aren't prepared for its aftermath: and, down to the story's ending with its shades of the Holocaust, you never know quite what to expect from these once-innocent-looking characters.
Beautiful Darkness is being released by Drawn & Quarterly in March, a 96 page full-color hardback graphic novel. You can preview it here.
Check out globe-trotting Ed Saul's blog, http://aboxofbones.com
Enjoyed this article? Share it!