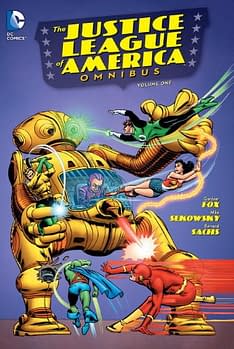 Did you pick up the Justice League Of America Omnibus a few weeks ago? The DC Comics site states that it is,
collecting THE BRAVE AND THE BOLD #28-30, JUSTICE LEAGUE OF AMERICA #1-30 and MYSTERY IN SPACE #75! Together, Aquaman, The Flash, Green Lantern, Martian Manhunter and Wonder Woman stand against such rogues as Starro, Despero, Kanjar Ro, and Felix Faust!
However, the published version differs in one important fashion. As members of the Marvel Masterworks messageboards noticed. There was praise for its production values…
Mine arrived today. It is just under 900 pages, sewn binding, but it doesn't lay flat until roughly 200 pages in. Binding is tight but solid feeling and should loosen up with play. The paper is breathtakingly gorgeous. Thick coated stock with a dull matte finish. Bare minimum glare, if you would notice any at all. Repro looks crisp but that is at a glance. Would have to study scans of the floppies for an "official" opinion. I never bought the Archives so this was a no-brainer purchase for me. I'm happy with it.
Another said,
I haven't received mine yet and I almost didn't order it because I have the archives. I only ordered it for two reasons. The inclusion of the Mystery in Space story and the hope that future volumes will have outside of title JLA inclusions and that we might eventually see issues past 100 collected. My favorite run was the second hundred issues.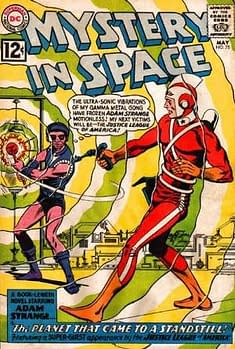 Mystery In Space #75 was comic published at the time as the other issues that guest featured the JLA. But, oh dear…
No Mystery in Space #75. It was not included. Disappointing for sure.
Oh dear oh dear…
Looks like I'll be returning it then due to false solicited info. I mean at this rate I'll be dead before issues past #100 are ever collected. I love DC but hate its collection program. Marvel wins even with DC fans!
This last weekend, DC Comics issued the note,
Please note that the contents of the JUSTICE LEAGUE OF AMERICA OMNIBUS VOL. 1 HC will include THE BRAVE AND THE BOLD #28-30 and JUSTICE LEAGUE OF AMERICA #1-30, but will not include MYSTERY IN SPACE #75 as solicited.
But that is three weeks after the book came out…
Enjoyed this article? Share it!