What the Original Justice League Odyssey #1 Would Have Been Like
Justice League Odyssey #1 rewrote the history of the DC Universe. After being rewritten and redrawn itself.
It saw New God Darkseid revealing that the Old Gods of the DC Universe were, it seems, Starfire, Cyborg and Azrael, and joining the team. All very odd.
But what was originally planned for Justice League Odyssey #1?
Well, Bleeding Cool has been able to get access to Stjepan Sejic's artwork, if not Joshua Williamson's script, for the original issue of the series.

It begins with citizens of Colu, as also seen in the published #1, in panic as one girl picks up an abandoned doll that resembles an astronaut….

…as the DC villain Despero approaches amongst the dead.

He faces down the Justice League Odyssey, Cyborg, Starfire, Green Lantern Jerrica Cruz (though no Azrael yet), on planet in front of their Brainiac ship. Braniac being a Coluan of course. And the joined dots on the dolls head being the same as on Brainiac's.
We flashback to the broken Source Wall that led to these planets being released into the wild, with the main Justice League standing round making decisions, and Batman introducing the JLO team.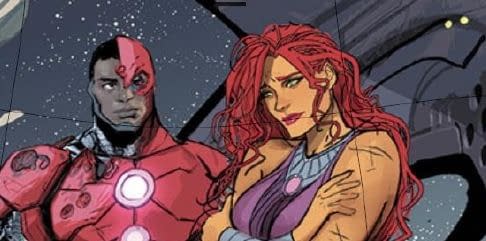 There seems to be some unstated Titany-background to Cyborg and Starfire as they flashback – could this have been what doomed the issue?
But then we are back to Despero fighting Cyborg, Despero blowing a hole in him before Starfire joins the fight and we see Azrael playing a kind of Oracle-role, telling them about the Coluians being used as slaves by Despero's men to move a massive Boom Box, with Jessica Cruz approaching it.
We then have a flashback on Earth with Simon Bal/Jason Cruz Green Lantern play-battle, Cruz creating a giant dragon, Simon creating a knight in armour, presumably having the kind of conversation they had in the published #1 about Cruz' role in the Ghost sector of space.
Then she gets to take down the slave driver with a punch to the face, though he counters with his slave whip and Azrael has to step in.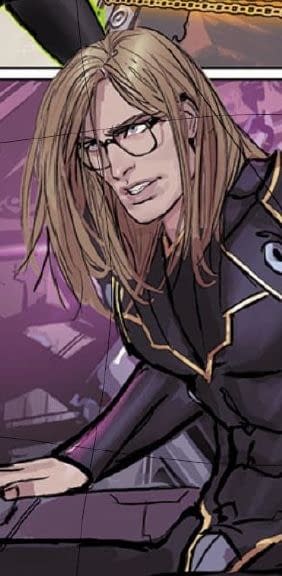 Which means he gets his flashback, working with Batman, Lucius Fox and putting on his own Shining Knight suit. He frees Cruz, for Despero to take them both down, and then the remaining Starfire, laughing at the flames and blasting her out of the sky. And her time for a flashback, being approached by the Brainiac ship.
Is this why the comic got canned? Too much flashback?
Cyborg is flying the ship and he is joined by Jessica Cruz. And Azrael is brought up to the ship. This is where and how the band is put together. With why remains a mystery.

We then cut to Despero holding half-Cyborg missing an arm and most of his legs, with Starfire, Cruz and Azrael prone around him, the slavemaster watching. Cyborg manages to reform himself and attacks Akira style with metallic tentacles sprouting from his body.
And then Despero is gone. Somehow the JLO are victorious. And the Coluans are grateful. The girl shows her Brainiac doll to Cyborg. At which point the Boom Bo triggers and Darkseid steps through, faces down Cyborg as his army begin to emerge.

Could this be the moment in a timey-wimey situation that they become the Old Gods? Or were they never going to do that originally?
This was the original solicit:
JUSTICE LEAGUE ODYSSEY #1
(W) Joshua Williamson (A/CA) Stjepan Sejic
Spinning out of JUSTICE LEAGUE: NO JUSTICE! When a cosmic menace threatens worlds beyond our own in the Ghost Sector, it falls to a new Justice League team to answer the call to battle! Cyborg, Starfire, Green Lantern Jessica Cruz and an out-of-his-element Azrael head to deep space inside a commandeered Brainiac Skull Ship. But as these wildcard teammates try to stop Despero from slave-trading Coluan refugees, they discover something that nothing in the universe could have prepared them for: Darkseid…who says he's there to help?! In Shops: 08.29.18 $3.99
And this is what it became:
JUSTICE LEAGUE ODYSSEY #1
(W) Joshua Williamson (A/CA) Stjepan Sejic
Spinning out of JUSTICE LEAGUE: NO JUSTICE! When a cosmic menace threatens worlds beyond our own in the Ghost Sector, it falls to a new Justice League team to answer the call to battle! Cyborg, Starfire, Green Lantern Jessica Cruz and an out-of-his-element Azrael head to deep space inside a commandeered Brainiac Skull Ship. But as these wildcard teammates try to break through the impenetrable maelstrom imprisoning the desperate collection of planets, they discover something that nothing in the universe could have prepared them for: Darkseid…who says he's there to help?! In Shops: Sep 26, 2018
SRP: $3.99