Our Resident Alien Returns And Electricomics Goes Cabaret – Talking With Peter Hogan About Life On Earth
Last week saw the return of the Eisner Award-winning anthology Dark Horse Presents in a new stream-lined format renumbered at Issue #1, and it contained what can certainly be described as an all-star line up of talent from Geoff Darrow to David Mack, Peter Hogan, Steve Parkhouse, Jimmy Palmiotti, Justin Gray and more. Hogan and Parkhouse heralded the return of the series Resident Alien in this issue, now entering its third "volume" of stories, initially taking up the new setting of Las Vegas for Harry as he tries to keep a low profile. Resident Alien has always intrigued readers due to its central premise–that Harry is an alien attempting to survive in human society–and also due to its mystery elements infused with the details of semi-rural settings. This new arc of Resident Alien will retain many of those key elements, as Harry takes up residence in a small town once more, though we do get to see him navigating the nightworld of Las Vegas along the way. You'll also find Steve Parkhouse's cover artwork for Resident Alien gracing Dark Horse Presents #2, due out September 17th.
Peter Hogan talks with us here at Bleeding Cool about what's coming up for Harry, how Hogan strategizes working in the anthology format, and also about his role in the new project with Alan and Leah Moore, Electricomics, where he gives us some teasers about the nature of his upcoming work.
Hannah Means-Shannon: Resident Alien began in Dark Horse Presents and now returns. What do you think is different in terms of process and thinking when writing a shorter serialized comic versus in single issues, if at all? Does knowing the format for readers change the way you do things?
Peter Hogan: It's tricky. I have to come up with 8-page chunks that are satisfying on their own, but which will also work as a complete issue when they're collected AND as part of a larger 4-issue storyline. So, all I can really do with these chunks is try to intrigue people, to lure them in for more.
Also, it's evident that each time we come back, we're gaining new readers who've never read the strip before. Which is also difficult, because however much I try to make it reader-friendly, the fact is that we're now onto Volume III, and there's no denying that you'll probably get more out of it if you've read the earlier books.
HMS: You've described Harry in the past as a kind of ultimate "outsider" because this story does add that intriguing flipside of having an alien on earth rather than a human as a fish out of water on other worlds. How do you come up with the differences in perspective from Harry as he looks at Earth that will keep things fresh and remind people just how jarring Earth would seem to someone trying to fit in on such a drastic level?
PH: Oh, you only have to stand back a little bit to notice how bizarre and funny and fascinating humanity is. Not to mention occasionally inspiring. I think that's something that Harry finds compelling, and in many ways he's slowly becoming the most human of us all.
This time around we're expanding his world a little, deepening the existing relationships and introducing some new ones.
HMS: You dive into a Las Vegas setting in this new storyline. What prompted that choice and does a place like Vegas make it easier or more difficult for Harry to survive? It is, after all, a freakshow on a grand scale. But on the other hand, there are cameras everywhere and crowds.
PH: I needed something that would give Harry enough money to survive his stay, and have it be legal. Vegas fitted the bill for that, but I'm afraid that one scene set there is all you'll get. I think a place as crowded as Vegas is hell on Harry's nerves, but we've already established that he can make security cameras go haywire if he knows they're there.
As we always do, we're filling in some holes in Harry's backstory, and this is one of them. You'll also get another glimpse of his homeworld and a few other things, but the main story takes place right now in the small town of Patience, where Harry's still acting as the town doctor, and still passing his spare time by investigating mysteries. This time is no exception, though it's a very different kind of mystery here to previous ones, and whether it involves a dead body or not, is itself a part of the mystery.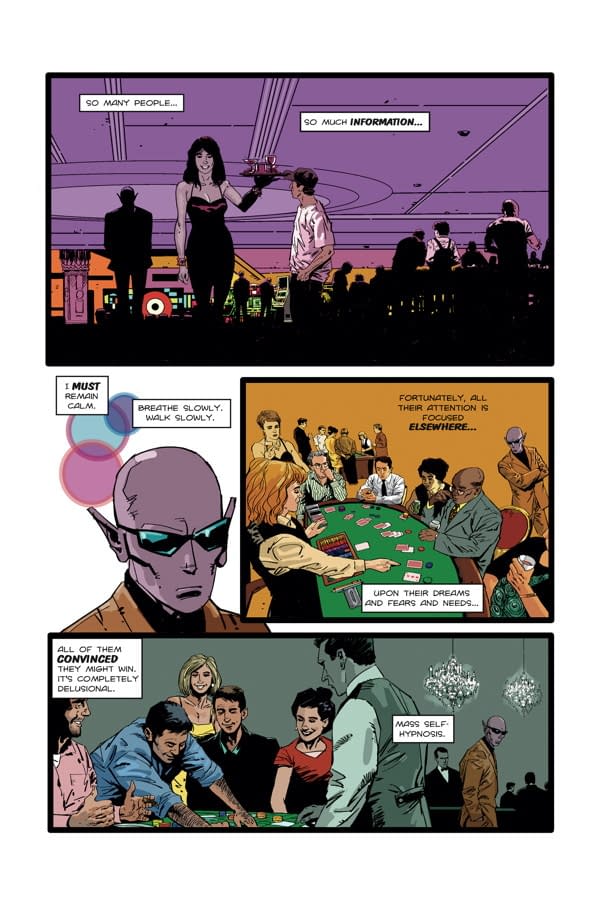 HMS: The artwork on the first installment is really striking. In a way it seems fitting to present Harry in this strange brightly-colored nightworld.
PH: True. But I think what intrigued a lot of people when we started Resident Alien was seeing someone who was obviously an alien in a small town setting, because it seemed so incongruous, and because no one was treating him like an alien. As to the art…I think Steve Parkhouse is a genius, and always have done. That's why I chose him to work with on my first storyline in The Dreaming, and why I wanted to work with him again on this.
HMS: For Harry, we have both an internal monologue that's particularly important for readers to see his perspective since he's not, by situation, going to be very talkative, and also a kind of bird's eye view of humanity. I love the line in the first installment about gambling as "mass self hypnosis". Is Harry a being without illusions, or does he just harbor different ones than humans?
PH: The latter, I think. He's certainly capable of making mistakes, and he isn't always right. He's still a guy, not a god – albeit a very different kind of guy, with abilities humans don't have.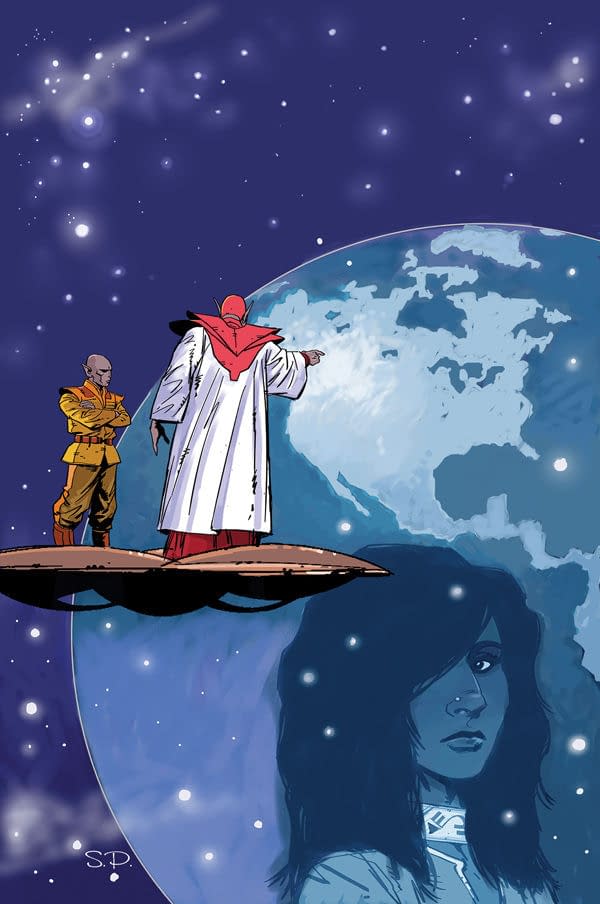 [The Resident Alien cover for Dark Horse Presents #2 forthcoming]
HMS: What do you think of the new streamlined format of DHP from #1 where this first story appears? I have to say, seeing it in print did really impress me. There's a certain energy to the format and line-up that grabs your attention.
PH: Well, it's always nice to be in such illustrious company! I think it's obvious that Dark Horse have always really known what they're doing with this title, but even a tried and tested formula needs a shake-up once in a while.

HMS: Speaking of illustrious company, you're also one of the writers taking part in the Electricomics project. What can you tell us about that?
PH: It's been in development for quite a while. Alan[Moore] rang me up and asked me to take part in this several years ago, after he had the idea for a 'spindle' reading device, which was something that grew out of the Jimmy's End film cycle. It's taken this long to get the project off the ground, and it's changed somewhat along the way, but the idea is still to come up with something that takes the idea of storytelling for electronic comics and pushes it one step beyond what's been done to date. Nobody's claiming that it's the future of comics, just … an interesting experiment.
The plan is to create an app for tablets and so on, which will be showcased with an anthology of four short stories edited by Leah Moore. I was asked to contribute a horror story – not so much supernatural horror as a horror of unease, and Alan suggested the title of Cabaret Amygdala. That sounded to me like an 'umbrella' concept, like Tales From The Crypt or the Twilight Zone. So, I suggested we call it Cabaret Amygdala Presents, so Alan can use that name in other contexts – and knowing him, I wouldn't be surprised if it ended up becoming an actual burlesque club in due course.
Anyway, the actual story is called "Second Sight", and it combines a couple of concepts I personally find genuinely creepy and disturbing. I've tried to tell the story in quite a subtle way that allows the readers to slowly piece all the facts together themselves. It's probably the most complex thing I've ever written, and I'm very proud of it.
Don't know when you'll get to see it, though – you'll have to ask Leah.