Poison Ivy Swears Off Mind Control – Before Engaging in Mind Control (Damage #6 Spoilers)
So, Poison Ivy has been portrayed as a genocidally murderous supervillain in the recent Damage series. Which is set after her Birds Of Prey appearances as a reformed supervillain working with heroes. And before her Batman appearance where she takes over the entire world with mind control, before being shipped off to the Justice League's Sanctuary, where she'll probably get bumped off alongside everyone else.
In today's Damage #6, we start to get a better idea of why Poison Ivy has been behaving so off-brand (aside from the creators and editors deciding this would be a good story and only having to rewrite it on the fly when everyone kicked off). As she rejects the manipulation of Grodd…
Vows not to be mentally controlled (um, before she does the same to everyone else in Batman)…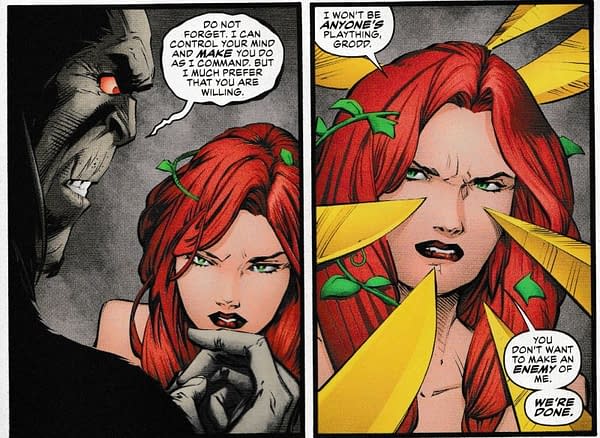 And then given a Get Out Of Jail card by Swamp Thing who blames The Green, the plant-based extra-dimensional view of reality, who apparently Swamp Thing is on the outs with.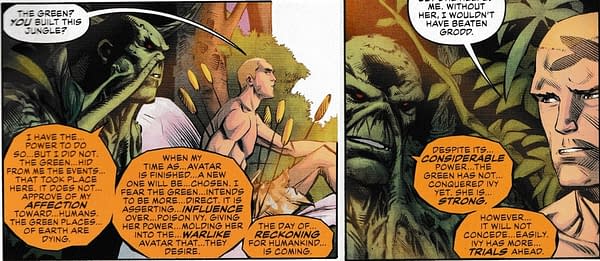 And seems rather different to the way the Green has been portrayed every other time. The Parliament Of Trees wouldn't stand for such a rapid reaction force….
DAMAGE #6
(W) Robert Venditti (A) Diogenes Neves (CA) Tony S. Daniel, Danny Miki
Poison Ivy has been transforming the countryside and turning humans into plant food, but not to create a perfect ecological system for her beloved greenery. Rather, it's a brand-new home for Gorilla Grodd and his army of apes! Damage faces his toughest opponent yet. Will his fists be any match for the meaty paws of the gorilla king? And what exactly is Swamp Thing's role in all of this?In Shops: Jun 20, 2018
SRP: $2.99