Harbinger Renegade #5, which massacred its way through its characters in full Darick Robertson "The Boys" style, is getting a second printing from Valiant Entertainment for September 6th. So you can relive the carnage all over again.
HARBINGER RENEGADE #5
(W) Rafer Roberts (A) Richard Clark (A/CA) Darick Robertson
ALL-NEW ARC! ALL-NEW JUMPING ON POINT! "MASSACRE" – PART ONE!

Harvey Award-nominated writer Rafer Roberts (Plastic Farm) and superstar artist Darick Robertson (The Boys, Transmetropolitan) begin THE ROAD TO HARBINGER WARS 2 – Valiant's seismic 2018 event – right here with a bang that will reverberate throughout the entire Valiant Universe…and claim the life of a major hero!

Toyo Harada's former protege – Alexander Solomon, a "psiot" with the ability to predict and analyze potential futures – has been waiting for this moment. With the Harbinger Renegades – Peter Stanchek, Faith, Kris Hathaway, and Torque – now reunited as a result of his covert manipulations, his ultimate gambit can now begin. But he's not the only one who has been watching. Major Charlie Palmer has just re-assigned a new division of the militarized psiot hunters codenamed H.A.R.D. Corps to active duty…and they're about to bring a torrent of blood and calamity roaring into the streets of a major American metropolis for an all-out firefight.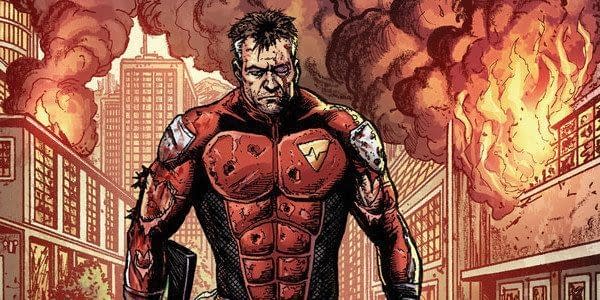 And the Calexit #1 second printing with an on-sale date of August 16th is already sold out at Diamond and at Black Mask's wholesale store with backorders piling up. Expect a third printing to come as retailers try to bump up their orders on #2, #3 and #4 significantly.
CALEXIT #1 2ND PTG
(W) Matt Pizzolo (A) Amancay Nahuelpan (CA) Soo Lee
What if a fascist, autocratic President took over the United States? And what if that President lost California, the sixth largest economy on Earth, by nearly 2-to-1…a margin of almost 3 1/2 million votes? What if the day after that President took power, the largest mass demonstration in history occurred, and the state with the largest turnout was California. And then, the following week, two of the largest international airports in the world, California's LAX and SFO, were blockaded by protesters? What if California refused to be ruled? From the creators of YOUNG TERRORISTS, Matteo Pizzolo (GODKILLER) and Amancay Nahuelpan (CLANDESTINO), comes this tale of resisting oppression, punching Nazis, protecting each other, kicking ass, and demanding liberty for all.
In Shops: Aug 16, 2017 Enjoyed this article? Share it!