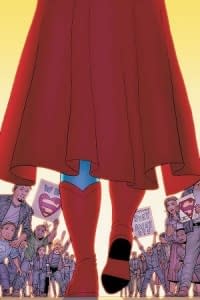 The next issue of Superman, features the continuing walk-across-America storyline "Grounded". But it looks like Big Blue-And-Red will be strolling into Cincinnati a month late, for Octobver 15th.
This is a blow for the organisers of the Cincinnati Comics Expo, whose event is happening this weekend. They'd planned numerous activities and promotional events around the character arriving in-comic into their town – but it was not to be.
Previous issues of the book have Superman walk to Philadelphia and Detriot, with much local publicity as a result. Cincinnati were hoping to take this to a whole new level.
Still, I'm sure they'll cope. Might be worth trying to get a few previews in time though…
Enjoyed this article? Share it!