The Star Wars: Rise Of Kylo Ren comic book, published by Marvel Comics alongside the Star Wars: Rise Of Skywalker movie, tells the earlier stories of Kylo Ren and Snoke… and it seems it has been quite the hit. Bleeding Cool mentioned it was going to a rapid second print, rare for a Star Wars comic, and the prices for the first print have been rocketing.
eBay sales for the standard cover have risen to $35 plus shipping, with the 1:25 variant cover going for up to $76. While there are already advance sales for the 1:25 cover of issue 2 for up to $50. Issue 2 is out on January 15th, the second print of issue 1 out on the 29th.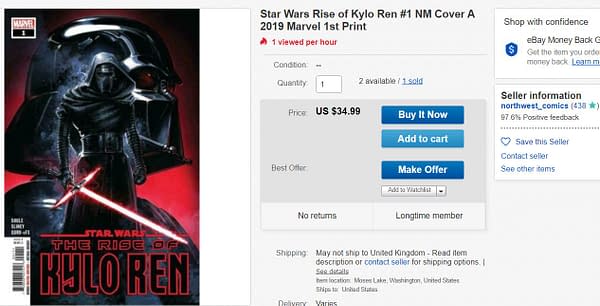 STAR WARS RISE KYLO REN #1 (OF 4)
(W) Charles Soule (A) Will Sliney (CA) Clayton Crain
WITH BEN SOLO'S FALL… COMES KYLO REN'S RISE!
Young Ben Solo is legendary Jedi Luke Skywalker's most promising pupil. As the son of Rebel Alliance heroes Leia Organa and Han Solo, as well as Luke's own nephew, Ben has the potential to be a great force for light in the galaxy. But the Skywalker legacy casts a long shadow, the currents of the dark side run deep, and Darth Vader's blood runs in Ben's veins. Voices call from both his past and his future, telling him who he must be. He will shatter, he will be reforged, his destiny will be revealed. Snoke awaits. The Knights of Ren await. Ben Solo's path to his true self begins here.
Rated TIn Shops: Dec 18, 2019
SRP: $4.99
STAR WARS RISE KYLO REN #2 (OF 4)
(W) Charles Soule (A) Will Sliney (CA) Clayton Crain
SNOKE SINKS HIS CLAWS IN! YOUNG BEN SOLO FACES THE KNIGHTS OF REN!
• With the new jedi school in ruins and fellow students hot on his trail for the murder of their master, Ben Solo flees to the only friend he has left in the galaxy…a man named Snoke. But Snoke has plans for Ben…and ideas about the Force that are as dangerous as they are intriguing for the troubled young jedi.
• If Ben wishes to be truly free…the answers might lie with the dark side. And with the Knights of Ren!
• But it won't be the first time he's tangled with the Knights. In the past, Jedi Master Luke Skywalker journeys to the Unknown Regions and brings young Ben along for the mission. Can even Luke Skywalker stand against the fabled Knights of Ren?!
Rated T In Shops: Jan 15, 2020
SRP: $3.99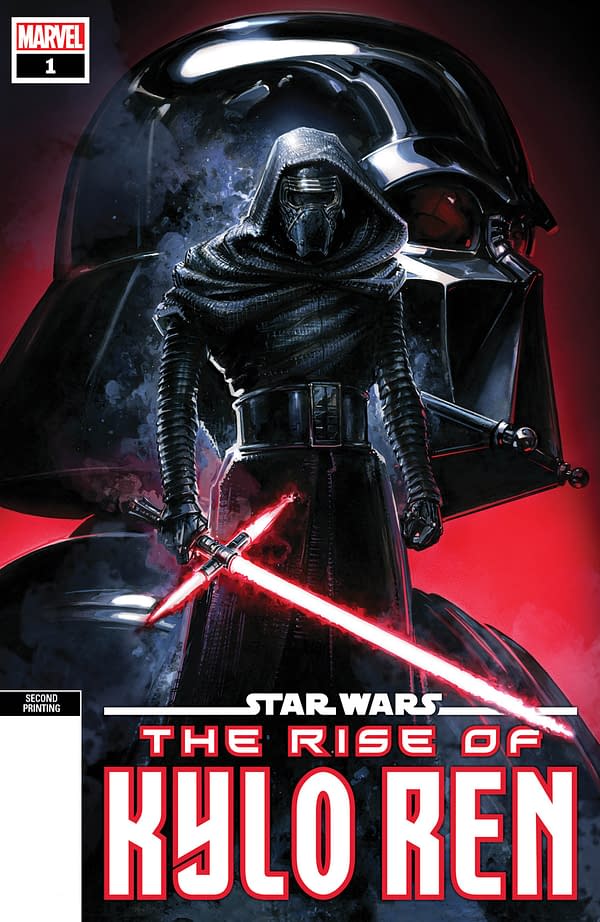 STAR WARS RISE KYLO REN #1 (OF 4) 2ND PTG CRAIN SPOT COLOR V
(W) Charles Soule (A) Will Sliney (CA) Clayton Crain
In Shops: Jan 29, 2020
Final Orders Due: Jan 06, 2020
SRP: $4.99
Enjoyed this article? Share it!