Stitched was the horror comic book series (and short film) created, written and directed by Garth Ennis for Bleeding Cool's publisher, Avatar Press in 2011. The comic was drawn by Mike Wolfer. It told the story of a team of American soldiers who crash in Afghanistan, meet member of the SAS, and encounter an enemy opposed to all of them – and the Taliban – the Stitched. Undead creatures controlled by mysterious men in black robes who tear any human they reach limb from limb, guided by mysterious men in black robes. The comic was published for a few years with Wolfer writing the series, drawn by Fernando Heinz Furukawa.
In 2019, the Stitched are back. And they are coming to America. With Stitched Terror by Patrick Shand and Daniel Gete published by Avatar Press in January. And with Sheriff Kat Noble charged with taking them down….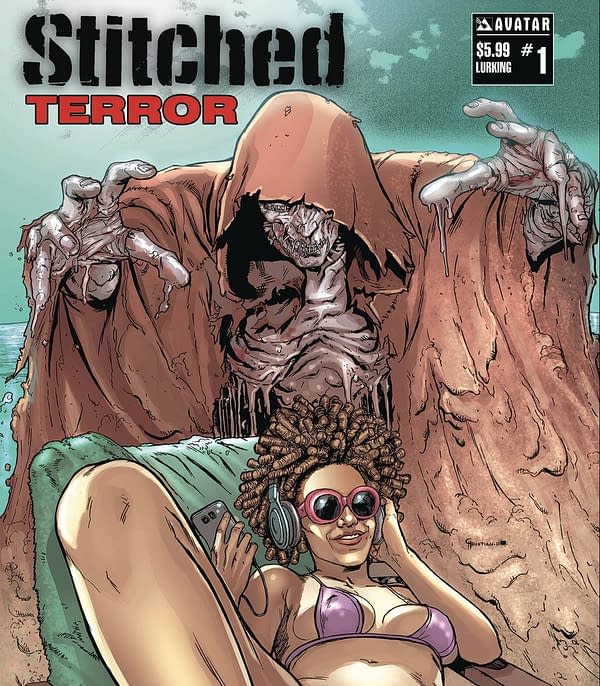 STITCHED TERROR #1 (MR)

(W) Pat Shand (A) Daniel Gete (CA) Nahuel Lopez

The undead horror returns, and now unleashed in America in double-sized issues! Sheriff Kat Noble keeps the peace on a quiet border town. But as young girls start to go missing, she's pulled into a supernatural slaughterhouse and stumbles into the makings of the ultimate terror plot – Stitched loose in the streets of the USA! Pat Shand and Daniel (Uber) Gete make America scared again! Available with all-star cover art: Regular by Nahuel Lopez, Wraparound by Raulo Caceres, Gore by Matt Martin, Brutal and POV by Renato Camilo, Lurking by Christian Zanier , and topped off with Fifty Shades Intense, and Fifty Shades Torture covers by Camilo, each limited to 50 copies! In Shops: Jan 30, 2019 SRP: $5.99
Enjoyed this article? Share it!