Swipe File: When Marvel Solicitations Go Odd
From the September 2009 Marvel solicitations:
The Marvels Project #2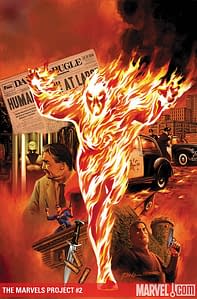 Torch #1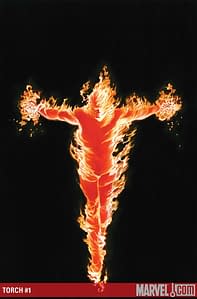 Okay that's just weird.
And while DC Comics are putting out both All Star Batman And Robin The Boy Wonder and Batman And Robin simultaneously (you know, if the former actually came out), Marvel are soliciting Ultimate Comics Armor Wars and Iron Man And The Armor Wars in the same month.
How much war can one armour have?
In Swipe File we present two or more images that resemble each other to some degree. They may be homages, parodies, ironic appropriations, coincidences or works of the lightbox. We trust you, the reader, to make that judgment yourself. If you are unable to do so, please return your eyes to their maker before any further damage is done. The Swipe File was named after the advertising industry habit where writers and artist collect images and lines they admire to inspire them in their work. It was swiped from the Comic Journal who originally ran this column, as well as the now defunct Swipe Of The Week website.