The Bleeding Cool Top 100 Power List 2018 Countdown: #46-50
We're over halfway…
Every year, Bleeding Cool runs its Top 100 Power List of members of the comics industry. And every year we get told how wrong we are. Somehow, it's always for completely different reasons and from completely different directions. Why was X in when Y was not? Why is Z is high when W is so low? And neither U or T should be on this list after that incident involving V… and condemning us for being either infested with SJW virtue signalling or providing platforms for fascists – and sometimes simultaneously. Man, I don't know how Time Magazine manages.
But that's part of the process. This attempt to list the most powerful people working in the English-speaking comic book marketplace is, of course, flawed. It is judged by all manner of attributes, the ability to influence what comics exist and sell, but also the willingness to use that power in the industry to affect things, and the ability to retain said power if a job is taken away. Which is why you will see a number of people on a higher spot than their bosses.
The Power List rewards those who combine roles, creator, publisher, distributor, retailers, those who are double and triple threats, and also where power is concentrated in one person rather than being spread out among many. Some powerful organisations or groups, where power is diffused amongst several individuals, may drop down or drop out altogether.
It does not measure talent or likeability, respect or fairness, and it does not intend to represent diversity or balance. All it does is note power, used for betterment — or detriment — in the English speaking comic book world.
The list was created in consultation with a number of senior figures in the comics industry, and I thank them for their help. Although because they all disagree, they'll all think the final list is wrong, too.
If you really hate this list, then do the obvious thing. Write your own. Otherwise, watch for new batches every day…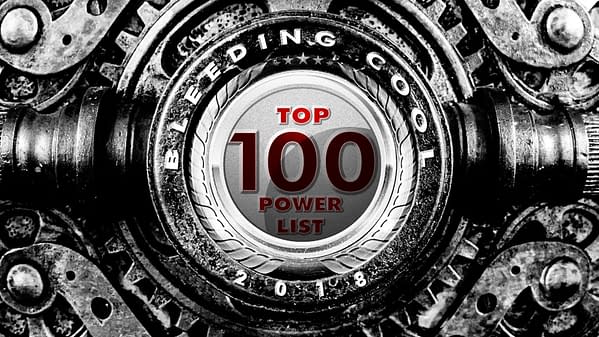 46. Kelly Sue DeConnick. Writer of Bitch Planet and Pretty Deadly, a strong voice in the comics industry fuelled with the Captain Marvel movie based on her take on the character, she remains a font for advice, support and comradeship, and her production company with Matt Fraction, Milkfed, continued to develop new comics and adapt and represent them for other media.
47. Stanley Lau. The effect that a cover by Stanley Lau can have on a comic book, especially if it concerns a young woman character, should not be underestimated and has a significant effect on the weekly charts. If he goes the way of J Scott Campbell and creates, markets and sells more of his own work than he does already, there's no limit as to where he goes – but be warned, the likes of Joshua Middleton and Stjepan Sejic are nipping at his heels.
48. Chris Ryall. The Prodigal Son has returned to IDW Entertainment, now it has divested itself of Greg Goldstein (who dropped off this list faster that you could say 'the appointment of legal counsel') – but while he departed earlier in the year as EIC, he has returned as Publisher and EIC of IDW, struck down but returned mightier than ever before. It's been a very long time since Movie Poop Shoot for Kevin Smith, but he wields his influence widely. Will he be able to bring back Dirk Gently?
49. Mike Mignola. Creator of Hellboy and showrunner of the Mignolaverse at Dark Horse, the only license with no danger of leaving Dark Horse, with an upcoming movie reboot and a Hellboy Day all to itself, Mignola may have never had as high a profile, especially as he has returned from his painting sabbatical.
50. Marjorie Liu. Novelist-turned-comics writer, the first woman to win Best Writer at the Eisners this year, the powerhouse behind chart-topping Monstress, she also let a path of superheroes at Marvel and is most associated with X-23. A headline grabber, she also teaches a course at MIT on comic book writing and participates at the VONA/VOICES Workshop at UC Berkeley. She is shaping the comics that are told now and influencing the voices to come.
See you later today. Happy Boxing Day one and all. And keep up with this handy-dandy Top 100 Power List tag.