Thursday Trending Topics: Captain America And The Marvel Mystery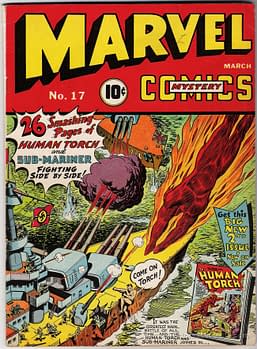 Captain America 2 is set for April 4 2014 with a very general description now known: The second installment will pick-up where the highly anticipated Marvel's The Avengers (May 4, 2012) leaves off, as Steve Rogers continues his affiliation with Nick Fury and S.H.I.E.L.D and struggles to embrace his role in the modern world. But I'm still more curious about that Marvel mystery movie they're holding May 16 open for. With so many of the major properties already in motion or claimed by other studios, it's a mystery indeed. I haven't even seen any convincing theories as to what it might be.
Most-Read Comic Stories Today:
Someone Really Wants Power Girl's Boob Window Back
The cover to Worlds Finest #3 there. Man, that's got to smart.
Where Exactly Is That Shield Helicarrier In Avengers Vs X-Men #1 Again Exactly?
Here is a panel from one of the final pages of Avengers Vs X-Men #1 from Marvel Comics. The print edition.
Marvel Smashes Three Titles Into The Top Five For March 2012 – But Did They?
I expected that Marvel would take the top spot away from Justice League in March, due to the sales of Avengers Vs X-Men #0, and Jim Lee leaving the book for a short sabbatical. But, thanks to Marvel shipping Avengers Vs X-Men #1 a week early, to be held for this week, they've taken the top two spots. As well as grabbing the fifth spot with Avengers Assemble.
Most-Read TV/Film Stories Today:
Captain America Sequel Officially Announced With Basic Plot Premise And Release Date
As per a short press release from Disney, the Captain America sequel is set for April 4th, 2014. They've had this date earmarked for a while, but now we know what for:
Big Big Skyfall Rumour Might Reveal New Direction For The Series
It's not the first time I've heard this particular Skyfall rumour, and it slots in nicely with some other info we've got about the film, but it's still far from confirmed. Proceed with some caution, anyway.
Steven Moffat's Audition Script For Jasmine, The New Doctor Who Companion (UPDATE)
There's a lot of interesting bits and pieces in the mag, which is no surprise, there being a new series in the works and all. Perhaps the best bit is a short script, written by Steven Moffat for would-be companions to read and use to audition with Matt Smith.