Tuesday Trending Topics: Counting Comics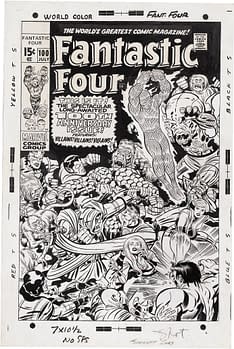 There's been quite a bit of talk this summer about the fetish that comic book fans have for numbering. I have to admit that it'd be a bit of a letdown if, for example, Action Comics never reaches #1000 in my lifetime due to the events now in motion at DC. That's why I like the idea of– well, call it throwback numbering — exemplified by the possibility that Fantastic Four will revert to original numbering in time for #600. Best of both worlds.
Most-Read Comic Stories Today:
Is Brent Anderson Drawing Action Comics #2 Instead Of Rags Morales? (UPDATE x2)
UPDATE UPDATE: Rags Morales now posts "The only truth to the rumor is that Brent has 5 pages, and that's it. I had to make time for 29 pages of the first issue."
Kick Ass 2 To Give Us One Of Those Unforgettable Images (SPOILER)
In the comic – and spoiler blinkers on, please –
No I Am Not Running The New Teaser To Fantastic Four #600
Look, we al know it's Fantastic Four #600, why not just come out and say it? Or if it isn't Fantastic Four #600, then just tell us what it is. Either way, I'm not running the latest Marvel teaser for…
Most-Read TV/Film Stories Today:
Sequels To Rise Of The Planet Of The Apes: Director Rupert Wyatt's Ideas
"There's so much we could do… The ideas I've had are all sorts of things, ranging from Full Metal Jacket with apes… you could start this story again eight years from where we left off, the next generation of apes, those that have come from our protagonists, perhaps going in to a conflict with humans and showing real fear, in the same way as going into war for young soldiers in this day and age, telling their story.
Marvel Character To Cameo On Castle
Andrew Marlow is really hitting his stride. And that was an underrated show that really found its momentum. And there's one episode, and I'm probably giving away a secret and I shouldn't because Andrew is going to kill me, with a Marvel superhero character.
How You Can Help Save Independent DVD And Blu-Ray In The UK With A Click Or Two
Several independent film, DVD and Blu-ray distributors have lost their stock – in many cases, all of their held stock – in a fire caused by the rioters in London. I covered this a little earlier today, but I didn't want to just report on it, I wanted to do something about it.
Most-Clicked Pics Today: