Voltron Showrunners On The Process of Rebooting The Franchise, at San Diego Comic-Con
Sean Aitchison writes for Bleeding Cool from San Diego Comic-Con.
Some big reveals about Voltron: Legendary Defender came out last week at San Diego Comic-Con, and I was able to speak briefly with showrunners and executive producers Joaquim Dos Santos and Lauren Montgomery about what went into making the critically acclaimed reboot.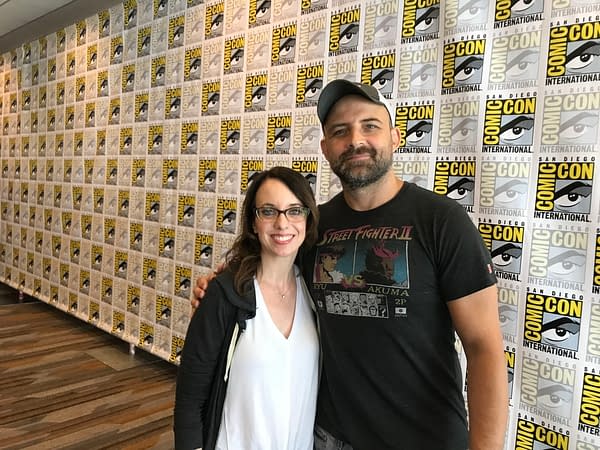 * * *
When you were approaching rebooting Voltron, what had to be in there and what didn't you get to put in it?
Joaquim Dos Santos: We said from the get-go, it sort of had to pass a "squint test," so visually you had to kind of recognize who everybody was, that the lions were clearly the lions that your mind's eye would remember from the original series, even though, standing side-by-side, there are very clear differences.
Lauren Montgomery: Generally the characters' personalities shifted a decent amount. Like, Hunk was kind of an angrier guy in the original, and we've got our kind of lovable giant in hunk, and then Kieth is obviously very different. Lance, we keep a bit of his goofy fun-ness.
Joaquim: I also liked that Lance in the original could smell a rat, he was like "Hmm, something's not right here," and he's still doing that.
The shifting of leadership and changing who piloted the Black Lion was in the original too, how did you approach bringing that into the reboot?
Lauren: It was the original idea to have Shiro exit the show and Keith would move up, but things happen — Shiro wasn't gonna die. It ended up with this really interesting story, so it wasn't necessarily for better or for worse, it just made our story different, and actually opened a lot of doors for new storylines that we didn't necessarily anticipate, but had a great deal of fun exploring, like Kieth spending all this time with the Blade of Marmora. That's something that, had Shiro been gone and Kieth stayed with Voltron, wouldn't have happened on the level that you see it. We like to appreciate the story that we've been able to tell, 'cause we could sit there and be like "We were gonna do this," but no one is ever gonna see the culmination of that.
Joaquim : It's almost not even worth the time talking about, 'cause it's not where the story wound up.
* * *
Catch up on Voltron: Legendary Defender on Netflix, and keep an eye out for season 7, coming August 10th. Sean Aitchison is a writer and creator with a passion for cartoons, anime, and comics. He graduated from CSUN and now writes for Comic Book Resources and Watch Mojo. He has also written for animation and is currently working on two podcast projects that will be coming soon. For more of his work, check out his website www.seanaitchison.com and follow him on Twitter and Instagram @Sean8UrSon.