The Walking Dead's Lauren Cohan on Season 9 Contract Situation: "I Kind of Felt in Some Ways Surprised"
With all of the attention being thrown Andrew Lincoln's way as his Rick Grimes readies to leave AMC's The Walking Dead, it would be easy to forget that series mainstay Lauren Cohan (Maggie) is also departing the long-running drama series. What's a loss for the Walking Dead universe is a gain for ABC though, with Cohan returning in 2019 in the network's new comedy-action series Whiskey Cavalier – as well as expanding into more film work, like her recent turn in Mile 22. And while it's still possible that Cohan could return for some part of season 10, it's not an understatement to say that her loss will be felt as hard by the cast, crew, and fandom as Lincoln's departure.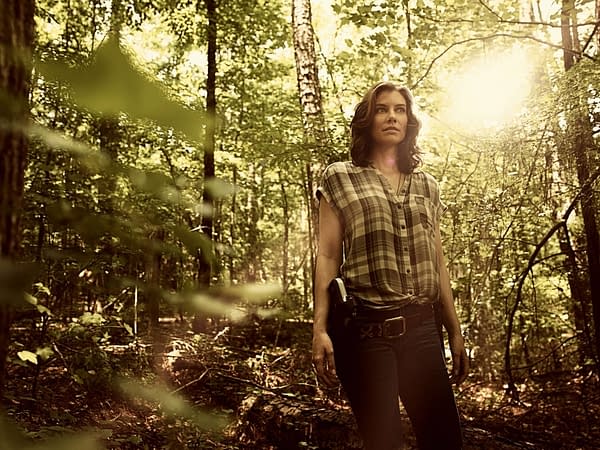 In an interview with Entertainment Weekly, Cohan discussed what led to her decision and the possibility of seeing Maggie again in The Walking Dead's future. Here are some of the highlights:
● For Cohan, all of the reasons, rumors and innuendos about why she was leaving the series boiled down to one overarching answer: time.
"So much of it is really simple because eight years is a long time to spend in one character. Eight years is a long time to spend in the emotional mash-up that Maggie's in and that Lauren is in by virtue of osmosis. I honestly just was looking at this on a multitude of personal levels, and it just made the most sense for me to do this."
● Gong into the ninth season, Cohan was in what can best be described as a less-than-smooth contract negotiation to return to the AMC series – a situation the actress wasn't expecting to find herself in:
"I kind of felt in some ways surprised, to be honest with you. And I took that, how baffled I was, and thought, 'Okay, well that's a sign. This is maybe just not a fit anymore.' To feel like we weren't lining up in so many ways I just thought, 'Okay, well, maybe that means something.'"
● Cohan confirmed that she, showrunner Angela Kang, and chief content officer Scott Gimple "had creative story conversation about what could happen with the character" should she be able to return to the series.
● Though the possibility of Maggie returning is still in play, Cohan's response when asked how she handled not knowing if her "final" episode was a series finale or season finale didn't ring with a lot of hope:
"Andy and I did our farewell dinner at the same time. It just sort of was what it was. The facts just sit there and we will just take it for what it is, and try to take it for what it is in the moment. I know I keep talking about this "in the moment" stuff, but it's really been the theme of this year."
https://www.youtube.com/watch?v=FhYQU5eWdCo
● Cohan appreciates that Maggie is having what many believe to be is her best storyline in seasons – and it gives her a greater reassurance that she made the right decision:
"I ironically got more excited about Maggie's story these episodes than I have been about Maggie's story in three or four years. And still I think it was the right decision because it feels really good for it to be so rich. I really just feel like we went on this awesome adventure for season 9, and that kind of fills me up. It also leaves her ever more interestingly open for more stories than she's ever been. It's cool because the show is so different this year, and the new characters coming on are so different, that that somehow makes that easier too."