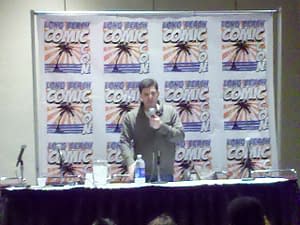 Firstly, here's the last chance to keep Bleeding Cool on the Walking Dead board.. please check it out.
Okay plug done. And no, I'm not talking about the Vikings/Patriots game… much. But it's been a Zombie kind of week on the BC US campus. Drunken costumed Halloween revelers stumbling around the neighborhood due to the haunted house down the street. I also did a tiny bit of deep background research for Max Brooks' Zombie Proof House project earlier — and that's Max in the pic at right talking to Zombie Survivors at Long Beach yesterday. There've been Zombie Outbreaks around the country. And of course, the long-anticipated day of the Dead is finally here.
Speaking of, looking through the Chron bitbucket just now, I'm reminded of that Zombie Marvel trademark issue that always comes up this time of year. The ever-interesting Brian Cronin did a thing on that a few years back, so check that out if you've never heard that story.
Meanwhile, here's a couple things the Chron picked up overnight: Holy American Gods party, Batman!
is that the fake Alan Moore?
War of the worlds | StarTribune.com
"Death-Day" is Hiti's first major work in six years. While he has fielded offers from major publishers, he has stayed furiously independent, self-publishing the 176-page book in a wonderfully bound large format.
Google unveils five SCOOBY-DOO doodles for Halloween
As that greatest of Great Danes Scooby-Doo once said: "Rimage ris everything." And to mark the day of sugar-fueled masquerade, Google gives us five images on its search-engine page — "doodles" that tell a sequential click-through tale of Hanna-Barbera's wacky high-school ghostbusters.
YouTube – HEAVY METAL PRESENTS GATES TRAILER 10-31-10
GATES Online Comic Trailer, created by hal hefner, presented by Heavy Metal. this is a Learnsleep session. Lesson 7 to be exact, from Gates the comic by Hal Hefner presented by Heavy Metal. Learnsleep is a form of manipulative propaganda used on drug induced children while they rest somewhere between the conscious and subconscious.
Enjoyed this article? Share it!