Wednesday Comics Reviews – Heroes For Hire #1 and The Unwritten #21
Of late Abnett and Lanning have specialised at Marvel in the cosmic books, carving out an entire sub imprint and generating an audience for their dark space opera seemingly from nowhere. Heroes For Hire is the very opposite of that, super powered people selling their wares to the nearest bidder for their own personal reasons – with some of them hoping they can live with it. And not shying away from the term "mercenary". So in Heroes For Hire #2, we have Misty Knight, Paladin, Silver Sable, Ghost Rider and Satana on call, the latter two being very speciically chosen for the matter in hand.

Because where this kind of comic works best is ultimately being a down-to-level level book having to deal with elements of being in a superhero universe on its own terms. A kind of grim and gritty Damage Control. And here we have it, an organised crime syndicate dealing with supernatural weaponry, and paying the price as a result. So it becomes a gunrunning operation, just one that deals in souls. The seriousness of the people you have to work with in order to get that kind of hardware. Words like "damnunition". And a reveal that the events of last month's episode may not quite be as over as you once thought.
Brad Walker, Andrew Henessey and Jay and David Ramos step up considerably here, no more than when they put Ghost Rider on the page. Reminiscent of Joe Quesada's style without some of the more egregious doodling, Ghost Rider signs on the page, flame bursting in and around him and his arrival on scene is a true highlight, as is the realisation that he's not the all powerful supernatural beast in this scenario he might have otherwise liked to have been.
This is a clever adrenaline-fuelled comic, less sardonic than Sinister Dexter, far more grounded than their Cosmic work – perhaps they are going to carve out a whole new imprint for themselves with this?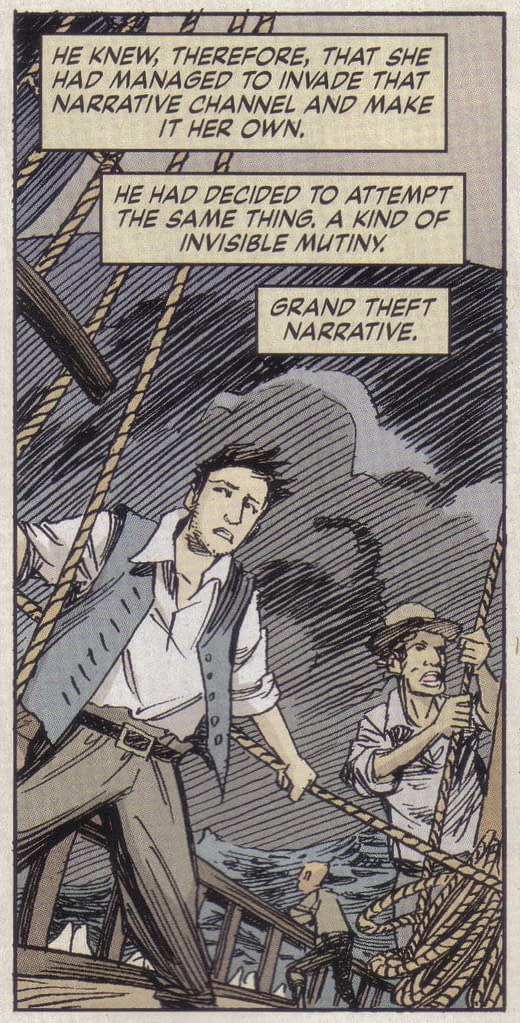 The Unwritten by Mike Carey, Peter Gross and Vince Locke is a world away. As fast as Heroes For Hire is, The Unwritten is slower, more considered, and often nastier for that.
Holding onto its 22 pages for now, The Unwritten #21 has come of age. The travelling into literature story has been done so many times, its a credit that Unwritten's take is still so fresh. It sems to take things ever so seriously, with real personal consequences but still maintains a lightness of touch. The art here in essential to that, a sense of space, Vince Lock's scratchy line for the book sequences, the reader is aware of the lines and the unreality of the situation rather than overawed by something fully rendered into a photograph. There's also an age here, a feeling of times passed, so very suitable when the book opens in Moby Dick. Even when Frankenstein's Monster is in the hold, the themes of both books intertwining well. And treating classic literature as a video game is something that, well, I'd like to see more video game publishers attempt.
And it balances this literary playfulness with the real world, as real as that is of course which is both mundane in places and horribly violent in others. Even when one of you is a vampire.
And yes, "Grand Theft Narrative", I want that on a T-shirt.
Comics from Orbital Comics of London, England.