JobWatch: Want to be a Mad Magazine Senior Analyst?
StupidCriminalWatch: The Captain Comics store in Boise is broken into, smashing a window, but the thieves just leave with an empty cash register.
LawWatch: The Globe And Mail looks at the legal battles behind comic books' biggest movie brands.
Mr. Toberoff says Mr. Kirby was the "Leonardo da Vinci of comics," and no mere hired gun, and his heirs deserve a share of the wealth his creations are making, a half-century later. He argues: "There's no question the driving creative force behind all this work is Jack Kirby."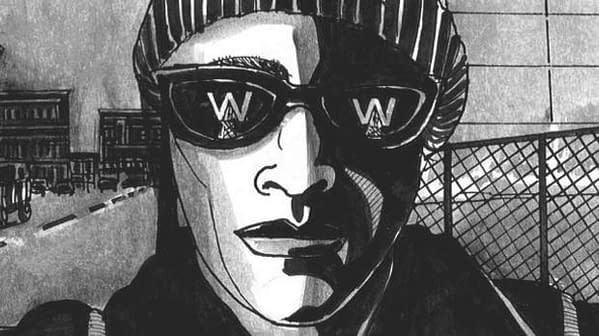 MusicWatch: And also about Vancouver guitarist David Lester's new graphic novel, The Listener, published by Arbeiter Ring.
The illustrated story, which is set in Vancouver, opens with a man accidentally falling to his death while trying to hang a banner with a political message from the old Woodward's sign – a revolving red neon W atop an Eiffel Tower-like structure. The man's desire to hoist the banner was inspired by a sculpture, his death causing the artist to flee to Europe to escape her guilt.

On the continent, she meets an elderly couple who tell the story of the last free election held in a small German state under the Weimar Republic, a campaign in which the Nazis claimed a narrow plurality at the ballot box through thuggery and intimidation. It is this victory, however modest, that Hitler uses as leverage in persuading the president to appoint him chancellor.
RightsWatch: HarperCollins are being criticised for excessive rights claims in deals with authors.
"They have changed their asking for a broader scope of rights than they have before," wrote one agent in an email to The Observer. "Like multimedia rights; or not allowing authors to make a graphic novel of their own novel even if HC has already turned down that idea."
TurtleTweetWatch: Martin Pasko has been talking turtle on Twitter.
If you REALLY wanna interview someone who's a creator of TMNT as we know it, f*** Eastman & Laird; talk to David Wise

TMNT was a lame, amateurish B&W indie when TV ani producer Fred Wolf bought the option for chump change. No key TMNT branding element came from Eastman or Laird–not Turtles' personalities or any shtik like pizza thing. Every TMNT thing that was leveraged 4 big licensing bux came from the cartoon, not the stupid, insipidl B&W indie comix. TMNT works almost exclusively thanx 2 creative innovations by the brilliant David Wise

How do I know all this? I wrote the 3rd TMNT episode of the ongoing series (i.e., after David Wise's 5-part "pilot") & a few more TMNTs, & I can swear that what made TMNT huge & famous was what David brought to it. Why? Bcoz I consulted comix AS WELL AS David's pilot script & bible & the comix were useless as ref. 4 series that estabed property. Fanboys hate hearing this, but most peeps who get "Created By" cred have high-powered lawyers who fuck over collaborators.
David Wise tweeted in response;
Blushing, but Eastman&Laird deserve majority of credit; also Fred Wolf's designers, who made the Turtles really appealing.
This is Computo the Comic Link Conqueror speaking. I come for your women. But for now I merely collate comic-related bits and pieces online. One day I will rule. Until that day, read on.
They say I am a work in progress. The fools.
SDCC 2011: Incredible Hulk | Hulk | Comic News | News | Marvel.com
The Hulk has been through a variety of transformations over the course of his life, but nothing will prepare him for what Jason Aaron and Marc Silvestri have planned.
'WALKING DEAD' SHOCKER: Frank Darabont Steps Down As Showrunner – Deadline.com
This is a quite a bombshell — I have learned that Frank Darabont, the creator, executive producer and director of AMC's smash hit The Walking Dead, is stepping down as showrunner of the series, which is now in production on its upcoming second season. The news is even more surprising given the fact that Darabont was on hand for Walking Dead's Comic-Con panel just this past Friday alongside fellow executive producers Robert Kirkman, on whose graphic novel the series is based, and Gale Anne Hurd and appeared excited about Season 2.
Watch an Exclusive New Wolverine Anime Clip | X-Men | Movie & TV News | News | Marvel.com
Kicking off a week of Anime excitement, we're pleased to bring you an exclusive new clip from the North American premiere of "Wolverine," starring Milo Ventimiglia as Logan!
Enjoyed this article? Share it!