We've done this for going on a couple years now and if there's one thing I've noticed, it's that you can never tell when something's going to really take off. Yesterday was one of our best ever based on the strength of Marvel Pajamas, and nearly as many people have read the original Rob Granito post as attended NYCC last year. And once in a great while, stuff I've found pretty interesting passes on to page 2 relatively unloved, by comparison. What have the wings of fate brought to the top today? Let's see…
Most-Read TV/Film Posts Today:
The Dark Knight Rises Plot Thickens: Batman's First Encounter With John Blake Revealed
But who's this John Blake? Well, we think we know.
Thor Review: Let's Talk Details
If you're anxious about reading a review and learning too much about this film but still want to know whether the cinema ticket's worth your hard-earned money here's a summary: Thor is a brilliant, epic, and often very funny superhero movie that is very much worth your while. It's so huge in scope that the big-screen experience is more than a luxury, it's the only way to enjoy the daring, dizzying scope of Kenneth Branagh's vision. See it.
First Look: The Great Hall Of Oa from Green Lantern
From the new Green Lantern comic, out today. A first glimpse of the Great Hall Of Oa as portrayed in this sumer's Green Lantern movie.
Most-Read Comic Posts Today:
Geoff Johns And His West Coast Super Friends
Last year over in Burbank, LA, within Warner Bros, DC Entertainment Chief Creative Officer Geoff Johns put a team together that included a number of recently-made-redundant DC Comics editors. And no one talked about it.
Pajamas To Give You Marvel Women Physiques
So we know that the female physiques commonly sported by Marvel superheroines are nigh-on impossible to acheive by anyone who wasn't bidden by a radioactive Size Zero supermodel and some silicone injections on top. But that's okay, lucky ladies, these official Marvel merchandise solves that problem. With a design that takes inches (and a couple of ribs) off each side, squeezing that waist in and emphasising breast size, all with a few lines of printed ink!
Wednesday Comics Review: Invincible Iron Man 503 And Avengers 12
It's hard not to read Matt Fraction's Iron Man and Brian Bendis' Iron Man as belonging to two generations. Just as Bendis was the new generation's take on shell head when he wrote him in Avengers only seven years ago, now he seems to be the grand old man, with the likes of Matt Fraction and Nick Spencer nipping at his heels, wanting to pull the character this way and that. Brian Bendis is, basically, John Byrne now.
Most-Clicked Pics Today: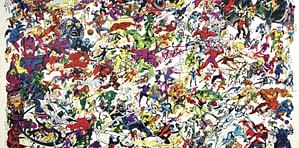 Enjoyed this article? Share it!