What Else, Apart From Marvel Comics, Is On Sale Today?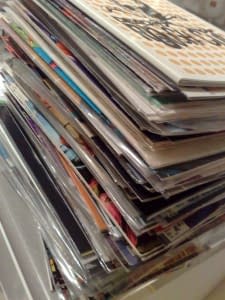 Today, Marvel ship 39 regular comic book titles to comic stores in the US and Canada, the UK getting their copies tomorrow. Plus another 14 variant covers and a bunch of trades. This is an unprecedented amount of comics from one publisher to hit in one week, an amount not seen since the extremes of the mid nineties.
Firstly, congratulations to Marvel for the enormous achievement of shipping so many books in one week, it takes a lot of work. And odds are there are a bunch of good titles. Personally I will be buying Astonishing X-Men #30, Dark Avengers #6, Immortal Iron Fist #27, New Avengers #54, Secret Warriors #5 and the Ultimates Omnibus.
Marvel Comics are a strong reliable staple for many comic shops. Unfortunately, this means that many other comic titles, may be squeezed off the shelf.
Avatar, publishers of this BleedingCool managed to dodge a bullet with only variant cover issues of Crossed and Anna Mercury shipping…
But here's a link to BleedingCool reviews of other titles coming out from other publishers today…
Transformers: All Hail Megatron #12
The Incredibles: Family Matters #3
Tales Of Wonderland: Red Queen and Escape From Wonderland #0
Sherlock Holmes #2 (okay, last week, but still)
This article will update through the day.
DC declined to make any of their shipping comics available for review, but I'll pop into the comic shop tomorrow.