Why Goldie Vance Will Be The Next Boom Hit. And Still No One Will See It Coming.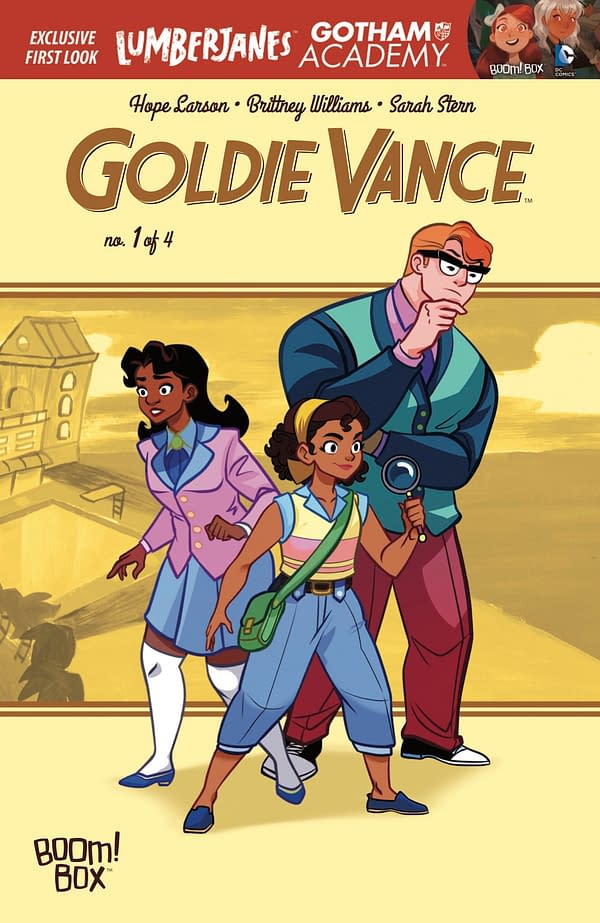 Bleeding Cool was the first site to call that Lumberjanes would be under-estimated by retailers and turn into a hit. We also called BOOM! Box's second success story, Giant Days. Earlier this week, we called your attention to Jonesy doubling its initial orders and selling out in a similar fashion.
The new Boom! Box series in April, Goldie Vance, could be the biggest one yet. Fine, maybe not bigger than Lumberjanes. But here's why you'll want to bet early on Goldie.
Like Lumberjanes, Goldie Vance features a time-tested characters archtype – the girl detective. Like Lumberjanes, it also features a magical, whimsical setting – in this case a resort hotel. Like Lumberjanes, it's written by a female creator with a big following outside of comic shops – Hope Larson is a New York Times Bestselling author. The artist of Patsy Walker AKA Hellcat, Brittney Williams, drawing the book won't hurt its chances either.
If that wasn't enough, BOOM! recently announced that Goldie Vance #1 will be the first place fans can preview pages from the upcoming Lumberjanes/Gotham Academy crossover.
And to entice retailers further, BOOM! has added a FOC variant cover by Jen Wang (In Real Life) and 5% of the proceeds on the cover will go to the CBLDF. Savvy retailers will get in early on this one and feel good about helping a worthy cause.
But if what I'm hearing about initial orders is right, quite a few retailers will miss out. Just like they did on Lumberjanes. Final Order Cutoff is Monday, March 21st. Do you have your copy reserved?