The Red Goblin was the combined powers of Norman Osborn, the Green Goblin and the Carnage symbiote, created for Dan Slott's big Amazing Spider-Man finale a couple of years ago. So naturally he's somehow returning for Absolute Carnage from Marvel Comics.
Announced at the Diamond Retailer Lunch today at San Diego Comic-Con, Red Goblin: Red Death by Pat Gleason, Rob Fee, Sean Ryan, Pete Woods will be out in October along with the rest of the Absolute Carnage titles.
We also got a look at a variant cover for Absolute Carnage #2 by Ron Lim as well as the cover for the newly announced Absolute Carnage #5 final issue of that event series,…
Keep an eye on more from the Diamond Retailer Lunch at San Diego Comic-Con with this handy Bleeding Cool tag…
UPDATE: On their website, Marvel revealed more details and the full-res cover:
Publishing announcements are coming fast and furious out of San Diego Comic-Con 2019, and the retailer panel introduced several sensational stories that are coming to Marvel Comics! Just one of these stories is a look back at the reign of one of Spider-Man's most terrifying foes — the Red Goblin AKA Norman Osborn, in possession of the Carnage Symbiote and the Goblin formula! The rowdy, raging Red Goblin will be revisited in RED GOBLIN: RED DEATH #1 by writers Pat Gleason, Rob Fee, and Sean Ryan with art by Pete Woods, coming in October!

Norman Osborn first became the Red Goblin in AMAZING SPIDER-MAN #798 — in RED GOBLIN: RED DEATH #1, fans will find out just how much mayhem and madness the Red Goblin caused in a special one-shot coming to comic shops in October! Who else did Norman Osborn harm while inhabiting this deadly double disaster? Gleason, Fee, Ryan, and Woods promise to reveal all!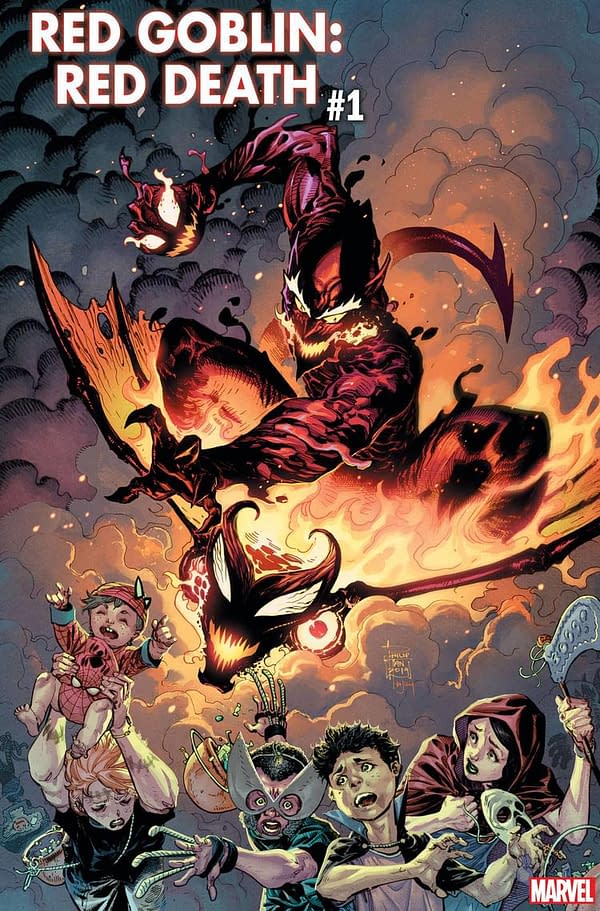 Enjoyed this article? Share it!