Red Sonja/Tarzan #3 Review: The Son of Tarzan
[rwp-review-recap id="0"]
Tarzan's son, Korak, ambushes Eson Duul's men in the jungle. They have slaughtered a herd of elephants, and he aims to take revenge. Duul himself is now targeting Korak's wife and child. Back in London, Red Sonja and Tarzan hope to receive help from H.G. Wells and his time machine. Sonja may have an item that can help them track down Duul where and whenever he is.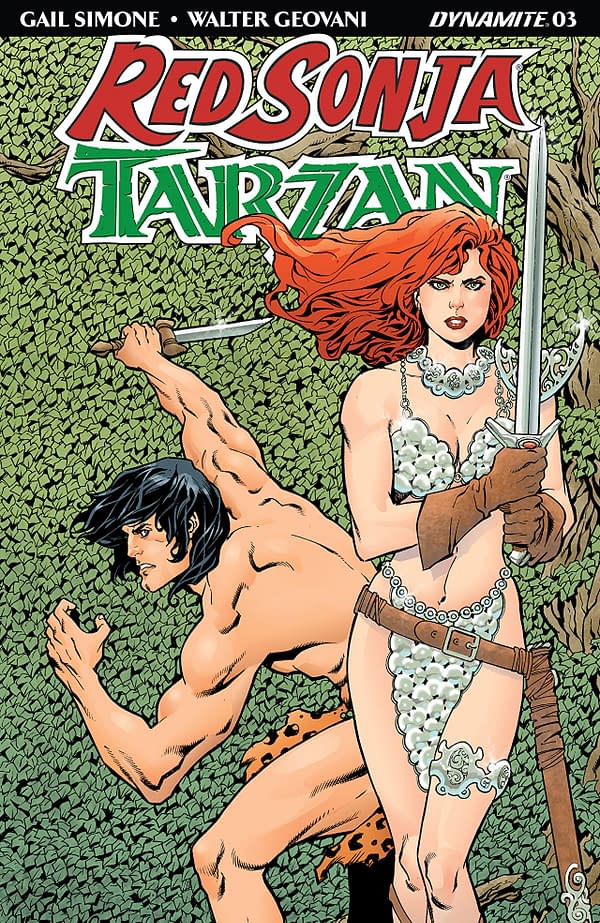 Red Sonja/Tarzan #3 boosts the tension with Eson Duul's attack on Korak and his family. It also has some badass moments of Korak taking on Duul's men and dispensing justice for their murder of the elephants.
If you're not familiar with all the Tarzan mythology, you could feel a bit lost. I certainly did for a time. I didn't know who Korak is, and I wasn't aware of his own family. It also leads me to question how old Tarzan really is, and the fact that we've mixed in some time travel doesn't help that confusion.
There is a nice bonding moment between Red Sonja and Tarzan, the former of whom brings most of the personality to this comic. The bonding moment is good, but it is a little unearned. Tarzan suddenly accepts Sonja into his family, and they haven't been traveling together for that long.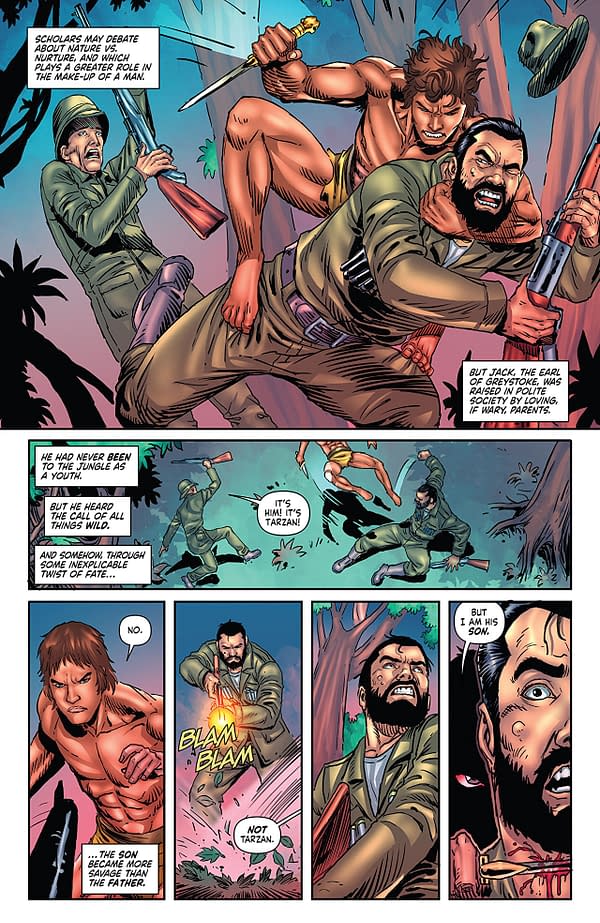 Walter Geovani impresses once again with his classic comic styling which matches larger-than-live figures and excellent detailing. The action scenes look excellent, and the characters can present big and bombastic emotion with ease. Adriano Augusto matches this with deep and varied shades to give this world even more life.
Red Sonja/Tarzan #3 is another solid entry in this crossover. It is confusing at times, and the familial relationship between Sonja and Tarzan feels a little sudden. However, the book makes up for it with a compelling conflict, good characters, and excellent artwork. This one earns another recommendation. Check it out.
[rwp-review-ratings id="0"]
[rwp-review-form id="0"]