Rented… To The Dead, A Zomedy With Guts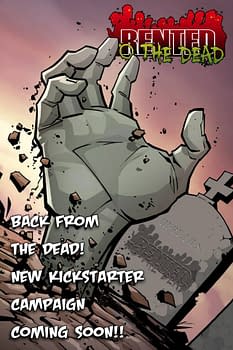 Natasha Simpson writes;
Crowd-sourcing is now a great way to get projects funded whether its film, art or even comics, it's something that artists are taking up as production can and is expensive. I personally love Kickstarter and have spent far too much on projects. The reason I love Kickstarter is that you get exclusive goodies and sometimes the project at a much cheaper price than when it is sold to the general public in stores or online. And stretch goals who would not want a stretch goal. No idea what a stretch goal is well it is a nice way of the creator for saying "thank you for backing my project, we met our initial goal now let's make this project better!" With stretch goals after meeting the initial goal the creator may give you something extra if the project reaches x amount, so it is kind of like you are getting something for nothing as you do not have to pledge more (unless you are generous), just wait for others to pledge and get those awesome goodies.
Now onto this Kickstarter, me I am not writer or creator or illustrator of said project. I am merely a fan of their work. This project is a zombie apocalypse comic by Robot-Zombie Comics, whom I have had the pleasure of getting to know over the internet and one awkward staring match of "do I know you?" in a fast food restaurant.
RENTED… to the DEAD comes from the creators Phil Buckenham and Simon Cope. Phil is illustrator and artist and Simon wrote the script and dialogue. This is the guy's second attempt at RENTED… to the DEAD as mere weeks ago this project was sadly unsuccessful. After some brainstorming with each other and their previous pledgers, RENTED… to the DEAD has risen from the grave (pun very much intended). Back better than ever with amazing rewards this project in twenty-four hours reached their modest pledge goal. By just changing what the pledges/rewards were slightly Robot-Zombie Comics were able to reach and surpass their stretch goal, by £26 as of 9.30 am GMT 29/6/13, but still they did it.
If they have reached their goal why do I need to pledge?
Good question, well as I said before many projects on Kickstarter after reaching their initial goal will go onto stretch goals. I know that Phil is definitely thinking up some stretch goals now and after talking to him about what he has come up with, it definitely sounds good (I gave him a couple of ideas but his was better). I do not want to reveal his stretch goals until he announces them on Kickstarter so you can check out the project and pledge or wait for stretch goals to be added. Phil is a very talented artist and does many commissions of superheroes and The Walking Dead comic covers, so you can bet the stretch goals will be amazing. What makes this zombie comic so special or different?
Well for one you can be in the comic, there are still some "zombifications", as artist Phil Buckenham calls them, available. And if you are a big spender you can be a mystery hero who helps the main characters or by far my favourite star in your very own prequel comic! A whole comic about you becoming a zombie so not only will you be disgusting and "zombified" but you will also look like your beautiful self.
Also this comic is based in the UK in the town of Maidstone, Kent. This really appeals to me as I am in Maidstone a lot and I cannot wait to see Phil's take on Maidstone town. Additionally a UK based z-poc will be very different to the usual USA based z-pocs for one guns are a lot harder to get a hold of (I believe) and the UK is not as big, where are the survivors going to hide? I do not know and that is what I am looking forward to and do not get me wrong I love USA based z-pocs.
RENTED… to the DEAD has a four page preview of the comic available through their Kickstarter page.
Search for Rented… to the DEAD issue 1 "Zombies 1000s of em!" or
Twitter: @RobZomComics
Facebook: Robot-Zombie Comics