Last week's Infinity Countdown #1 by Gerry Duggan and Mike Allred showed a lot of Adam Warlock's past. But it also showed some of the future, a universe destroyed by someone who collected all the Infinity Gems Stones together…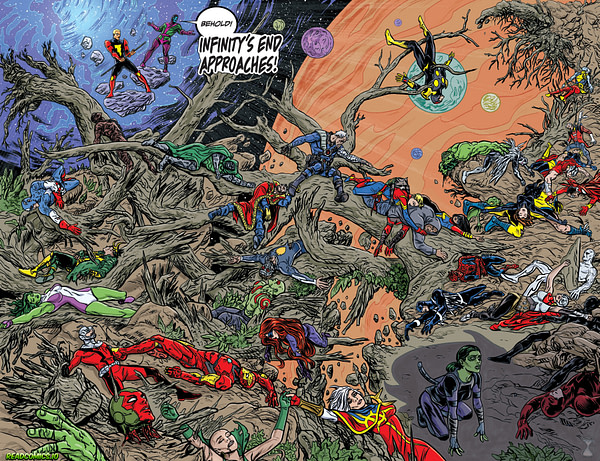 But there was a lot to take in. firstly that the next crossover event to Infinity Countdown, whatever it is counting down towards, looks like it will be called Infinity's End.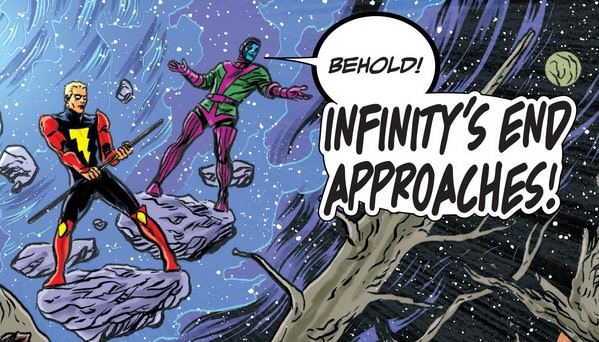 But it appears that things have been happening. Thor is looking a littlw more Thor-like, albeit it without Mjolnir.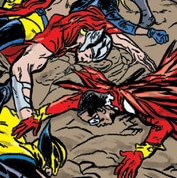 Banner Hulk atop a feathered Darkhawk…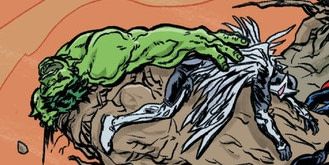 Both Doctors are back in the habit, Doctor Doom looking like Doctor Doom and Doctor Strange back as the Sorceror Supreme.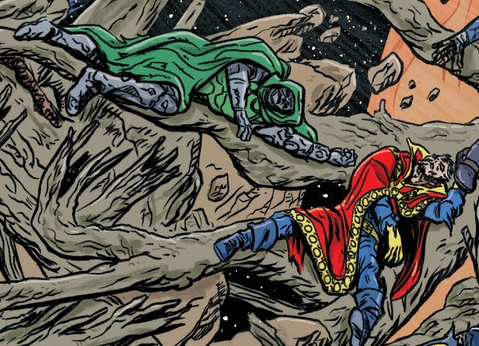 Black Widow has returned – only to die again. And Wolverine is back in the yellow and blue…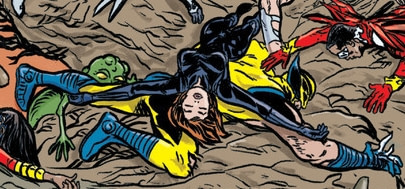 Is that the Grandmaster up top? And who is the fellow between him and Emma Storm? Not Star-Lord…
UPDATE: Oh obviously The Collector, Thank you, Phil.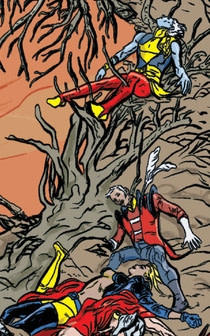 And, yes, Phyla-Vell and Moondragon both back, together again and holding hands. Are her eyes open?

Phyla-Vell was a new version of the Genis-Vell version of Captain Marvel, after the universe was destroyed and recreated (as it often is) with Phyla-Vell being one of the changes. She is now the second artificially created offspring of Captain Mar-Vell created by her mother Elysius. She had a bit of a thing for Moondragon.
Phyla-Vell was reported as the first victim of Thanos' rampage a while ago, her remains seen by Mantis but never shown on panel. She is later mourned by the Guardians on Knowhere. Phyla is later shown in Hell when Thanos and Deadpool venture there in search of the missing Death. However Gamora later discovers Phyla trapped inside the Soul Gem alongside Adam Warlock… and since one of them is out, why not the other?
All these changes and more set up to play out… Infinity Countdown Prime #1 is out in one week…
INFINITY COUNTDOWN PRIME #1 LEG
(W) Gerry Duggan (A/CA) Mike Deodato
Contains 30 pages of all-new story from Gerry Duggan and Mike Deodato Jr, with additional bonus content! This brand-new story is the beginning of the saga fans won't want to miss.

The Infinity Stones. Individually, they grant their wielder great power. Together, they grant the power of a god. Newly reformed and scattered throughout the universe, these artifacts allow the ones who claim them their heart's desire. Now, as their locations are discovered, forces converge for a battle that will begin the universe down a dark path to the END. Jump onto this exciting ride that will lead to the biggest Infinity yet! Plus: The saga of the Infinity Stones-what they are and how they came to be! From creation to destruction to re-creation, this prose primer will tell you everything you need to know about the legendary cosmic gems!
Rated T+In Shops: Feb 21, 2018