Revealed: Jack Kirby's Notes On Other Names For The Scarlet Witch
As Bleeding Cool general manager Mark Seifert often points out, you always learn more going back to old paper. So much of what we think we know about history is the point of view of one person, incorrectly summarised by a student in another country fifty years later, then made permanent and immutable fact in some clippings file by an early-twentieth-century newspaper hack late for his coffee break. And so it can be with original comic book art and the origins of the Scarlet Witch.
Better known as an Avenger these days, the Scarlet Witch was created by Stan Lee and Jack Kirby in the X-Men comic books. Right now Heritage Auctions is auctioning the original opening page to X-Men #4 from 1964, which reintroduced Magneto alongside his newly introduced Brotherhood Of Evil Mutants. We know their names, Mastermind, The Toad, Quicksilver and Scarlet Witch. But notes from Jack on the back notes that Mastermind, Toad and Quicksilver were fixed, but Scarlet Witch was up in the air.
Suggestions included Jack Kirby's notes on the back of the page, brainstorming different names for the Scarlet Witch and coming up with The Witch, Witch Woman, Witch Lady, Lady Witch, Miss Witch, Miss Mystic, Jinx, Siren, Evil Eye, and Sorceress. Would a scarlet rose by any other name have smelled so sweet?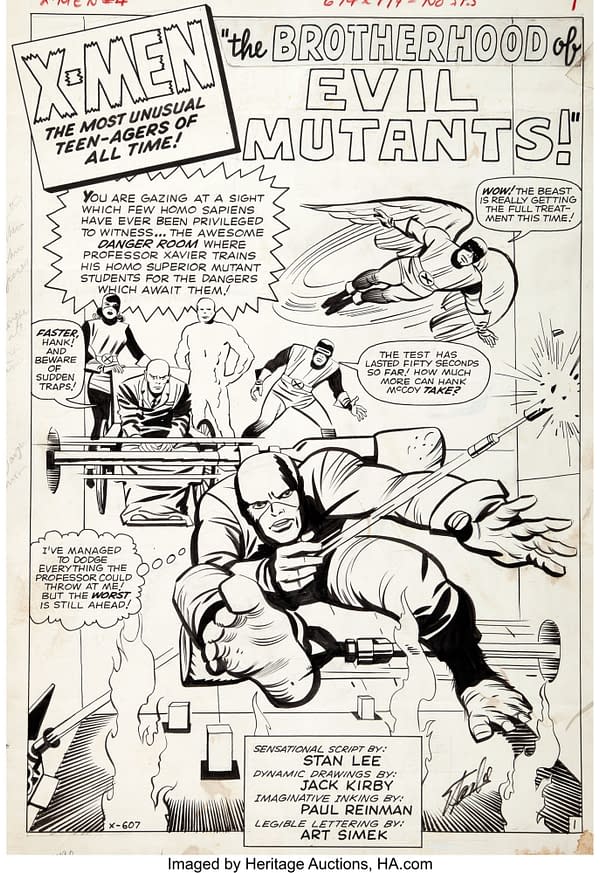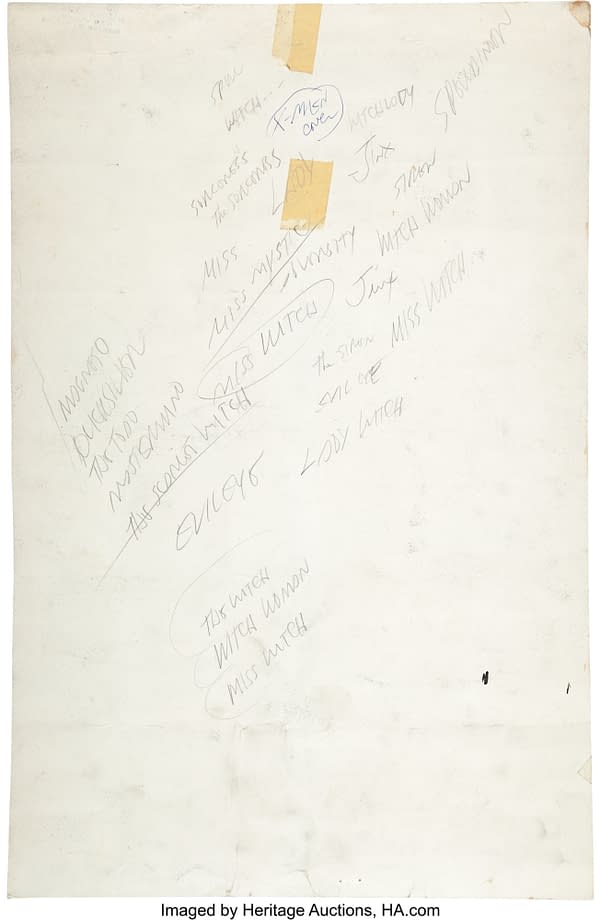 Here is the auction description:
Jack Kirby and Paul Reinman X-Men #4 Splash Page Original Art (Marvel, 1964). The only page from this issue ever to come on the market so far. Kirby only did full pencils (as opposed to breakdowns) for the first ten issues of this title, so there are very few fully-penciled splashes to go around. And having the whole team in the danger room is an ideal motif. A very cool bonus appears on the back of the page: handwritten prototype names (by Kirby we presume) for the Scarlet Witch, who made her first appearance later in the issue (Witch Woman, Jinx, the Sorceress, and quite a few others)! The piece has an image area of 12.5" by 19". It's ink over graphite on Bristol board. There are several horizontal creases through the whole piece, as the art had been rolled at one point. Minor water stain on the top left corner and stains on the bottom margin and by Beast's right hand and leg, as well as on the left edge. Spot stains by the title. Corner wear. Pieces of tape on the back. Light toning. Good condition. Includes a copy of the comic in Poor condition.