Richard Meyer Sues Mark Waid Over 'Tortious Interference With Contract and Defamation'
Diversity & Comics YouTuber Richard Meyer has launched a civil suit against comic book writer Mark Waid. Filed on the 19th of September with the United States District Court in Austin, it claims 'tortious interference with contract and defamation'.
Meyer is represented by lawyers Daniel H Byrne and Dale L Roberts, of the legal firm Fritz, Byrne, Head & Gilstrap of Austin, Texas. Mark Waid is being represented by Mark S. Zaid, who is the founding partner of his own firm.
This stems from events which took place in May 2018, when Antarctic Press announced they were to publish Meyer and Jon Malin's upcoming graphic novel Jawbreakers, originally planned for publication in August. Bleeding Cool reported then that Mark Waid phoned them up to discuss the matter. The publisher then announced they would not be publishing the comic, subsequently stating in part "It's now bigger than we could have handled". Meyer claimed that Waid had bullied them into their decision, though the publisher issued statements saying that hadn't happened.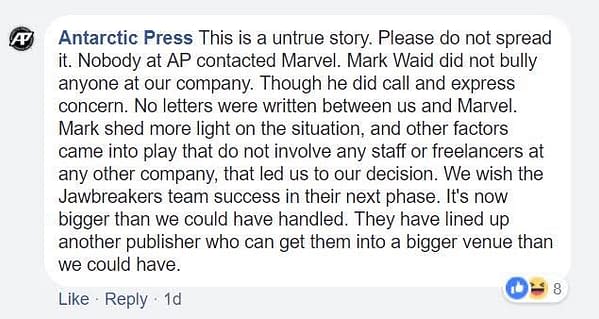 In the lawsuit, Meyer claims that accusations that he 'held a number of socially extreme views' are untrue, that he is not a bigot and that Waid has accused him of being a 'serial harasser of women and minorities, and claimed that he promotes hate and intolerance.'
Meyer states that 'later that day, Waid spoke by telephone with one of the owners of Antarctic Press, and convinced him that Antarctic Press should repudiate its contract with Meyer. Frightened for its very survival by Waid's threats, and primarily because of his unwelcome interference, Antarctic Press caved to Waid's pressure.'
Meyer's case states that 'Following Antarctic Press's experience, no other publishers would consider publishing Meyer's comic book. Meyer's only option was to self-publish by creating his own independent publishing company, which he did. At significant expense, and after significant delay in publication of JAWBREAKERS, Meyer is now performing all of the tasks that Antarctic Press would have performed in the absence of Waid's interference with Meyer's contract. Instead of pursuing other potential business interests, including writing additional comic books, Meyer is responsible for overseeing the printing of JAWBREAKERS and arranging to ship copies ordered online through Meyer's crowd-funding campaign.'
Meyer also states that because of Waid, he has been blackballed by the comics industry. That he 'could not even find a U.S.-based artist for his next book, and has resorted to contracting with one he located from the Philippines' and that he can't exhibit at comic conventions or appear on panels, and states this is a 'direct result of Waid's interference with Meyer's contract with Antarctic Press and false statements.'
Meyer also states that 'Waid has falsely stated that Meyer published a list of comic book stores, with the first and last name of the comic book stores' employees, in response to the stores' decision to not carry JAWBREAKERS. In doing so, Waid suggested that Meyer was encouraging his followers to harass or threaten the comic book stores' employees.'
Whereas he claims that 'Meyer had only identified the stores identified in the leaked chat transcript that had agreed not to carry JAWBREAKERS and the individuals who were part of that conversation.'
Meyer claims that as a result of all this, 'Waid intentionally induced Antarctic Press to breach its agreement with Meyer. Waid's interference proximately caused injury to Meyer for which he seeks damages in excess of $75,000.'
And that for defamation, 'Waid intentionally published statements of fact to his followers and the general public regarding Meyer, including falsely stating that Meyer published the first and last names of comic book store employees to encourage his followers to harass and threaten them, as well as characterizing Meyer as a racist, serial harasser of minorities, and as affiliated with white supremacists.'
Meyer is demanding a jury trial but that judgement, peculiarly, be requested against 'Defendant Chris Waid'. Who this is, and his relationship to Mark Waid, is not made clear.
Mark Waid's lawyer has responded to inquiries made by Bleeding Cool earlier today.
"Mark will aggressively fight this frivolous lawsuit with every legal means available but at the end of the day what will have the greatest favorable impact for him are the actual facts. Mr Meyer's' lawsuit will further reveal to the world his true nature. Ironically his own litigation will likely increase the professional isolation he alleges Mark has caused," said Mark S. Zaid, a Washington, DC attorney who represents Waid. Mr Zaid has handled high-profile defamation cases and is well-known within the comic community for representing CGC and serving as an Advisor for the Overstreet Comic Book Price Guide.
Zaid was also repeatedly named a 'Superlawyer' for his work with national security whistleblowers and is a strong First Amendment advocate. He is best known for suing Libya for the 1988 terrorist bombing of Pan Am 103 which resulted in a $2.7 billion settlement, the largest of its kind against a foreign government for terrorist activities.
Daniel H. Byrne is a founding partner of Fritz, Byrne, Head & Gilstrap, his areas of expertise include real estate, securities, fiduciary, governmental, financial institution, employment, and bankruptcy litigation.
The full court document runs below.