Rob Liefeld may be better known for his work on Supreme, a violent hot-headed version of Superman that was later transformed by Alan Moore and Chris Sprouse into a classic Silver Age Superman, that laid the creative groundwork for Tom Strong. But now it appears he may be going to the source, asking his fans on Facebook to choose between these two layouts.He wrote,
Chance to draw the greatest super hero of all time. Help me pick one at the rough pencil stage. Left or right?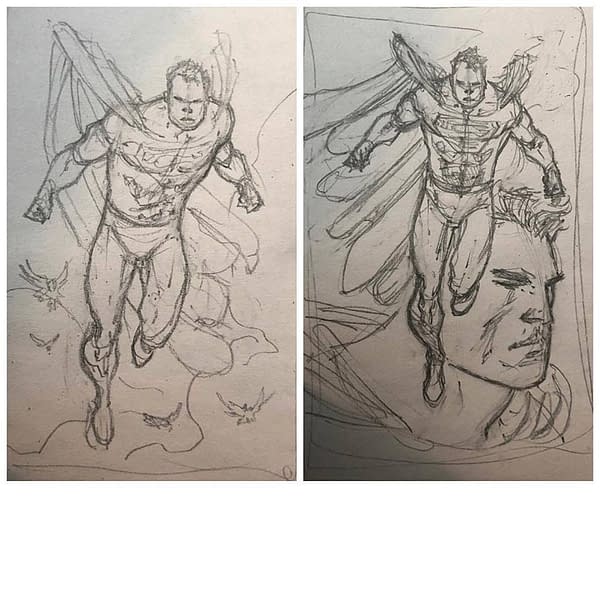 Would you pick a favourite? I like the one where Superman has an extra large earmuff in the shape of himself. But only the one, he must have dropped the other. Careless Superman.
Say I wonder if this means Rob Liefeld might be working with current Superman writer Brian Bendis? That would be an interesting team-up,. Bendis once said of Liefeld, "There is a great dichotomy…There's either some great and generous story about him or you will hear some unbelievable thing like, 'How is he not in jail if he did that?' There is no middle ground."
Whereas Liefeld spoke of Bendis, after he joined DC Comics,
Thank you @BRIANMBENDIS for making comics great again!

— robertliefeld (@robertliefeld) November 7, 2017
It doesn't count unless it's on a baseball cap, Rob. Not the first time there has been the threat of them working together after these tweets…
@robertliefeld you and me, millie the model!! lets go!! :)

— BRIAN MICHAEL BENDIS (@BRIANMBENDIS) 7 September 2013
Resulted in this image… So, America, you must make your choice. Left or right? Whatever you decide, you can let Rob Liefeld know right here.
Enjoyed this article? Share it!