Rosenberg, Larroca, and Cyclops Devastate the Uncanny X-Men in February
A teaser just sent out by Marvel for Uncanny X-Men reveals some new details about where the X-Men will go after the initial 10-part weekly Uncanny X-Men Disassembled arc ends in January. It looks like Uncanny X-Men #11 will ditch the ensemble creative team for a story by Matthew Rosenberg and Salvador Larroca. We also get to see the full cover, which confirms what we already knew – Cyclops is back, baby!
Congratulations to Matty Rosenberg on securing a solo Uncanny X-Men writer slot, though it's as-yet unclear whether it's permanent, or whether the other writers involved with the book's first 10 issues, or other writers, will rotate in and out as well. We do know there will be plenty of X-Men writer and artist jobs to go around in February, with six new X-Men comics coming out that month. Either way, that's a big deal for Rosenberg, especially with Salvador Lorroca, an all-time-great X-artist, on the team-up. And the all-time greatest X-Men character to boot.
We knew our boy Rosenberg wouldn't let us down! Finally, our beloved Cyclops returns! He's still, he's still Matty from the Block!
Cyclops' return will probably take place in Uncanny X-Men Annual #1 in January, but will be there be any X-Men left when he gets there? We can't wait to find out!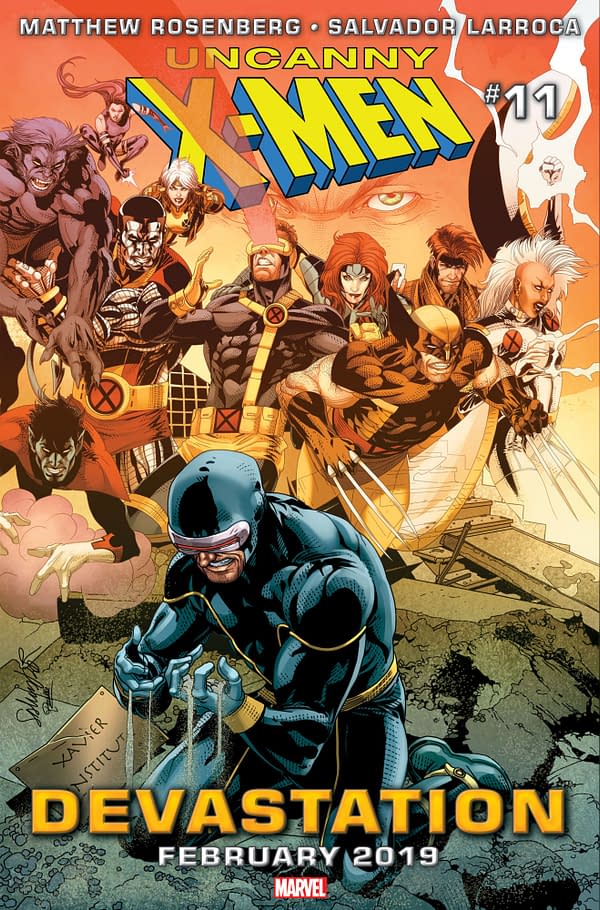 Written by MATTHEW ROSENBERG
Art and Cover by SALVADOR LARROCA
Coming February 2019