Rough Riders: Ride or Die #1 Review: Teddy Roosevelt, Thomas Edison, and More Team Up for Some Solid Historical Fiction
[rwp-review-recap id="0"]
President Teddy Roosevelt is attempting to enjoy his daughter's wedding when an old Rough Rider crashes the reception. Harry Houdini comes bearing ill news of a séance that seemed to summon something ancient and evil. He has already sent the rest of the Rough Riders to chase various angles on this, but he needs Teddy to help him find someone.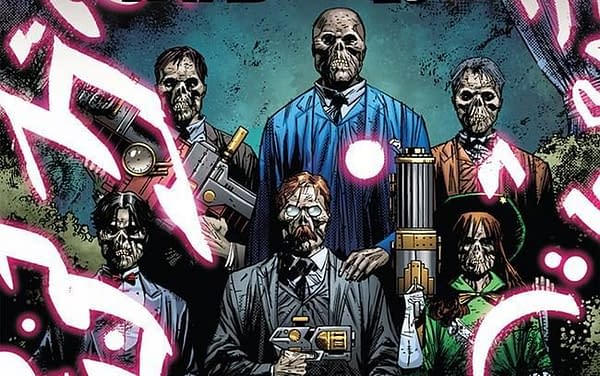 Rough Riders: Ride or Die is another entry in that surprisingly well-trod genre of stories about historical figures all coming together to do a job. You know the kind; stories where important people from history all know each other personally and share secret knowledge.
While this subgenre of historical fiction can be a bit exasperating at this point, Rough Riders: Ride or Die #1 gets to enjoy the station of being a good version of that.
There's almost a utilitarian appeal to how straightforward and fine-tuned this comic is. This is comic is the beginning of the third volume of the Rough Riders series form AfterShock. Despite that, there is almost no barrier to entry in understanding what is going on. The comic establishes the relationships and plot fast, and you can just enjoy the ride — no pun intended. The only reference that confused me personally is something about Thomas Edison knowing what Annie Oakley "really is."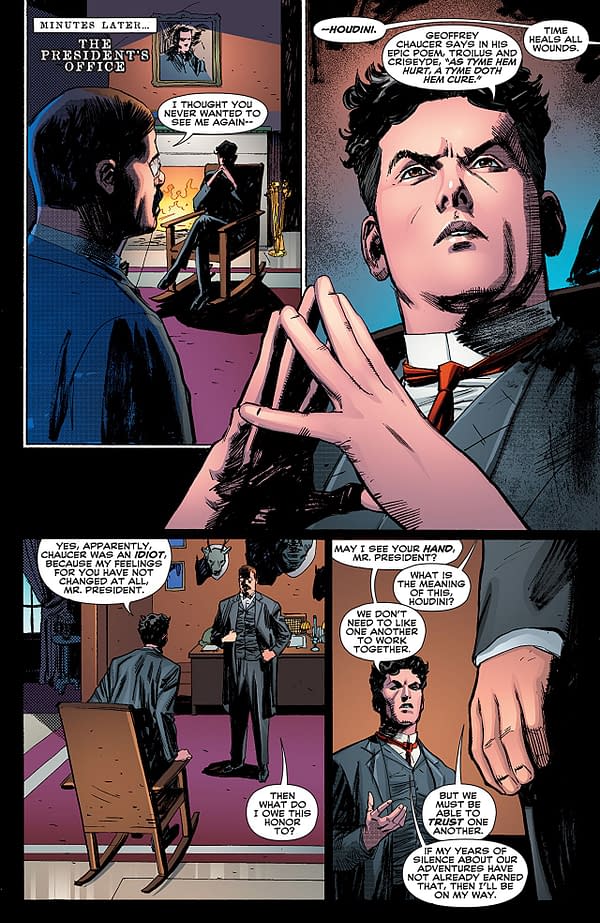 The art is quite good too. Patrick Olliffe brings a similarly utilitarian approach to the framing and scenes. The characters are shown well, detailed, and are only as expressive as they need to be. The only drawback is how stiff they often seem; there are very few particularly animated panels of our heroes. Gabe Eltaeb's color work is similarly tame, almost to a fault. The comic dances around with black, white, brown, and primary colors for the most part. Beyond that, the coloring doesn't give much to impress.
Rough Riders: Ride or Die #1 is a fun enough comic about turn-of-the-century figures joining together to solve a supernatural problem. While it's nothing particularly extraordinary, I can easily recommend it. Check it out.
[rwp-review-ratings id="0"]
[rwp-review-form id="0"]