Ryan North spend 45 minutes today at LibraryCon, the streaming comic convention aimed at librarians, with bookstores, publishers, bloggers and creators in the mix, taking and answering questions from many.
He spoke widely about comic books as an appealing medium, and what he achieves with Squirrel Girl and his book How To Invent Everything, which let him talk about the differing appeal and reaction to his work in prose and in comics.
He talked about how artist Erica Hoen designed Squirrel Girl's costume to be as cosplay friendly as possible, given that she has a huge squirrel tail – he recommends one person's technique of using a large metallic balloon in the shape of a Number 9. And he loves that even the grumpy old men of comics have been forced to accept cosplay as at least an acceptable thing now.
He also talked about how he got an e-mail from his editor Will Moss, asking for a Squirrel Girl pitch, a character he had hardly heard of, so he spent a weekend reading and writing a Squirrel Girl Vs Galactus pitch as he worked out what a solo boo could be and that he really wanted to write it. To the extent he had to be reminded by Moss he might need a supporting cast – not just Squirrel Girl.
He has also just sent in his pitch for a stand-alone issue between arc, after Squirrel Girl's death was faked, and Tony Stark will be returning to the comic as a result – not just in their social media conversations…
Ryan also talked about his Adventure Time comics and fighting against the idea of just doing cash-in titles, trying to let the comic stand on its own and finding some people read the comic without knowing it was a show – or think the show is an adaptation of the comic book.
He also talked about Marvel Merchandising asking him not to ask readers to ask them for Squirrel Girl's Guide To Super Villains cards that appear in the comic. He had to tell them, he hadn't organised any such campaign, it was just happening…
There were also lots of questions about the New Warriors TV series of which Marvel made a pilot for Fremantle, but Fremantle didn't have room in their schedule so Marvel has been shipping it around within Disney. He clarified that Marvel were still looking for a network and that 'I haven't seen the whole episode, just secret clips I can't share… there's a moment with Doreen I wish I'd put in a comic, such a sweet moment.'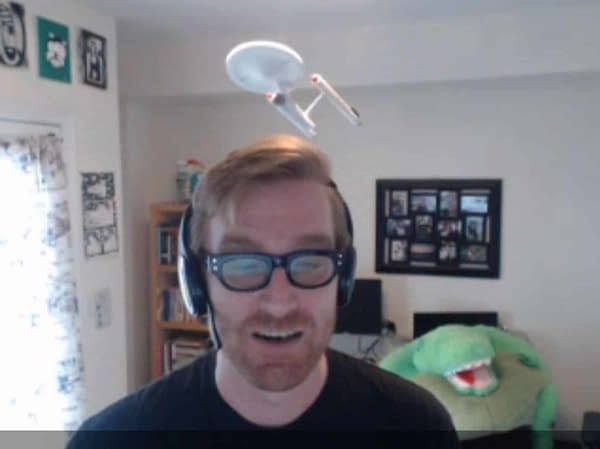 Enjoyed this article? Share it!