Every morning I wake up to more San Diego Comic Con promotional activity. So now, so can you.
Marvel Studios:
MARVEL STUDIOS will be hosting its Hall H Comic-Con panel on Saturday, July 14 from 6:00pm – 7:00pm.

Marvel Studios presents Iron Man 3. Join Producer Kevin Feige and special guests as they provide an inside look at the ever-expanding Marvel Cinematic Universe.

WALT DISNEY STUDIOS MOTION PICTURES will be hosting our Hall H Comic-Con panel on Thursday, July 12 from 2:05pm – 3:05pm.
Science Channel:
(SILVER SPRING, MD) – SCIENCE today announced that it will converge on the world's leading comics and pop culture convention with three exclusive panels at this year's Comic-Con International: San Diego (Comic-Con), taking place July 12-15. Headlined by the 10-year anniversary panel for the cult sensation FIREFLY, the network's first appearance at the event features a star-studded lineup of top talent, producers and never-before-seen footage, along with numerous buzz-worthy surprises. SCIENCE will burst onto the scene at this year's Comic-Con providing the ultimate signature experience that fans won't soon forget, with additional presentations for DARK MATTERS: TWISTED BUT TRUE and STUFF YOU SHOULD KNOW. FRINGE, which will make its SCIENCE debut on November 20, also will feature a panel on Sunday, July 15.

For the first time ever, SCIENCE will bring together the cast from the beloved but short-lived series, FIREFLY. Captain Mal and his team will descend upon San Diego 10 years after the sci-fi western first hit airwaves and triggered a fanatical following. Since making its debut on SCIENCE in 2011, FIREFLY has become an audience favorite, attracting an army ofboth new and veteran Browncoats to the network. Join creator, executive producer and writer Joss Whedon, alongside fellow executive producer and writer Tim Minear, and cast members Nathan Fillion, Alan Tudyk, Adam Baldwin, Sean Maher, MichaelFairman and the rest of the crew of Serenity for one of this year's the most anticipated panels on Friday, July 13, at 12:30 PM (PT).

Friday evening at 7:15 PM (PT), John Noble (FRINGE) and the creators of SCIENCE's hit series DARK MATTERS: TWISTED BUT TRUE will unveil shocking never-before-seen footage from the show's second season. Join host Noble, the series' executive producer and a featured scientific historian as SCIENCE offers a sneak peak at forbidden research records from the most shocking studies ever executed. Featuring gruesome lobotomy experiments, controversial CIA mind-control studies and accounts of live human transplants, the all-new season shows that science fact can be stranger—and sometimes more entertaining—than science fiction. Noble also will be signing limited edition DARK MATTERS Comic-Con posters at his autograph session for those brave enough to question everything. DARK MATTERS: TWISTED BUT TRUE season two premieres Saturday, July 14, at 10 PM (ET/PT). This is just the beginning of Noble's Comic-Con conquest, as he will appear alongside the cast of the FRINGE at the Warner Bros. featured panel on Sunday,June 15. FRINGE makes its cable debut on SCIENCE on November 20 at 8 PM (ET/PT).

Finally, everyone's favorite genius generalists Josh Clark and Chuck Bryant make their freshman Comic-Con appearance to record a live edition of their top-10 downloaded HowStuffWorks podcast. Josh and Chuck will lead Comic-Con's fans in the 360-degree discussion Time Travel: Science Fact or Science Fiction? With surprise guests and exclusive giveaways,the guys also will reveal hidden scenes from their upcoming SCIENCE series STUFF YOU SHOULD KNOW, premiering in January 2013.

"As a network, SCIENCE has one foot in the planetarium and the other in Comic-Con. This venue is the Mecca for creativity and inspiration that can spark a great work of art or the next scientific breakthrough," said Debbie Adler Myers, general manager and executive vice president for SCIENCE. "From Joss, Nathan and our amazing FIREFLY panel, to John Noble and DARK MATTERS, to Josh and Chuck; our panels reflect the programming on SCIENCE—totally diverse but all whip-smart, hugely entertaining, lean-forward television."

"We are very excited to welcome SCIENCE to the Comic-Con International family," commented David Glanzer, director of marketing and public relations for Comic-Con. "They have some of the most-anticipated panels at this year's event and we know they won't disappoint the legion of fans that come from all over the world to experience the phenomena that is Comic-Con."

For more information on this year's lineup, please visit: SCIENCECHANNEL.com and Comic- Con International: San Diego 2012 at http://www.comic-con.org/cci/.

SCIENCE CHANNEL PANELS AT SAN DIEGO COMIC-CON 2012

TIME TRAVEL: SCIENCE FACT OR SCIENCE FICTION? STUFF YOU SHOULD KNOW WITH JOSH & CHUCK

Thursday, 7/12/12, 4:00 p.m.–5:00 p.m., Room: 5AB

SCIENCE presents Josh Clark and Chuck Bryant, hosts of the Top 10 iTunes podcast STUFF YOU SHOULD KNOW, as they lead a discussion about time travel with some very special celebrity guests for a live from Comic-Con taping oftheir podcast. Josh and Chuck's loyal fan following, chemistry and insatiable curiosity are core to the launch of SCIENCE's upcoming series STUFF YOU SHOULD KNOW, as the two pioneer the way for what likely will be more introductions of talent discovered and incubated online finding a place on new platforms. Join Josh and Chuck and the SCIENCE team at Comic-Con for an exclusive sneak-peek of STUFF YOU SHOULD KNOW, as well as limited edition Comic-Con exclusive giveaways from SCIENCE.

FIREFLY 10-YEAR ANNIVERSARY

Friday 7/13/12, 12:30 p.m.–1:30 p.m., Room: 20

It has been 10 years since the crew of Serenity took flight in Joss Whedon's short-lived but now revered series, FIREFLY. SCIENCE will reconvene, for the first time in a decade, Captain Mal Reynolds and the crew from the ship, calling all Browncoats to unite at the 2012 San Diego Comic-Con. The cast of FIREFLY will talk about the past, present and future of FIREFLY, 10 years after its debut. SHINY.

DARK MATTERS

Friday, 7/13/12, 7:15 p.m.–8:15 p.m., Room: 6A

This summer, SCIENCE returns to the laboratory to unearth history's most sinister tales with the second season of the breakout series DARK MATTERS: TWISTED BUT TRUE. Join USA Today's Brian Truitt; John Noble; Executive Producer Rocky Collins; and science historian Michael Stevens as we take a closer look at the forbidden research records on the most shocking scientific studies ever executed. From gruesome lobotomy experiments, to controversial CIA studies, to spine-chilling accounts of live human transplants, the all-new season shows that science fact can be stranger, and even more entertaining, than science fiction. The six world premiere episodes take audiences inside a real-life Twilight Zone, where shocking CGI re-creations illustrate unforgettable tales of genius gone horribly awry. DARK MATTERS: TWISTED BUT TRUE premieres Saturday, July 14, at 10:00 PM (ET/PT).

JOHN NOBLE/DARK MATTERS AUTOGRAPH SESSION

Saturday, 7/15/12, 1:30 p.m.–2:30 p.m.

John Noble, host of SCIENCE's hit series DARK MATTERS, will be signing limited edition Comic-Con International: San Diego 2012 commemorative posters during his autograph session.
Disney:
WALT DISNEY STUDIOS MOTION PICTURES will be hosting our Hall H Comic-Con panel on Thursday, July 12 from 2:05pm – 3:05pm.

Q&A panel featuring the imaginative director of Frankenweenie Tim Burton (Alice in Wonderland); A special look at the world of Oz The Great and Powerful with director Sam Raimi (Spider-Man trilogy); the illustrious voice cast of Walt Disney Animation Studios' Wreck-It Ralph, including John C. Reilly (Step Brothers), Sarah Silverman (The Sarah Silverman Program) and director Rich Moore (The Simpsons).

Cartoon Network:

It's a Finn and Jake take over, Comic-Con style! For the first time ever, The New Children's Museum, located in Downtown San Diego, will be re-conceptualized to feature an exclusive, fully immersive Adventure Time experience. Inspired by two fan-favorite episodes, the Adventure Time: Keyper Seeker experience will welcome guests into this lush re-creation of the Land of Ooo! The Keyper, a beloved Adventure Time character who just happens to wear a key shaped hat, will present guests with a special key that opens one of the many doors within the secret lair of the Door Lords. Before a door will open, each guest must decipher a riddle that if successful will grant access to an extra-special prize locked inside!

The New Children's Museum of San Diego and Cartoon Network will also be partnering to host an Adventure Time exhibition featuring fan-generated artwork! Cartoon Network has assembled a diverse array of Adventure Time themed artwork which will be displayed for the duration of this year's Con.

Celebrating the amazing fandom of this hit series, the Adventure Time: Keyper Seeker experience and the Adventure Time Fan Art Exhibit will be open to the public and Comic-Con attendees at the New Children's Museum of San Diego Wednesday, July 11 – Sunday, July 15, 2012. The New Children's Museum is located at 200 West Island Avenue, San Diego, California 92101, conveniently located directly across from the Convention Center.
MTV: Teen Wolf and The Inbetweeners
MTV announced today the hit drama "Teen Wolf" will be back at Comic-Con for the third consecutive year, with a panel featuring all the stars from the series, and a special sneak peek of an all-new episode. In addition, MTV Geek! will host a live pitch competition between three top comic creators in the industry. For those who can't make it to San Diego this year, MTV News and MTV Geek! will bring the Con to fans providing wall-to-wall convention coverage.

"Teen Wolf" cast members Tyler Posey, Dylan O'Brien, Crystal Reed, Tyler Hoechlin, Holland Roden and Colton Haynes are taking Comic-Con by storm again, and giving fans an exclusive first-look at an all-new episode, along with the latest scoop from season two during the Q&A session, moderated by TV Guide Magazine Senior Writer, Damian Holbrook. Fans will want to stick around for the can't-miss world premiere trailer of MTV's upcoming scripted comedy series, "The Inbetweeners," immediately following the Q&A session. The series, from executive producer Brad Copeland ("Arrested Development," "My Name is Earl"), will premiere Monday, August 20 at 10:30 p.m. ET/PT on MTV.

On Thursday, July 12, join MTV Comics Executive Editor Tom Akel for MTV Presents: Creator Pitch LIVE!, a live pitch competition between three of the top creators in the business, including Image co-founder/Top Cow CEO and co-creator of "Witchblade" and "The Darkness," Marc Silvestri, co-creator of the "Teenage Mutant Ninja Turtles" and owner/editor/publisher of "Heavy Metal," Kevin Eastman, and Eisner Award-winning creator of the all-ages hit "Mouse Guard," David Petersen.

Just three weeks prior to Comic-Con, the creators will each be given the same topic, something that's been a hot button issue to the industry from the past year, from which they will draw their inspiration to develop a new comic series. Creators have 10 minutes to present their pitch to the fans, there will be time for questions, and then put it to a vote that's determined by the fans.

MTV Presents: Creator Pitch LIVE!
5:00-6:00 p.m.
Room 25ABC
Base Station: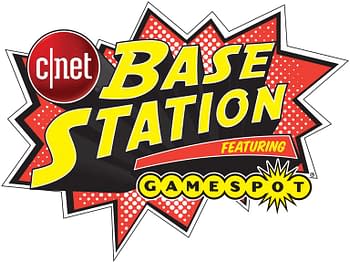 If you are at Comic-Con 2012, report to Base Station for pampering that's worthy of a true superhero. Take a break from saving the world and indulge yourself. Here are a few of the fantastic things we have planned because with great rest, comes great relaxation.

• Food and drinks on the house

• Hot new video games (Tomb Raider, Sleeping Dogs, Hitman Absolution)

• Prize Pow-looza* with drawings throughout the day for gaming systems, tablets and more

• Charging stations and laptops




Where:

5th and Harbor (at Lou & Mickey's across from the convention center, next to the Gaslamp archway)

When:

Thursday 7/12 through Saturday 7/14; opens 11:00 AM.

Reserve your free ticket now on the CNET Base Station EventBrite page. RSVP Policy: This event is open to Comic-Con badge holders on a first-come, first-served basis. RSVP does not guarantee admission if capacity is reached at Lou & Mickey's.
Art Directors Guild
Comic Con is right around the corner and we are all looking forward to seeing our favorite heroes, super heroes, villains, monsters, aliens, vampires, goblins, witches and all imaginable and unimaginable creatures.

Ever wonder where these characters live and who and how their fantastic environments come to be? Two panels will demonstrate exactly how that happens.

On Friday, July 13 from 5:00 to 6:00 PM, some of the most creative and prolific Illustrators will share secrets of their trades. Saturday morning, July 14 from 10:00 to 11:00 AM, Production Designers will talk about creating the worlds that capture our imaginations.

Please plan to join us for these panels that look behind the scenes and talk to the artists who create the worlds from start to finish. We will be happy to set interviews and provide art to accompany any interviews.

Looking forward to seeing you.

Friday – July 13
4:00 PM -5:00 PM
Room 24ABC

Motion Picture and Television Illustrators of the Art Directors Guild–-Film starts with an idea that must be brought to life by a team of creative men and women. The illustrators and storyboard artists use their skills and imaginations to develop the transcendent visuals of the big screen, be it adventure on distant worlds or earthly hovels. Meet the artists as they discuss their craft and answer questions: moderator Tim Burgard (Rise of the Planet of the Apes), Benton Jew (G.I. Joe: Retaliation), Dave Lowery (Oz the Great and Powerful) Derek Gogol (Pirates of the Caribbean franchise), Trevor Goring (Real Steel), Chris Baker (War of the Worlds).

Saturday – July 14
10:00 AM -11:00 AM
Room 25ABC

Film and TV Production Designers of the Art Directors Guild–In collaboration with a highly skilled art department, the production designer lays out the design plan that will guide a small army of illustrators, set designers, decorators, carpenters, sculptors, painters and artisans of every sort, in creating small worlds to warm the heart, and entire civilizations to fire the imagination. Designers include Suzuki Ingerslev (True Blood), Bill Creber (The original Planet of the Apes) Rick Heinrichs (Dark Shadows), Dominic Watkins, (Snow White and the Huntsman), and moderator John Muto (Terminator 2:3D).
Symbiote Studios:
Symbiote Studios will be back at San Diego Comic Con Booth #4533. If you are at the show stop by and pick up one of our eight new Symbiote Vinyl Toys. We have two great kinds that each supports a great organization. Each will sell for $12.99.

Symbiote Panda vinyl toys supports Pandas International. 10% of all sales go towards this great organization. Pandas International, is a non-profit organization, whos goal is to ensure the preservation and propagation of the endangered Giant Panda. By providing public awareness and education, support for research, habitat preservation and enhancement, and assistance to Giant Panda Centers. http://www.pandasinternational.org/

Symbiote Cat vinyl toys supports the Hermitage Cat Shelter. 10% of all sales go towards this great organization. The Hermitage Cat Shelter is a not-for-profit 501(c)3 organization supported entirely by donations. They are dedicated to the shelter, protection, and care of homeless cats, especially those that are often not considered adoptable by other organizations. They are both an adoption facility and long-term sanctuary for those felines who are "adoption-challenged." including felines who are FIV or FeLV-positive, and other types of chronic health issues. http://hermitagecatshelter.org/
Stephanie Thorpe
Just when you thought you were safe, Actor/Producer/New Media Maven STEPHANIE THORPE returns for two panels at San Diego Comic-Con 2012, including "The Most Dangerous Women at Comic-Con" on Thursday, July 12th at 5:00pm and "Shelf Life: The Series" on Friday, July 13th at 7:30pm.

"The Most Dangerous Women at Comic-Con" panel will assemble a group of talented female movers and shakers on the convention scene to discuss the success of women in the world of geek fandom. Thorpe will be joined by: Action Chick Katrina Hill (GeekNation, MTV Geek), Leah Cevoli (Robot Chicken), Holly Conrad (Comic-Con Episode IV: A Fan's Hope), Adrianne Curry (Stan Lee's World of Heroes), Abbie Heppe (Respawn Entertainment), Clare Kramer (Buffy the Vampire Slayer), Kristen Nedopak (Skyrim: To Lydia with Love, Fight Class), Milynn Sarley (GeekNation's Lairs), Patricia Tallman (Night of the Living Dead, Babylon 5) and panel moderator Bonnie Burton (SFX Magazine).

For "Shelf Life: The Series," Thorpe will appear alongside her fellow co-stars/co-producers Yuri Lowenthal (Legion of Superheroes) and Tara Platt (Afterworld), and director Paul Jenkins (Eisner Award-winning comic) to discuss the wildly successful live-action comedy series about toys on a shelf, currently in it's third season.

Thorpe has proven herself a driving force in numerous web projects, including the highly acclaimed fan-made, non-profit trailer "ElfQuest: A Fan Imagining". Based on the classic comic book series by Wendy and Richard Pini, Thorpe directed, co-produced and starred in the project which has since appeared as an Official Selection at the 2012 Phoenix Comicon Film Festival, won Best Trailer at the IndieIntertube Awards, the Specialty Short Award at BaltiCon, the Silver Prestige Award at the Prestige Film Award Festival and been the focus of a highly successful panel at last year's SDCC.

Recent press honors reflect this success, with the international website Pop Culture Monster naming Thorpe as one of their top "Geeks and Nerds of 2011" alongside notables Zachary Levi, Felicia Day, and Robin Williams (http://popculturemonster.com/index.php/2011/the-geeks-and-nerds-of-2011/). Placevine Studios named her one of the "Top Ten Emerging Web Series Stars of 2012" (http://www.placevine.com/blog/2012/03/09/web-series-news-placevine-studios-top-ten-emerging-web-series-stars-of-2012-part-two/), and Thorpe was included in the "Who's Who Geek Edition" of geek-industry website International House of Geek (http://ihogeek.com/2012/05/03/stephanie-thorpe/).

The series "Gold: Night of the Zombie King", in which she stars, earned 5 nominations from the International Academy of Web Television Awards (IAWTV) and earned Thorpe nominations for Best Supporting Actress at the New York Television Festival (NYTVF) and the IndieIntertube Awards. In addition, Thorpe has appeared in and produced the critically acclaimed "After Judgment" (6 Streamy nominations), "Asylum" (NYTVF official selection, LA Web Fest winner, picked up by BET), Babelgum's "Hurtling Through Space", and Tyler Mane's "The Mane Show".

An expert on New Media, Thorpe is a celebrated panelist and speaker and has been featured at numerous conventions around the country including Comic-Con, Digital Hollywood, AFI, Screen Actors Guild, SAG Conservatory, WonderCon, VidCon, Comikaze, GeekGirlCon, The HollyShorts Film Fest, and DotCon: The Convention at Your Desk. Thorpe has been nominated twice to the Board of Directors for IAWTV, hosted 4 events for the non-profit organization Celebrate the Web and is a founding member of The League of Extraordinary Ladies, a group of over 600 members focused on fostering connections in the geek community.

Fresh off a recurring role on the new series "Pairings", Thorpe is developing an Untitled Andrew Erin TV series and a Teen Thriller series, is in pre-production for the new series "Weird Girls", and will be starring in a new project she's created called "The Ladies Room", with Jessica Mills (Awkward Embraces) and Tanya Ihnen (Vampire, Zombie, Werewolf).

Where: Comic-Con 2012 – San Diego Convention Center, San Dieco, CA

Panel 1: "The Most Dangerous Women at Comic-Con" — Thursday, July 12, 2012 at 5:00pm / Room 7AB

Panel 2: "Shelf Life: The Series" — Friday, July 13, 2012 at 7:30pm / Room 26AB
Scott Aukerman:
 Following the successful premiere of Comedy Bang! Bang! on IFC, Scott Aukerman will be embarking on a multi-city tour bringing his brand of comic absurdity to fans across the country. Comedy Bang! Bang! LIVE! will feature a mix of live stand-up, character cameos, and improvisational games along with sneak peek clips from the series. Also, parts of each performance will be taped for Scott's popular Comedy Bang! Bang! podcast. Joining Scott will be a rotating cast of Comedy Bang! Bang! regulars including comedians James Adomian, Tim Heidecker, and Paul F. Tompkins as well as special guests along the way. Comedy Bang! Bang! LIVE! begins in San Diego, CA at Comic Con on July 15, 2012 and picks back up in Minneapolis, MN on July 29, 2012; tickets go on sale Monday, June 18 at 12PM EST.* For more ticket information, visit:
Ohiya and Devil's Due:
Character development studio OHIYA (www.ohiyafriends.com) today announced their partnership with Devil's Due Entertainment (www.devilsdue.net) just in time to release a custom t-shirt and comic-zine for this year's COMIC-CON INTERNATIONAL. Comic-Con International runs from July 12-15 and is held at the San Diego Convention Center. Both Ohiya and Devil's Due will be exhibiting at booth #2229.

Devil's Due continues to execute on its promise of collaborating with the latest breaking pop-culture phenomenons, as evident in its partnership with Ohiya. This year's convention will see the joint-unveiling of the comic book "ZOMBUDDIEZ: FRIENDS WHO NOM TOGETHER STAY TOGETHER" and a limited edition t-shirt featuring Ohiya's resident zombie cat, Koki, feasting on the brains of the Devil's Due logo.

The zombie apocalypse has never been so cute.

Fans unable to attend the convention this year can get in on the action by visiting the Devil's Due Kickstarter campaign (http://kck.st/LB7iUV.) There, fans can snag Devil's Due swag normally available only on the show floor.

Ohiya plans to unveil a plush of the newest member of the Zombuddiez family, Broozr, at booth #2229.
Dave Dorman and Christopher Shy:
#1. Dave Dorman is celebrating his 30th year in the business – his 1st pro cover published was HEAVY METAL; he will be doing the HEAVY METAL panel at SDCC on Fri. night at 8:30 p.m. He is exhibiting at SDCC Booth #4500 (with Christopher Shy)
#2. Dave Dorman's Captain America art is on display in the new MARVEL pop-up book.
#3. Dave Dorman is doing his first-ever Battlestar Galactica 2004 fine art litho, limited to 250, launching at SDCC this year. (Press release forthcoming – waiting for approvals)
#4. Dave Dorman and his 7 year old son Jack are collaborating on a kaiju Japanese monster design for Max Toy Co. Design to be revealed at SDCC.

Christopher Shy (artist) Scoop:
#1. Christopher Shy and writer Michael Easton (who wrote "Green Woman" for DC/Vertigo with author Peter Straub) are launching their SOUL STEALER: The Collector's Edition at SDCC Booth #4401. This graphic novel trilogy won Ain't It Cool News 2011 "Best New Graphic Novel of the Year" – we'd love for you to review it – can we send it to you?
#2. Christopher Shy and screenwriter David Hunsaker are doing a "soft launch" of their book "The North End of the World" at SDCC – this is the historical fiction tale of famed photographer E.S. Curtis, who was THE guy in the 1920s who documented all of the customs and images of every tribe of the Native American Indians, many of which disappeared. Can we send you an Advance Reader Copy?
2000AD:
The Galaxy's Greatest Comic is preparing to hit San Diego Comic Con 2012 – and with the DREDD film on its way, there's never been a better time to discover the UK's greatest export for yourself!

Booth 2806 will be veritably throbbing with Thrill-power as we bring the very best of British to US shores – including both UK and North American graphic novel lines, at discount prices!

To celebrate the release of DREDD, which arrives on screens in September, we will have exclusive movie posters for lucky Earthlets!

We are also very proud to announce that top Judge Dredd artist, Jock, will be signing exclusively for 2000 AD over the weekend. The Batman and The Losers artist was also responsible for concept art and storyboards on DREDD.

There will also be signings from the creator of 2000 AD Pat Mills (Marshal Law, Judge Dredd) as well as top artists Clint Langley (Sláine, ABC Warriors) and Greg Staples (Judge Dredd).

With more exciting announcements to come, join us as we celebrate 35 years of Thrill-power at San Diego Comic Con with 2000 AD!
E L James:
Next month, E L James, the author of the "Fifty Shades" trilogy, will be signing books July 12, 4-5:30 at the San Diego Convention Center. The ticketed afternoon event is free. This is the author's first book signing on the West Coast. First published in May 2011, Fifty Shades of Grey follows the relationship of 27-year-old billionaire Christian Grey and college student Anastasia Steele. Subsequent novels in the series, Fifty Shades Darker and Fifty Shades Freed explore the couple's deepening relationship. Since Vintage Books acquired the books in March 2012, the trilogy has sold 16 million copies in the U.S. in all formats.
BAD KIDS GO TO HELL Premiere
WHAT: Red Carpet Premiere of BAD KIDS GO TO HELL

WHO: Judd Nelson, Cameron Deane Stewart, Augie Duke, Amanda Alch, Ali Faulkner, Marc Donato, Roger Edwards, Ben Browder, writer Barry Wernick, and writer/director Matthew Spradlin

WHEN: July 13th, 2012

Media Check-in at: 5:30

Red Carpet Arrivals Begin at: 6:15pm

Screening Begins at: 7:00pm

WHERE: San Diego, CA (Theater TBD)

Synopsis:

Six private school high school kids find themselves stuck in detention on a frightfully dark and stormy Saturday afternoon. During their 8 hour incarceration, each of the six kids falls victim to a horrible "accident" until only one of them remains.
And as each of these spoiled rich kids bites the dust, the story takes on a series of humorous and frantic twists and turns.
Is one of the kids secretly evening the school's social playing field? Or have the ghosts of prestigious Crestview Academy finally come to punish the school's worst (and seemingly untouchable) brats?
One thing is for sure…Daddy's money can't save them now.
Concrete Park:
Tony Puryear and Erika Alexander are living a geek fantasy. A year ago, at Comic Con in San Diego, they shook hands with Dark Horse Comics Publisher Mike Richardson on a deal to serialize their sci-fi graphic novel, Concrete Park in the pages of Dark Horse Presents. This year, after only a few critical-rave-winning installments, Concrete Park will be featured on the coveted cover of the Eisner-nominated anthology magazine, (DHP #14, July) and Puryear and Alexander are sharing a stage with comics luminaries like Eric Powell (The Goon) and Steve Rude (Nexus) on a panel moderated by Richardson himself.
Enjoyed this article? Share it!