Scooby-Doo Team-Up gets to its big fifty in September. But that anniversary issue by Sholly Fisch and Scott Jeralds will be the final issue. While Teen Titans Go won't get that fir, with issue 36 by Ivan Cohen, Lea H Seidman, Sandy Harrell and Sarah Leuver also its final issue.
These were two of the final three DC Comics that were sold at $2.99, leaving only Looney Tunes #251 as DC's only remaining $2.99 title, and their only Rated E title they now have…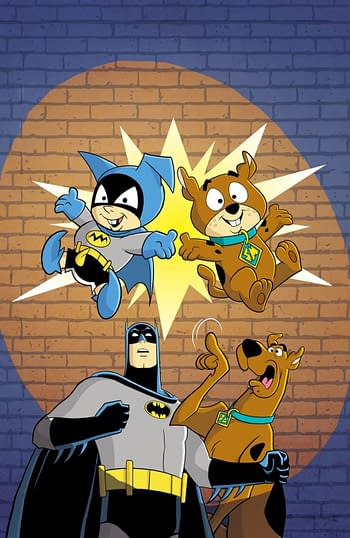 SCOOBY-DOO TEAM-UP #50
written by SHOLLY FISCH
art and cover by SCOTT JERALDS
Magical fanboy imps Bat-Mite and Scooby-Mite are back—and they've brought along a host of Batmen and Scooby-Doos! But when the mites conjure up the ultimate trans-dimensional menace for our heroes to battle, will even a League of Batmen and Society of Scoobies be enough to save their infinite Earths? Plus, can they unravel the mystery behind the shadowy figure known only as…Scrappy-Doo?
ON SALE 09.25.19 $2.99 US | 32 PAGES FC | RATED E FINAL ISSUE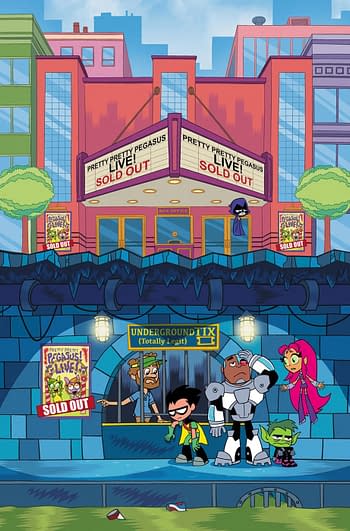 TEEN TITANS GO! #36
written by IVAN COHEN and LEA H. SEIDMAN
art by SANDY JARRELL and SARAH LEUVER
cover by ERICH OWEN
The Titans may have bungled Raven's surprise party, but Pretty, Pretty Pegasus Live is coming to Jump City, and it's their big chance to get tickets from some "Power Brokers" and make things right! Plus, when Robin decides the team needs more motivation to learn new skills, he designs a bunch of merit badges…but what happens to a team member who feels they are "Without Merit"?
ON SALE 09.18.19 $2.99 US | 32 PAGES FC | RATED E FINAL ISSUE
LOONEY TUNES #251
written by IVAN COHEN
art and cover by WALTER CARZON and HORACIO OTTOLINI
With his Road Runner documentary a complete snoozefest, studio executive Throckmorton decides to consult a real expert to turn the show around before its big premiere. He's smart. He's enthusiastic. He's Wile E. Coyote. Brought on location to motivate the movie's star, the Road Runner, will Wile E. save the movie—or will he run it into the ground?
ON SALE 09.25.19 $2.99 US | 32 PAGES FC | RATED E
Enjoyed this article? Share it!