Scott Duvall has a Writer's Commentary on Army Of Darkness/Bubba Ho-Tep #4 on sale now from Dynamite Entertainment. He writes: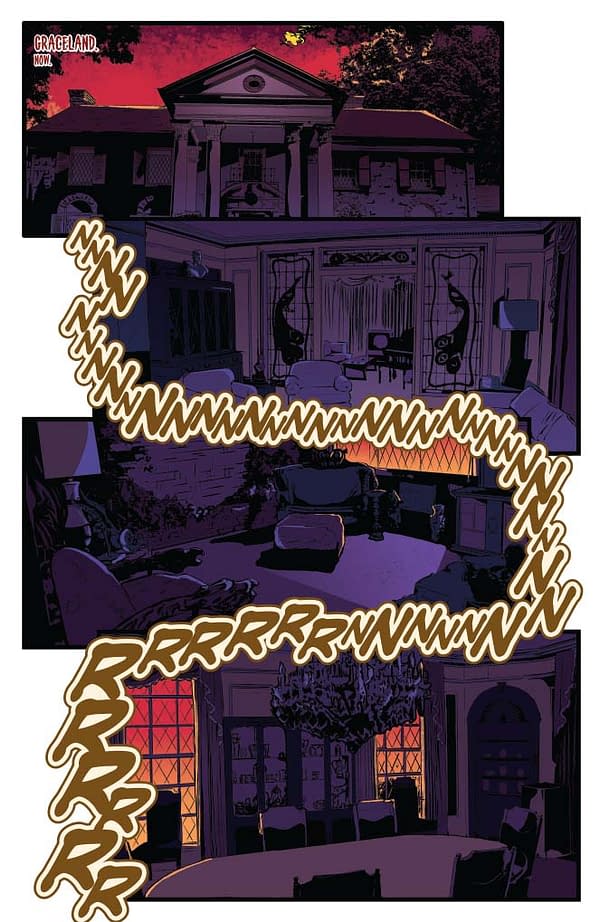 Page One – Establishing shot of the setting for our climactic battle. Here we have the calm before the storm as we get a mini-tour of Elvis' world-famous mansion, Graceland. The idea behind this series is it's Ash entering Elvis' world, so what better place for a final showdown than this iconic home of the King? We're rewinding just a bit here before the cliffhanger ending of issue 3, but the subtle jet on fire in the opening panel, followed by the not-so-subtle roaring of the jet engine lets us know exactly where we're at in the action.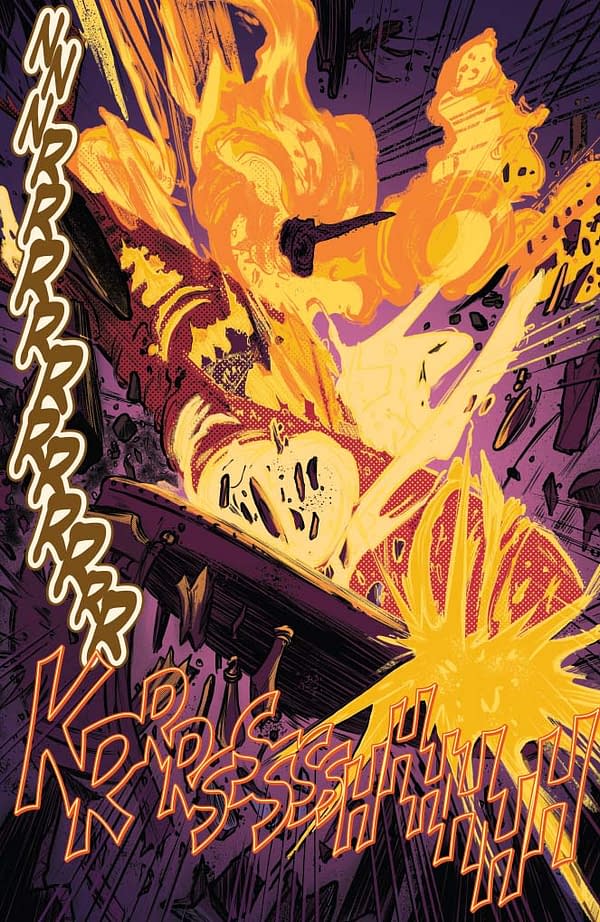 Page Two – CRASH LANDING! Ash does know how to make an entrance.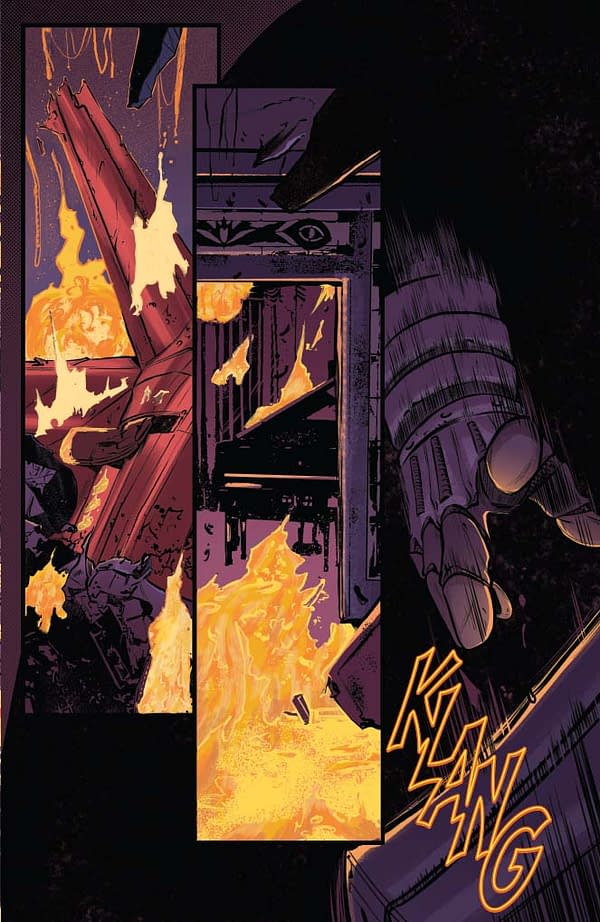 Page Three – Aftermath of the crash… but someone has survived (spoilers, it's Ash)! And as you can see by the grand piano set ablaze, things are just getting heated up.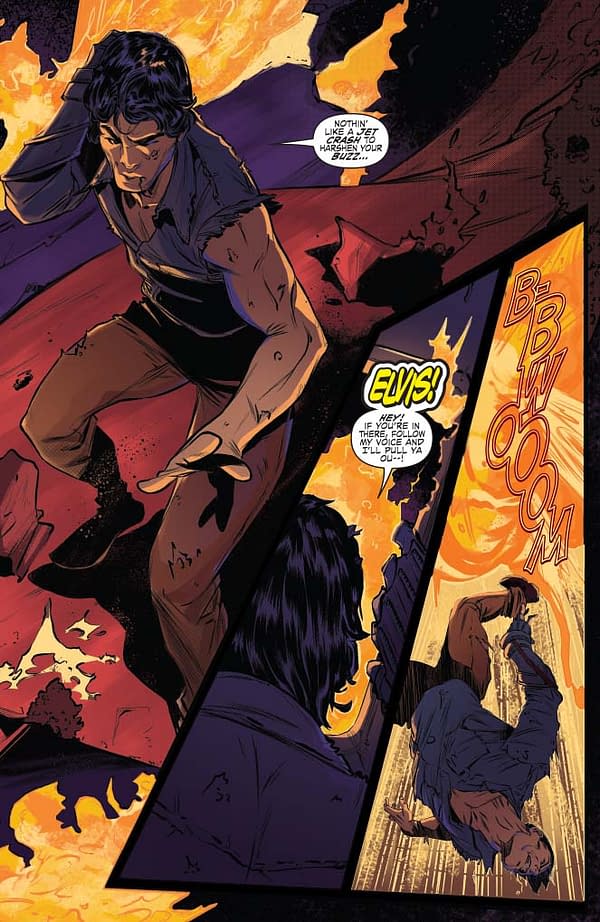 Page Four – By this point, Elvis' trippy flight is officially over, hence the line referring back to his mind-bending ride from the previous issue. Clearheaded now (as much as Ash ever is) he barely skips a beat before jumping back into hero mode, trying to save Elvis (if he even survived the crash).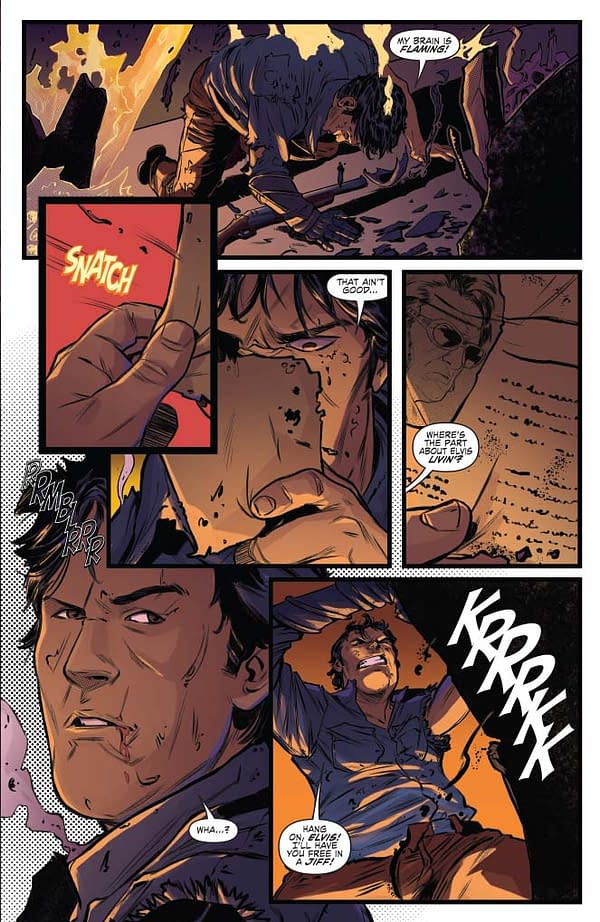 Page Five – Elvis' fate is up in the air with the discovery of the missing "ELVIS LIVES!" headline from the clipping that started Ash off on his journey. Alternate timeline, perhaps?
Page Six – Just when you thought ejecting a mummy from a burning jet was the best way to rid yourself of this unwelcome pest… but you know the rules of horror/comics—they're not really dead until you see them die!
Page Seven – And just when you thought Ash has Bubba right where he wants him… ENTER SEBASTIAN HAFF! A new contender has entered the fray, and it's the deadite Sebastian, the Elvis impersonator who took over the role of Elvis and died as the King. He was laid to rest at Graceland, but now the Evil Force and him have been acquainted and he's mad as hell (but also looking pretty stylish for a dead guy)! I asked artist Vincenzo Federici if he could draw the deadite Sebastian to be as brutish and physically imposing as Solomon Grundy and the results are pitch perfect.
Page Eight – When your boomstick runs out of boom, you have to think fast and use your surroundings to your advantage. And also using your opponent's weaknesses against them, which in this case is a brain dead deadite.
Page Nine – Deadite Sebastian Haff charging Ash like a bull was a scene I wanted to incorporate into this series from early on, and so this page gives me a lot of joy to see it come to life.
Page Ten – I also knew that I wanted Bubba to wield Ash's chainsaw during the climactic final fight, so here we have that scene, inspired in part by a scene from Evil Dead II.
Page Eleven – What better time for Ash to be running his mouth with that rapier wit than mid-battle? Plus Bubba's biting retorts are always fun to write, but especially fun to see made into East Texas Egyptian Hieroglyphics. Anyone listen to Hollywood Babble-on? If you do, there's a sneaky reference in there for ya!
Page Twelve – It's two against one and the odds are not in Ash's favor (what else is new?)! One of the things I love most about Ash is that even in the face of certain death, he always has time for a quip.
Page Thirteen – Even Ash's car knows how to make an entrance! We haven't seen it since the start of issue 1, but there was no way Ash wasn't going to reunite with his baby before the final page turn.
Page Fourteen – Elvis making his grand re-entrance, but again as old man Elvis! There's not one but THREE Bubba Ho-Tep references on this page, specifically held back for this reunion. Can you spot them all? Also, if we're going to bring old Elvis back to save the day, he's gotta have some cool lines to say, y'know?
Page Fifteen – Just taking a minute to pause and reflect on how thrilling it is for me to see Elvis and Ash teaming up to take on Bubba. I know I shouldn't say that as the writer, but it IS cool! Only in comics, right?
Page Sixteen – Some days you just can't get rid of a pudgy, flaming, undead, Elvis-impersonator-turned-Elvis! We've all been there.
Page Seventeen – We've all seen deadites use their powers of perception to trick people into seeing them in their original living form, so here we have Ho-Tep in all his glory! Thought it would be cool visually to see him in his human form for the first time, making him appear a little more regal and imposing physically. The idea of the spine-whip was a last minute addition (I really wanted to give this human Ho-Tep a weapon to wield) and I happened to come across an image of an ancient whip made out of a human spine online right as we were about to dive into the art on this issue. Thanks internet!
Page Eighteen – This time we reference a famous scene from the Army of Darkness movie, and yeah, I did it mostly for me, but I hope other AoD fans get just as much of a kick out of it.
Page Nineteen – The idea here is that with Bubba's power taken away from the reading of the tablet, that he would start to melt like a candle, Raiders of the Lost Ark style. Not only that, but all the souls he swallowed would be released, and the art team of Vincenzo with Michele Monte's colors really captured that cinematic moment of our heroes unwittingly doing good.
Page Twenty – The ending was more or less determined early on into development. I knew no matter what else happened, that Ash and Elvis would be driving off into the sunset (or in this case, a blazing inferno) away from Graceland. The newspaper clipping was a nice little bookend representing where we started, and the headline being restored was a nod to another famous time-traveler.
That's all, folks! I genuinely hope you enjoyed reading the series as much as Vincenzo, Michele, Taylor, our editor Kevin, and myself had working on it. Brining these two iconic Bruce Campbell characters together was a dream come true, and it was pretty groovy to be a part of. Thanks to the teams at Dynamite, IDW, MGM, and Joe R. Lansdale for making it happen!
Enjoyed this article? Share it!