So… How Are You Meant To Count Avengers Issue Numbers Now?
Last week, Marvel Comics published Avengers #10. But it also had the legacy numbering #700 and they made a big deal of it.
But the new Avengers solicitations for February 2019 are weird.
We have Avengers #14 and #15 which we presume will be legacy numbered as #704 and #705.
But it also lists the weekly Avengers series Avengers: No Road Home. With #1 also being specifically legacy-numbered as Avengers #708, #2 as Avengers #709 and #3 as Avengers #710.
What happened?
No Road Home writer Jim Zub tried to illuminate.
Okay, so that means that Avengers #706 and #707 will be Avengers #16 and #17, published in March. Before Avengers: Road To Nowhere #1 which will be Avengers #708 and published in February.
And then in April, Avengers #18 will also be… Avengers #718? And #717 will only be published after that?
The real reason? To convince readers and retailers that this limited weekly series counts if you are collecting Avengers. Basically you have five issues that you have to buy in February. Or our collection will have… a gap.
Maybe they need to call Todd McFarlane up, he went through this years ago with Spawn.
I feel how Hercules looks after writing all that.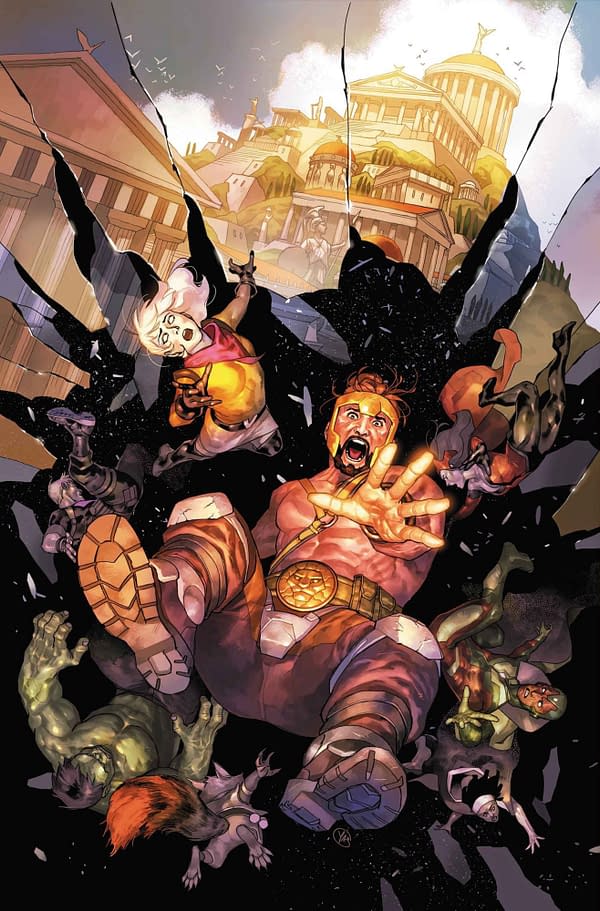 AVENGERS #14
JASON AARON (W) • DAVID MARQUEZ (A/C)
WRAPAROUND VARIANT COVER BY MATTEO SCALERA
SKRULLS VARIANT COVER by CARLOS PACHECO
THE WAR OF THE VAMPIRES BEGINS!
TRANSYLVANIA IS BURNING! As vampire civil war throws the world into chaos, the mysterious Shadow Colonel and his squad of undead revolutionaries have one burning question on their murderous minds: Where is Dracula? And if the Avengers find him first, will the lord of the damned be friend or foe? 32 PGS./Rated T+ …$3.99

AVENGERS #15
JASON AARON (W) • DAVID MARQUEZ (A/C)
CAPTAIN MARVEL VARIANT COVER by GERALD PAREL
CIVIL WAR: VAMPIRE EDITION!
Dracula forges unholy alliances from his prison cell. Ghost Rider goes berserk. The Shadow Colonel and his new Legion of the Unliving raise bloody hell all over the globe. It's a good thing the Avengers just added a startling new member to the team. 32 PGS./Rated T+ …$3.99

AVENGERS: NO ROAD HOME #1 (OF 10)
AL EWING, JIM ZUB & MARK WAID (W) • PACO MEDINA (A)
Cover by YASMINE PUTRI
Hidden Gem Variant Cover by MARK BROOKS
VARIANT COVER by ADAM HUGHES
CONNECTING VARIANT BY MICO SUAYAN (1 of 3)
VARIANT COVER BY MARK BROOKS
VARIANT COVER BY JUAN FERREYRA
The team that brought you AVENGERS: NO SURRENDER REUNITES for an all-new weekly AVENGERS adventure!
Night has fallen across the universe. Now seven Avengers — and one new addition — journey forth to bring back the light. But when the threat they face has destroyed even the gods…will anyone make it home?
LEGACY #708 40 PGS./Rated T+ …$4.99

AVENGERS: NO ROAD HOME #2 (OF 10)
AL EWING, JIM ZUB & MARK WAID (W) • PACO MEDINA (A)
Cover by YASMINE PUTRI
CONNECTING VARIANT COVER by MICO SUAYAN (2 OF 3)
Nyx, the Queen of Night, battles the Avengers over the bodies of her victims — and Hawkeye pays the price of defiance!
LEGACY #709 32 PGS./Rated T+ …$3.99

AVENGERS: NO ROAD HOME #3 (OF 10)
AL EWING, JIM ZUB & MARK WAID (W) • PACO MEDINA (A)
Cover by YASMINE PUTRI
CONNECTING VARIANT COVER by MICO SUAYAN (3 OF 3)
Rocket Raccoon comes face-to-face with his past — and it isn't pretty! Meanwhile, the Avengers search the universe for the Shards of Night — and find trouble in the shape of the Children of Nyx!
LEGACY #710 32 PGS./Rated T+ …$3.99