Spawn's Shock Jock Since #1 Named and Revealed in Spawn #299 (Spoilers)
Since Spawn #1 by Todd McFarlane, the comic book has repeatedly used the news anchors/opinion slots in most issues. A technique utterly cribbed from Frank Miller and Klaus Janson in The Dark Knight Returns, it has provided text-heavy commentary on the comic book and how the actions of Spawn and his many associates are seen by the world at large. And while two of the anchors have generally reported for the same network and show, one has switched between many – including My View on 2 and 1992's 44 Viewer's Choice, 5 Talkback, Viacom Six, 99 Guest Comment, 40 Other News, KRDF 68 Viewer's Forum, KSTD 34, WDAV 8 and WNNR 8. Here he is from the first issue.
And here is is, drawn by Jason Alexander in today's Spawn #299.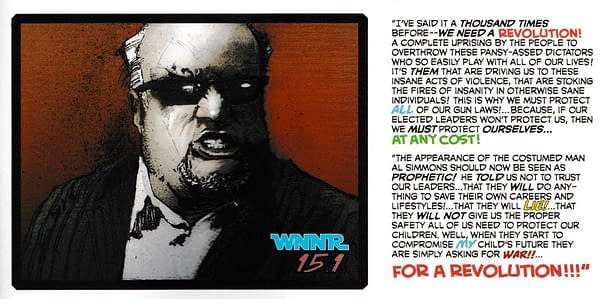 He hasn't changed much. Indeed it appears he has been doing this a very long time without looking older at all. And in Spawn #299, we get a name for him…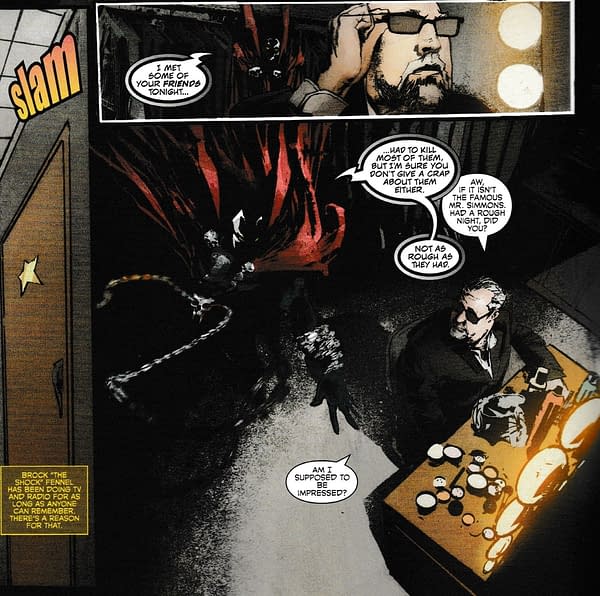 Brock 'The Shock' Fennel. Who gets a visit from Spawn in his dressing room, on the hunt for his wife's killer (are they really going to let that stick with #300 and #301 on the way, and Wanda based on Todd's own wife?). And has quite the revelation to share…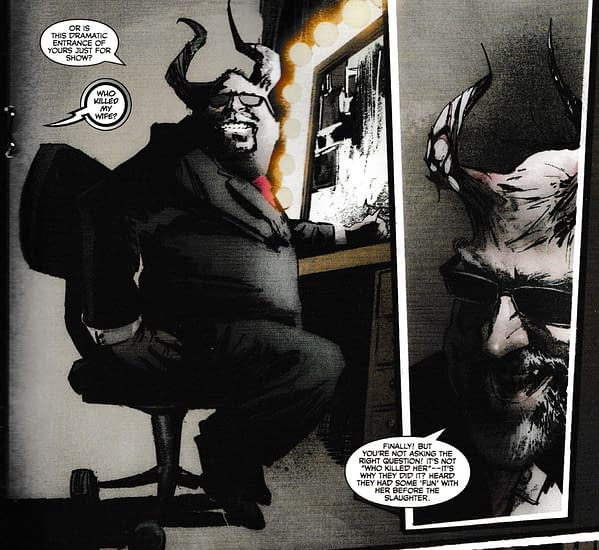 …he's not from around here. Another one of those immigrants from Hell coming over and taking jobs meant for humans.
We do get one glimpse into what Spawn #300 will have in stock, as Spawn and the Redeemer disappear for a while.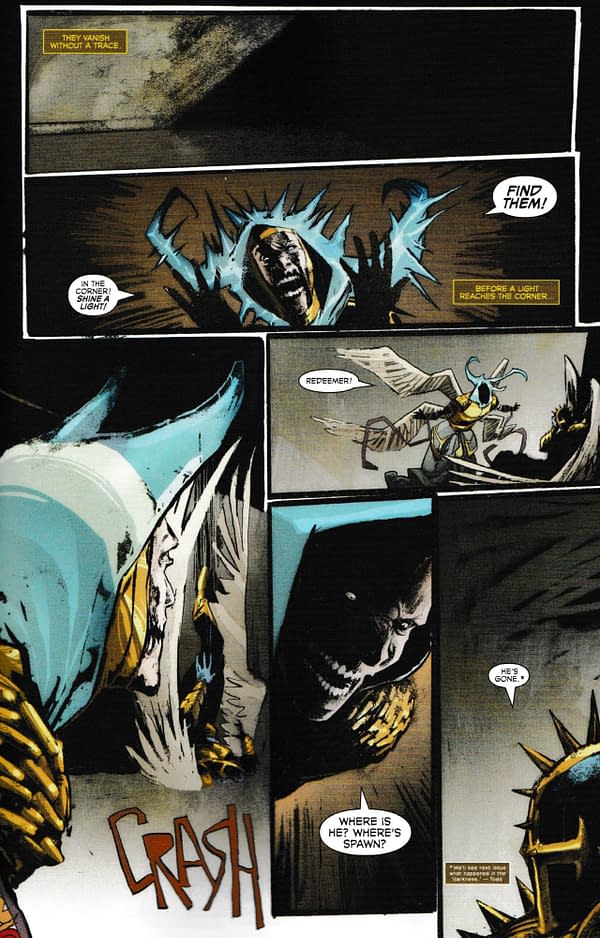 Whatever happened will form the basis for the next issue's story…
SPAWN #299
(W) Todd McFarlane (A) Jason Shawn Alexander (CA) Todd McFarlane
THE LAST ISSUE BEFORE SPAWN #300!
"WAR TO 300," Part Two: Witness the debut of TODD McFARLANE's newest creation-The Rapture! Heaven's answer to the mythic Four Horsemen of the Apocalypse, these eternal warriors are tasked with eliminating the plague called humanity from the face of the Earth. The WAR TO 300 rages! Next month, new allegiances will form, new enemies will rise, and history will be made!In Shops: Jul 31, 2019
SRP: $2.99