Speculator Corner: How Much Can You Flip Strange Tales #179 For?
Strange Tales, indeed. Bleeding Cool has already pointed out the speculatory possibilities of the 1999 Earth X comic book series by Jim Krueger, John Paul Leon, and Alex Ross, who are all credited in the upcoming Eternals movie from Marvel Studios. Indeed, eBay has been burning through copies being hoovered up by investors in recent days.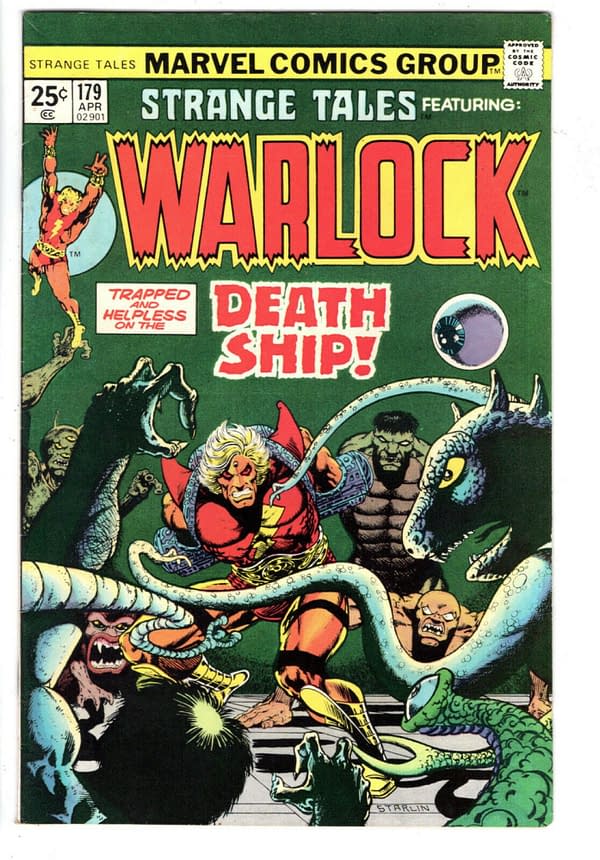 Of course, there are other comic books whose attention may be affected due to certain casting choices in Eternals. And one of them is Strange Tales Featuring Warlock #179 from 1975 by Jim Starlin, which has seen plenty of sales in recent days. A CBCS 8.5 copy just sold for $147.50, a CGC 9.0 for $330, a CGC 9.2 sold for $385, and a CGC 9.4 for a whopping $629. At the same time, raw copies at similar grades are selling for between $20 and $110. But could they be undervalued? When the 5th of November rolls around, might they get a bit of a bump alongside Earth X #0 and Earth X #6?
Eternals is based on the Marvel comic book title created by Jack Kirby and is the 26th film in the Marvel Cinematic Universe. Directed by Chloé Zhao and written by Zhao, Patrick Burleigh, Ryan Firpo, and Kaz Firpo, it stars Kumail Nanjiani, Barry Keoghan, Lauren Ridloff, Kit Harington, Richard Madden, Gemma Chan, Lia McHugh, Brian Tyree Henry, Don Lee, Harish Patel, Salma Hayek, Angelina Jolie and – oh yes, Patton Oswalt. In the film, the Eternals, an immortal alien race, emerge from hiding after thousands of years to protect Earth from their evil counterparts, the Deviants. Principal photography took place from July 2019 to February 2020 at Pinewood Studios as well as on location in London and Oxford, England, and in the Canary Islands. Eternals premiered in Los Angeles on the 18th of October, 2021, and will be released theatrically in the US and the UK on the 5th of November as part of Phase Four of the MCU.