Spider-Man: Into The Spider-Verse Writer, Producer Phil Lord to Write Spider-Ham Comic
We mentioned a fair few Marvel solicitations going through the change today. For Black Cat #1, for Star Wars titles and for War Of The Realms crossovers.
But there's a couple more to add.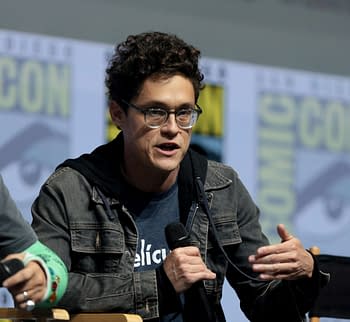 Firstly that the upcoming Spider-Man Annual – Featuring Spider-Ham #1, solicited to just be written by Spider-Gwen co-creator Jason Latour, will also be co-written by Spider-Man: Into The Spider-Verse movie co-writer, co-producer and Oscar winner, Phil Lord. Here's the new solicitation.
SPIDER-MAN ANNUAL #1
(W) Jason Latour, Phil Lord (A) Jason Latour (A/CA) David Lafuente
• When Spider-Gwen's dimension-hopping web-watch falls into the wrong hands, it's up to everyone's favorite wisecracking web-slinger, the wily waddler known as SPIDER-HAM, to save the day!
• From the same creative minds that brought you INTO THE SPIDER-VERSE and Spider-Gwen creator JASON LATOUR, you won't want to miss this interdimensional epic!
Rated T In Shops: Jun 26, 2019 SRP: $4.99
Oh and while we're looking at the solicits, Cosmic Ghost Rider Destroys Marvel History #4 having art by Todd Nauck instead of the previously solicited Shawn Crystal. Todd drew issue 2, but every issue was meant to be drawn by a new creator. Like Nathan Stockman for #2 and Gerardo Sandoval and Victor Nava for #1.
Well, Nathan Stockman is also back for #5, so why not.
COSMIC GHOST RIDER DESTROYS MARVEL HISTORY #4 (OF 6)
(W) Paul Scheer, Nick Giovannetti (A) Todd Nauck (CA) Gerardo Zaffino
• Cosmic Ghost Rider Destroys…World War II?!
• Witness the true story of how the Allies won the war…
• Thanks Cosmic Ghost Rider!
Parental Advisory In Shops: Jun 05, 2019 SRP: $3.99