I thought last month's Spider-Man: Life Story by Chip Zdarsky and Mark Bagley was masterful, weaving together as it did the Clone Saga, the real plans behind the Clone Saga and the retcon upon retcon that had to be layered over it after negative fan reaction. The original plan was to have the presumed clone Ben O'Reilly be revealed as the real Peter Parker, that Peter Parker had been a clone all these years, and to let him retire, married with Mary Jane, and settle down, letting Ben O'Reilly be Peter Parker once more, and give Marvel a younger, single Spider-Man. Long-time fans hated the idea that this meant for the last few decades they had been reading the stories of a clone, and Marvel switched it. Well, Life Story played with that switching back and forth but gave Peter Parker his retirement and Ben Reilly his shot at Spider-dom. But that was the nineties.
The noughties manages to combine three major Spider-Man moments, that came under JMS' watch – civil War in which Spider-Man was revealed to be Peter Parker, the Spider-Totem storyline, with Spider-Man now redefined in mystical Swamp-Thing tones, and Amazing Spider-Man #36, set in and around the events of 9/11.
These days the entire Marvel Universe happened after 9/11, the Fantastic Four's space flight may now be a result of that event. But then, with its black cover, it became a way to commemorate, to share, to mourn. And for sarcastic bastards on the internet to ask why the genocidal Doctor Doom was crying. World Trade Center, mate, there were Latverians in there as well as everyone else.
Spider-Man: Life Story #5: The 00s, out today for Monster Wednesday, deftly weaves all of these together, with Morlun attacking Ben O'Reilly, revealing his identity to the world, before attacking the retired Peter Parker, who has to deal with what's going down between an elderly Tony Stark and a rogue Captain America – who has been this way since the seventies, while his daughter reminds the real Peter Parker that he never gave up the mask. Especially one day in September…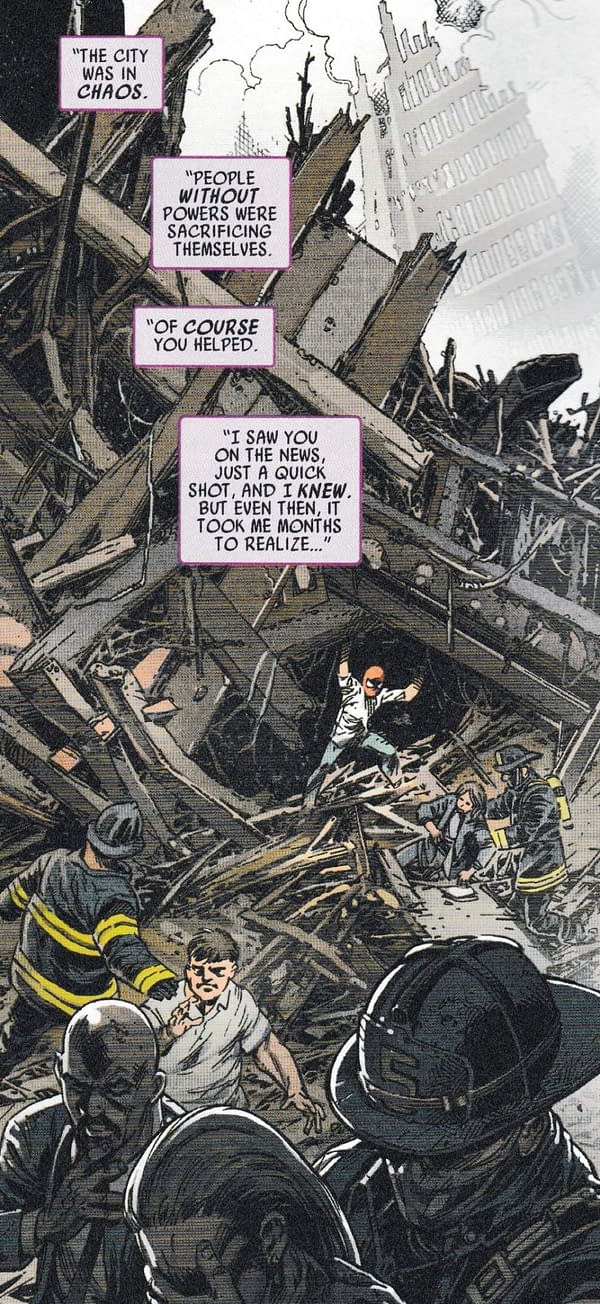 While also taking a moment to reprise the most classic Spider-Man moment of all comicdom.

By Stan Lee and Steve Ditko.
Oh and not even trying to do One More Day. For this timeline, it's not necessary, as they used the Clone Saga's original solution to that problem instead… It's a good time to read comic books…
SPIDER-MAN LIFE STORY #5 (OF 6)
(W) Chip Zdarsky (A) Mark Bagley
THE REAL-TIME LIFE STORY OF SPIDER-MAN CONTINUES! The superhero CIVIL WAR rocks the world! A hero's death changes everything for both PETER PARKER and his family as LIFE STORY continues into the 2000s!
Rated T+In Shops: Jul 17, 2019
SRP: $4.99
Enjoyed this article? Share it!