Spider-Woman Most Ordered Comic in Diamond March 2020 Marketshare
We were wondering where the Diamond Comic Distributors March 2020 marketshare statistics might have got to. Well, it has been a peculiar month. Rather than the usual Friday/Monday release, we are getting the marketshare and top tens today followed by the full stats tomorrow. So here we go, Spider-Woman and all.
As it stands comic book sales are down for the month, based on last March, this February and the year as a whole. Sales are down in March -14.90% based on the number of comics sold and -8.21% for the amount of money they brought in. For the year as a whole so far, comics dollars are down -4.39% from 2019 and sales numbers are down -4.55%. And all this was before the shutdowns really hit. March was only a little down on February for comics sales, -0.65% on revenue and -1.35% sales numbers. So where did Spider-Woman come in?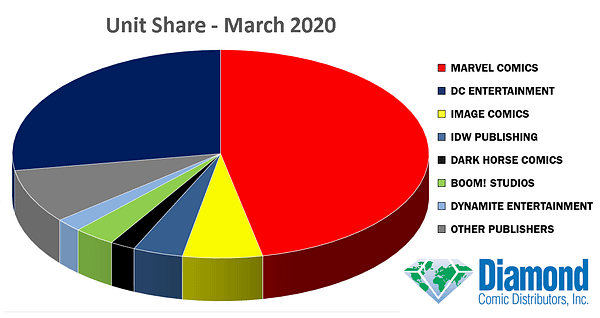 Marvel Comics was March's top publisher with Spider-Woman helping it to a 40.98% dollar share down from 41.85% in February, and a 46.76% unit share down from 47.3%. DC was second with a 27.34% dollar share down from 29% and a 27.58% unit share down from 30.16%. Image Comics was, as usual, third for the month, with numbers slightly up, a unit share of 6.17% up from 5.41% and a 6.40% dollar share up from 6.02%. It is followed by IDW Publishing, Boom Studios, Dark Horse Comics, and Dynamite Entertainment – we will try and run a marketshare-per-capita count for tomorrow to give that further context.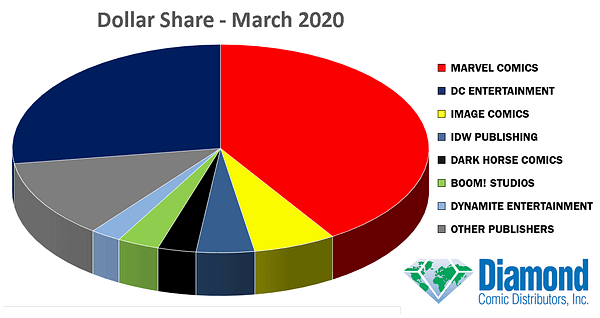 ComicChron and creator John Jackson Miller tells Bleeding Cool his take on the situation. He tells us "at first glance, the overall numbers look much better than you'd expect — because they're computed on what Diamond's sales to retailers were. That part of March was mostly baked in — it's off because there were no reorders, basically, and because Marvel deep-discounted. That's a big chunk of the difference between comics dollars and units: the returnability subtractions are another."
Karla Pacheco and Pete Perez's Spider-Woman #1 from Marvel Comics was the best-selling title – even with the massive variant cover launch, that is still a surprise. I'm told it even surprised Marvel Comics. It beat out Flash #750 even for dollar ranking. While Boom will be very happy with Once & Future: The King Is Undead, and Something Is Killing the Children Volume 1 in first and second place for collections and OGNs.
Marvel Comics had seven titles among March's top ten best-selling comics. In addition to Spider-Woman #1, Thor #4 ranked #3, X-Men #8 ranked #4, Wolverine #2 ranked #5, Skottie Young and Humberto Ramos' Strange Academy #1 ranked #6, X-Men #9 ranked #8, and The Immortal Hulk #33 ranked #9. DC had three titles in the top ten: the oversized anniversary issue The Flash #750 ranked #2, Batman #90 ranked #7, and Batman #91 ranked #10. Among the premier publishers, Jonathan Hickman and Mike Huddleston's Decorum #1 was Image Comics' best-selling book for March at #20, Boom Studios' Mighty Morphin Power Rangers/Teenage Mutant Ninja Turtles #4 ranked #51, IDW Publishing's Transformers vs. The Terminator #1 ranked #85, Dynamite Entertainment's Red Sonja: Age of Chaos #3 ranked #92, and Michael Allred's X-Ray Robot #1 was Dark Horse Comics top book for the month at #131.
Kieron Gillen and Dan Mora's Once & Future Volume 1: The King Is Undead, a modern fantasy inspired by the Arthurian legend published by Boom Studios, was the best-selling graphic novel of March. Also from Boom Studios, Something Is Killing the Children Volume 1 ranked #2. Marvel Comics had five titles in the top ten: Al Ewing and Joe Bennett's The Immortal Hulk Volume 6 ranked #3, followed by The History of the Marvel Universe Treasury Edition at #5, New Mutants Volume 1 at #6, Jason Aaron and Esad Ribic's King Thor at #7, and Star Wars Volume 13: Rogues and Rebels at #9. DC had two titles in the top ten: Amy Wolfram and Agnes Garbowska's DC Super Hero Girls: Powerless ranked #4 and Marieke Nijkamp and Manuel Preitano's The Oracle Code ranked #8. Also in the top ten, Oni Press' Rick and Morty vs. Dungeons & Dragons II: Painscape ranked #10.
Funko's POP! Dragon Ball Z: Super Saiyan 2 Vegeta Vinyl Figure, a PREVIEWS Exclusive, was the best-selling toy of March. Also from Funko, the PREVIEWS Exclusive POP! Marvel: Spider-Man Into the Spider-Verse: Casual Miles Morales Vinyl Figure ranked #3. Diamond Select Toys had two products in the top ten: the Marvel Select: Spider-Man Figure, based on Sony's best-selling Spider-Man PlayStation 4 video game, ranked #4, and the Disney Select Classic Figures ranked #6. Also in the top ten, DC Collectibles' Batman vs. Harley Quinn Battle Statue (Second Edition) ranked #10.
Paizo Publishing's Pathfinder: Gamemastery Guide, a sourcebook for the second edition of the Pathfinder role-playing game, was March's best-selling game product and one of Paizo's eight products among the month's top ten. Dynamite Entertainment's Elvira, Mistress of the Dark's Spectral Switchboard, a Ouija board-style game starring the horror icon, ranked #6 for the month.
TOP COMIC BOOK PUBLISHERS
PUBLISHER

DOLLAR

SHARE

UNIT

SHARE

MARVEL COMICS

40.98%

46.76%

DC COMICS

27.34%

27.58%

IMAGE COMICS

6.40%

6.17%

IDW PUBLISHING

4.51%

3.87%

BOOM! STUDIOS

3.25%

3.21%

DARK HORSE COMICS

2.97%

1.94%

DYNAMITE ENTERTAINMENT

2.38%

2.05%

VIZ MEDIA

1.61%

0.59%

ONI PRESS

0.80%

0.60%

VALIANT ENTERTAINMENT

0.67%

0.75%

OTHER NON-TOP 10

9.11%

6.47%
COMPARATIVE SALES STATISTICS
DOLLARS

UNITS

MARCH 2020 VS. FEBRUARY 2020

COMICS

-1.54%

-0.21%

GRAPHIC NOVELS

1.76%

-15.12%

TOTAL COMICS/GN

-0.65%

-1.35%

TOYS

-15.00%

26.16%

MARCH 2020 VS. MARCH 2019

COMICS

-15.59%

-6.56%

GRAPHIC NOVELS

-13.05%

-26.54%

TOTAL COMICS/GN

-14.90%

-8.21%

TOYS

-6.43%

19.43%

YEAR-TO-DATE 2020 VS. YEAR-TO-DATE 2019

COMICS

-5.51%

-4.48%

GRAPHIC NOVELS

-1.51%

-5.43%

TOTAL COMICS/GN

-4.39%

-4.55%

TOYS

-0.02%

-6.56%

FIRST QUARTER 2020 VS. FOURTH QUARTER 2019

COMICS

-15.59%

-6.56%

GRAPHIC NOVELS

-13.05%

-26.54%

TOTAL COMICS/GN

-14.90%

-8.21%

TOYS

-6.43%

19.43%
NEW TITLES SHIPPED
PUBLISHER

COMICS SHIPPED

GRAPHIC NOVELS SHIPPED

MAGAZINES SHIPPED

TOTAL

SHIPPED

MARVEL COMICS

99

38

0

137

DC COMICS

83

24

0

107

IDW PUBLISHING

36

16

0

52

IMAGE COMICS

39

11

0

50

DARK HORSE COMICS

19

25

0

44

BOOM! STUDIOS

22

9

0

31

DYNAMITE

21

1

0

22

ONI PRESS INC.

6

5

0

11

VIZ MEDIA LLC

0

10

0

10

VALIANT ENTERTAINMENT LLC

6

2

0

8

OTHER NON-TOP 10

140

156

16

312

TOTAL

471

297

16

784
TOP 10 COMIC BOOKS BY UNITS SHIPPED
| | | | | |
| --- | --- | --- | --- | --- |
| RANK | DESCRIPTION | PRICE | ITEM CODE | VENDOR |
| 1 | SPIDER-WOMAN #1 | $4.99 | JAN200803-M | MARVEL COMICS |
| 2 | THE FLASH #750 | $7.99 | DEC190400-M | DC COMICS |
| 3 | THOR #4 | $3.99 | JAN200930-M | MARVEL COMICS |
| 4 | X-MEN #8 | $3.99 | JAN200843-M | MARVEL COMICS |
| 5 | WOLVERINE #2 | $3.99 | JAN200832-M | MARVEL COMICS |
| 6 | STRANGE ACADEMY #1 | $4.99 | JAN200795-M | MARVEL COMICS |
| 7 | BATMAN #90 | $3.99 | JAN200509-M | DC COMICS |
| 8 | X-MEN #9 | $3.99 | JAN200845-M | MARVEL COMICS |
| 9 | THE IMMORTAL HULK #33 | $5.99 | JAN200899-M | MARVEL COMICS |
| 10 | BATMAN #91 | $3.99 | JAN200511 | DC COMICS |
TOP 10 COMIC BOOKS BY DOLLARS INVOICED
| | | | | |
| --- | --- | --- | --- | --- |
| RANK | DESCRIPTION | PRICE | ITEM CODE | VENDOR |
| 1 | SPIDER-WOMAN #1 | $4.99 | JAN200803-M | MARVEL COMICS |
| 2 | THE FLASH #750 | $7.99 | DEC190400-M | DC COMICS |
| 3 | ROBIN 80TH-ANNIVERSARY 100-PAGE SUPER SPECTACULAR #1 | $9.99 | JAN200496-M | DC COMICS |
| 4 | THE IMMORTAL HULK #33 | $5.99 | JAN200899-M | MARVEL COMICS |
| 5 | STRANGE ACADEMY #1 | $4.99 | JAN200795-M | MARVEL COMICS |
| 6 | STRANGE ADVENTURES #1 [*] | $4.99 | JAN200506-M | DC COMICS |
| 7 | X-MEN #8 | $3.99 | JAN200843-M | MARVEL COMICS |
| 8 | WOLVERINE #2 | $3.99 | JAN200832-M | MARVEL COMICS |
| 9 | HELLIONS #1 | $4.99 | JAN200820-M | MARVEL COMICS |
| 10 | X-MEN #9 | $3.99 | JAN200845-M | MARVEL COMICS |
TOP 10 GRAPHIC NOVELS & TRADE PAPERBACKS BY UNITS SHIPPED
RANK

DESCRIPTION

PRICE

ITEM CODE

VENDOR

1

ONCE & FUTURE VOL. 1: THE KING IS UNDEAD TP

$16.99

DEC191235
BOOM! STUDIOS

2

SOMETHING IS KILLING CHILDREN VOL. 1 TP

$14.99

DEC191236
BOOM! STUDIOS

3

THE IMMORTAL HULK VOL. 6 TP

$15.99

DEC190988
MARVEL COMICS

4

DC SUPER HERO GIRLS: POWERLESS TP

$9.99

NOV190498
DC COMICS

5

HISTORY OF THE MARVEL UNIVERSE
TREASURY EDITION TP

$29.99

NOV190960-M
MARVEL COMICS

6

NEW MUTANTS BY HICKMAN VOL. 1 TP

$15.99

FEB201054
MARVEL COMICS

7

KING THOR TP

$15.99

DEC190986
MARVEL COMICS

8

THE ORACLE CODE TP

$16.99

NOV190499
DC COMICS

9

STAR WARS VOL. 13: ROGUES AND REBELS TP

$17.99

DEC190989
MARVEL COMICS

10

RICK AND MORTY VS. DUNGEONS & DRAGONS II: PAINSCAPE TP

$19.99

NOV191821
ONI PRESS
TOP 10 GRAPHIC NOVELS & TRADE PAPERBACKS BY DOLLARS INVOICED
RANK

DESCRIPTION

PRICE

ITEM CODE

VENDOR

1

X-MEN: CHILDREN OF ATOM HC BOX SET

$500.00

SEP190974
MARVEL COMICS

2

UNCANNY X-FORCE BY REMENDER OMNIBUS HC

$100.00

SEP190971
MARVEL COMICS

3

WONDER WOMAN: THE GOLDEN AGE OMNIBUS VOLUME 4 HC

$150.00

MAR190609
DC COMICS

4

HISTORY OF THE MARVEL UNIVERSE
TREASURY EDITION TP

$29.99

NOV190960-M
MARVEL COMICS

5

BATMAN: WHITE KNIGHT DELUXE EDITION HC

$49.99

NOV190529
DC COMICS

6

ONCE & FUTURE VOL. 1: THE KING IS UNDEAD TP

$16.99

DEC191235
BOOM! STUDIOS

7

MARVEL MASTERWORKS: DAZZLER VOL. 1 HC

$75.00

SEP190975-M
MARVEL COMICS

8

POWER PACK CLASSIC OMNIBUS VOL. 1 HC

$125.00

SEP190972-M
MARVEL COMICS

9

THE WICKED & THE DIVINE VOLUME 4 HC (MR)

$64.99

OCT190161
IMAGE COMICS

10

SOMETHING IS KILLING CHILDREN VOL. 1 TP

$14.99

DEC191236
BOOM! STUDIOS
TOP 10 TOYS BY DOLLARS INVOICED
| | | | |
| --- | --- | --- | --- |
| RANK | DESCRIPTION | ITEM CODE | VENDOR |
| 1 | POP! DRAGON BALL Z: SUPER SAIYAN 2 VEGETA FIGURE | JAN199073 | FUNKO |
| 2 | PERSONA 5: FUTABA SAKURA FIGMA | MAR198472 | GOOD SMILE COMPANY |
| 3 | POP! MARVEL: SPIDER-MAN INTO THE SPIDER-VERSE: CASUAL MILES MORALES VINYL FIGURE | JAN199071 | FUNKO |
| 4 | MARVEL SELECT: SPIDER-MAN (PS4 VIDEO GAME) FIGURE | AUG192734 | DIAMOND SELECT TOYS |
| 5 | IRON GIANT DIECAST 1/12-SCALE ACTION FIGURE | JAN188313 | 1000 TOYS INC. |
| 6 | DISNEY SELECT CLASSIC FIGURES | AUG192721 | DIAMOND SELECT TOYS |
| 7 | IRON GIANT (BATTLE MODE) DIECAST 1/12-SCALE FIGURE | JUN199052 | 1000 TOYS INC. |
| 8 | OVERWATCH: PHARAH FIGMA | NOV188215 | GOOD SMILE COMPANY |
| 9 | TRANSFORMERS GENERATIONS: GHOSTBUSTERS ECTOTRON FIGURE | SEP198051 | HASBRO TOY GROUP |
| 10 | BATMAN VS. HARLEY QUINN BATTLE STATUE (SECOND EDITION) | AUG190702 | DC COLLECTIBLES |
TOP 10 GAMES BY DOLLARS INVOICED
| | | | |
| --- | --- | --- | --- |
| RANK | DESCRIPTION | ITEM CODE | VENDOR |
| 1 | PATHFINDER GAMEMASTERY GUIDE HC (P2) | NOV192998 | PAIZO PUBLISHING |
| 2 | PATHFINDER: LOST OMENS: GODS & MAGIC HC (P2) | NOV193000 | PAIZO PUBLISHING |
| 3 | PATHFINDER GAMEMASTERY GUIDE SPECIAL EDITION HC (P2) | NOV192999 | PAIZO PUBLISHING |
| 4 | PATHFINDER CORE RULEBOOK HC (P2) | MAY193227 | PAIZO PUBLISHING |
| 5 | STARFINDER RPG CORE RULEBOOK HC | JUN173371 | PAIZO PUBLISHING |
| 6 | ELVIRA: MISTRESS OF DARK SPECTRAL SWITCHBOARD | JUN191229 | DYNAMITE ENTERTAINMENT |
| 7 | TOME OF BEASTS POCKET EDITION | APR198095 | PAIZO PUBLISHING |
| 8 | PATHFINDER ADVENTURE PATH: THE EXTINCTION CURSE VOLUME 1 (P2) | NOV193001 | PAIZO PUBLISHING |
| 9 | CREATURE CODEX HC | JUL183073 | PAIZO PUBLISHING |
| 10 | WIZARDS & SPELLS: A YOUNG ADVENTURER'S GUIDE HC | JAN201997 | TEN SPEED PRESS |
Spider-Woman