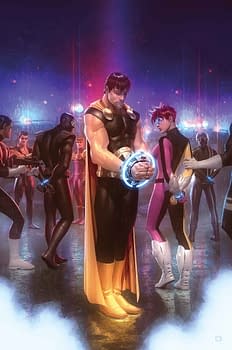 This is the issue of Squadron Supreme solicited for January 2016 from Marvel.
SQUADRON SUPREME #15
JAMES ROBINSON (W)
LEONARD KIRK (A)
Cover by ALEX GARNER
CLASH OF THE TITANS!
• Will HYPERION and NIGHTHAWK come to blows?
• Can THUNDRA, BLUR and ZARDA finally work as a team to stop WARRIOR WOMAN and MODRED in their nefarious quest to rule the world?
• Find out in this epic issue of SQUADRON SUPREME
32 PGS./Rated T+ …$3.99
And this is the issue solicited for February.
….
Stealth cancelled? After all, Nighthawk went in a similar fashion.
Moon Girl, Scarlet Witch, Thunderbolts, Hellcat, AKA Patsy Walker are all still around – and it looks like Thunderbolts will be getting a Hail Hydra bump, as Busiek and Bagley return to the comic they created.
THUNDERBOLTS #10
JIM ZUB & KURT BUSIEK (W) • JON MALIN & MARK BAGLEY (A)
Cover by JON MALIN
Variant Cover by MARK BAGLEY
20TH ANNIVERSARY ISSUE!
• Once upon a time the Thunderbolts were the Masters of Evil…and if Baron Zemo has his way, their legacy will be reclaimed…with the infinite power of a Cosmic Cube!
• Captain America's sinister plan for Bucky and Kobik begins to unfold.
• "Return of the Masters," the Thunderbolts 20th anniversary event, begins here! Along with our pulse-pounding lead story, this special oversized issue includes a brand-new Thunderbolts tale by series co-creators Kurt Busiek and Mark Bagley!
40 PGS./Rated T+ …$4.99
Enjoyed this article? Share it!