Star Trek's Mightiest Heroes Face Off in "Q Conflict" #2 (REVIEW)
[rwp_box_recap id="0"]
Sometimes, you read a comic book that is so entertaining that you want to see it on the big screen. Sometimes, you might get that wish, if modern Hollywood sees merit in your favorite title. Then there's IDW's Star Trek: Q Conflict, which will probably never see life in anything but a comic book.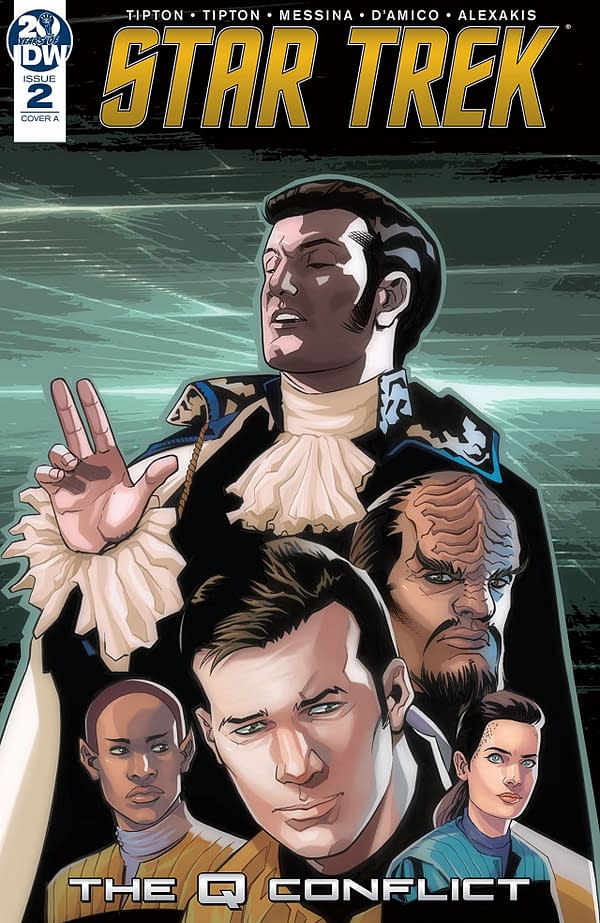 That's just fine, though. This is a really great comic, with everything you would want to see when the greatest crews in Trek history go head to head.
Q, the Metrons, the Organians, and Trelane decide to settle a cosmic debate by pitting some of Q's favorite Starfleet crews against each other, with the promise of not allowing any deaths or changes to the timeline. The captains each select a team from their respective teams, round-robin style.
Scott Tipton and David Tipton write a tightly paced script, filled with perfect Trek moments: Ryker using his knowledge of Enterprise shuttles to sabotauge Picard's crew; Kirk assuring Worf that his uniform is the only proof he needs for his loyalty to Starfleet; Q's annoyance with mortal concerns. The entire book reads like great Trek, but with an all-star crew we could never get on television.
There's a clear affection for Star Trek running through every page, and it's a delight to read.
David Messina and Elisabetta D'Amico's art is the perfect complement to the story, with fantastically rendered likenesses of all of the crews throughout the book. Every bridge on every ship, interiors on every shuttle, you name it, it's perfect. Messina and D'Amico's artwork helps bridge that gap between comics and television, making Q Conflict one of those rare comic book adaptations that doesn't make you long for the source material.
Alessandra Alexakis works some brilliant colors here, juggling the dreamy primaries of original series costumes with the dreamy pastels of Next Generation design elements. There's so much to take in with Q Conflict that it warrants several reads.
Star Trek: Q Conflict comes highly recommended for Star Trek fans, especially those of us that can't pick a favorite crew…here, you don't have to.
SUMMARY: Script: Scott Tipton & David Tipton; Pencils: David Messina; Inks: Elisabetta D'Amico; Colors: Alessandra Alexakis; Letters: Neil Uyetake; Editor: Chase Marotz; Published By: IDW Publishing; Release Date: February 27, 2019; Cover Price: $3.99, 32 pages.
[rwp-review-ratings id="0"]
[rwp-review-form id="0"]