Steve Dillon died this weekend, from a burst appendix. But not only does he leave decades of work to be reread and enjoyed in tribute to his masterly skills as a storyteller, but there is more to come.
I am told he was planning a Batman comic with Garth Ennis that is unlikely to see publication. But his Punisher work with writer Becky Cloonan is still lined up to run. And scenes in a Marvel Previews brochure published today show much to look forward to – as well as a nod to the past.
In a scene set in a bar, while we see the two goons moaning about their lot, there is something else going on with the bar staff. A look back, a hand gesture, this is a place where stuff happens.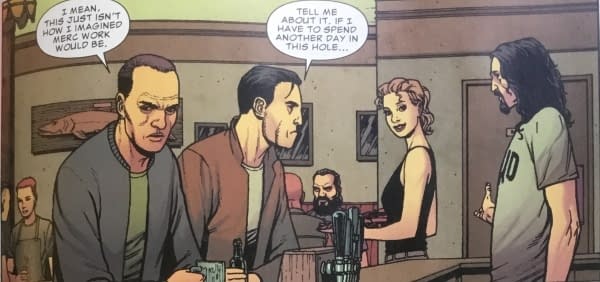 The first goon drinking up, gives the impression of a forceful weapon, to be brought down on the Christ-like barman's head. And note the Cud T-shirt? That's an eighties/nineties British band, and one who was regularly featured in the magazine that Steve Dillon co-created and edited, Deadline. Their 1990 diary includes the entry,
16 May
Hey! Wire tour begins.
Brighton Richmond.
Most of CUD crash at Deadline artist, Glyn Dillon's flat while William stays up all night helping Jamie Hewlett paint a 'Tank Girl' strip.
Steve's brother there. Anyway, who should walk in but… Note the slight trepidation on the left goon's face against the embittered assuredness of the right. Subtle distinction that say so much about the characters. Note how the barman has a choice – to side with his staff or with his customers, and how they group together. And, again, their expression says so much, without words, over what is expected….
Yesterday, friend and colleague Mike Perkins took to Facebook to talk about Steve. I found his account poignant, and reflected a number of my own thoughts. He gave me permission to run the following.
It's been difficult for me to get into words just what Steve Dillon meant to me. Not just from an emotional aspect of actually being able to approach an empty page – although that has been substantial – but also just the intellectual conundrum of my visceral reaction. I've had closer friends die- to which I've responded stoically – and yet Steve's death really devastated me. The loss of our friendship remains paramount in my mind but it seems it's deeper than that.

I've never studied two artists work deeper than Steve's and Brian Bolland's – they were my artistic gods and inspirations from an early age. And, perhaps, it's that depth of study that prompted the gut-wrenching reaction. When an artist illustrates something as profoundly "true" in the way Steve drew then surely a little bit of the soul, his essence, must go into it. When you look at this for inspiration, when you absorb it as part of your own artistic genetic make-up then that part of themselves becomes you, too. Does that even attempt to make sense? I first came across Steve Dillon's work when I picked up Hulk Weekly at the age of 9 and he illustrated the lead story. Bringing this up a couple of weeks back when we were chatting he told me that this was his very first professional work from when he was 16 years old – which makes the quality of it even more astounding. It made such an impact on my developing mind that I followed Steve's work wherever it showed up…pursuing it though Nick Fury, AntMan and the ever wonderful, and timeless, Abslom Daak:Dalek Killer.

When Steve moved on to Warrior and, subsequently, 2000ad I was firmly a fan and, it would be fair to say, an acolyte of his work. That work on Mean Arena is just magnificent : managing to elevate the kind of strip I was least interested in – the sports story. Every panel of Dredd and Rogue and Tyranny Rex would be studied until the ink would disappear off the page. For Dillon's work I was a human putty-rubber – the images would just imprint inside me somewhere.

I first met Steve when I was 18/19 years old and popped around to the Deadline offices to show my fledging work. After trekking up the many, many flights of stairs to the studio Steve said ; "Let's go to the office next door and take a look through your portfolio". So, we trekked back downstairs … and went to the pub next door. He perused my illustrations with a professional eye, nodding here and there and then turned to me and said; "Get a thicker pen". This was the first real professional criticism I had received…and it was the best advice I have ever had. I was using a Rotring at the time and by moving to a thicker line it eliminated all the noodley nonsense I was filling the panels with.

I would see Steve at various conventions throughout the years – often in the bar – but it wasn't until about 5 years back at NYCC that I mentioned this encounter to him and suggested that I may not even be illustrating comics professionally if it wasn't for his advice. He proffered a chuffed smile and his eyes filled up a bit.. and that instant is pretty much the moment we became friends.

It feels brutal to say but his death really came as a surprise because, after seeing him last year at NYCC, I doubted that I would see him this year. On the advice of his doctor he had given up drinking and he didn't look or move well…but…BUT…this year he seemed to be on his way to a recovery. He looked so much better. Steve never lost that spark in his eye but chatting to him this year, well, I could see a joy for life back in there … and I think that's what hits me the most.

A few weeks back we spent a fair few hours just chatting and laughing and even making plans for next year. As president of the Contern Festival in Luxembourg for next year it's within my purview to invite guests to the festival and I wanted Steve to be one of those guests – and he was up for it. I even sent a text to my editor at Boom when, at one point in the evening, Steve became an 8 year old boy in front of my eyes when I suggested he illustrate a Planet of The Apes cover for them due to him revealing that he was obsessed with The Planet of The Apes from when he was a child. He was visibly excited by this opportunity.

If I can take any comfort from my memories of that final chat with Steve it's that I got to tell him how much he and his work meant to me…and seeing how much me saying it meant to him. He clapped me on the shoulder and said; "Thanks, Mike. Thanks".

He was my artistic inspiration…who became my colleague…and ended up being my friend. I'll miss him.
Enjoyed this article? Share it!